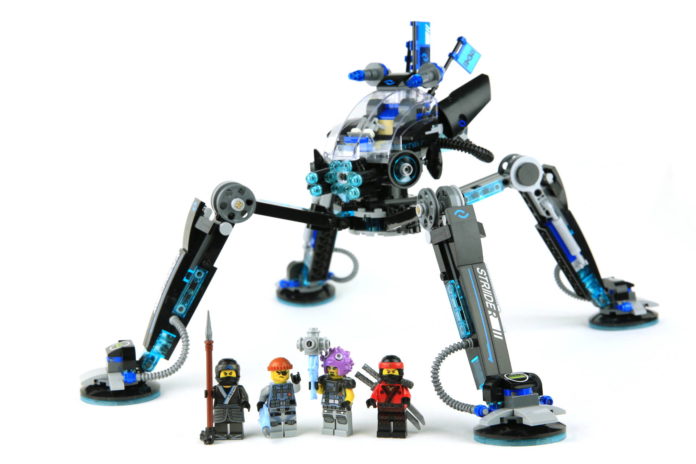 70611 Water Strider is my third The LEGO NINJAGO Movie set that I've built, the second one I've done a review for and I gotta say, so far TLNM sets are impressive. Looking ahead at other TLNM sets sitting in my review pile, I'm fairly confident in saying that the trend of excellence will continue but for now let's focus on Nya's Water Strider. Its size, functionality, attention to detail, and the number of minifigs all make it feel worth far more than what you pay for. Its MSRP has it pegged at $29.99, but it seems like it's regularly available on sale for 20% off. Like right now, Amazon has it on sale for $23.99 and it is a BARGAIN! Let me tell you why.
The Minifigs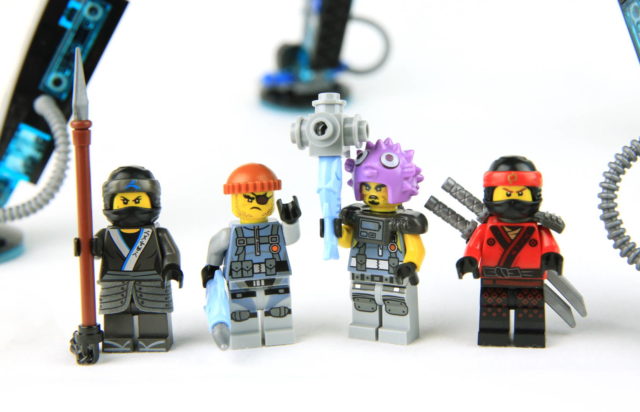 You get four minifigs (from left to right): Nya, Shark Army Thug, Puffer, and Nya's brother Kai. That's a lot. For a $30 set, you can typically expect two or, at most, three minifigs, so getting four is pretty freakin' good. Kai's a bit of a bonus fig; he comes in his Fire Mech set naturally, but I'm not complaining. For those who can't afford that set, this is a nice way to get another ninja without breaking the bank.
Both Nya and Kai feature double-sided heads, but since there is no hair elements included for either of them, chances are you won't bother taking their cowls off. Besides, the visible parts of Nya's expressions are nearly identical. Kai's expressions offer a bit of variety, but you'll probably want to pick up some hair elements for them at some point.
If you're into collecting the bad guys, take note that Puffer is unique to this set. One other notable aspect about Puffer is that his puffer fish-styled helmet has a clear visor.
The Stickers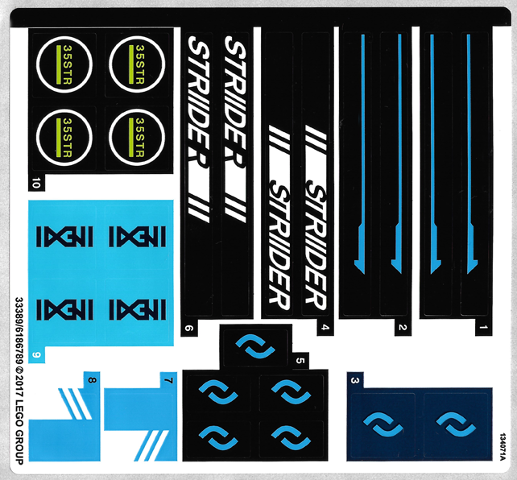 Now, when I started assembling the legs and examined the sticker sheet, I had a "Holy crap!" moment. If you look at the sheet above, stickers 1 and 2 are mirrors of each other, as are 4 and 6. This is kind of important. The reason why they are mirrors is because they go on opposing pairs of legs: 1 set goes on the left legs, and the other goes on the right.
It would have been REALLY easy to just make 4 of the same stickers and have them go on all the legs facing the same direction, like a pinwheel, but these are true left and right pairs. It seems like it's a small detail, but one that I definitely noticed and appreciated.
The Size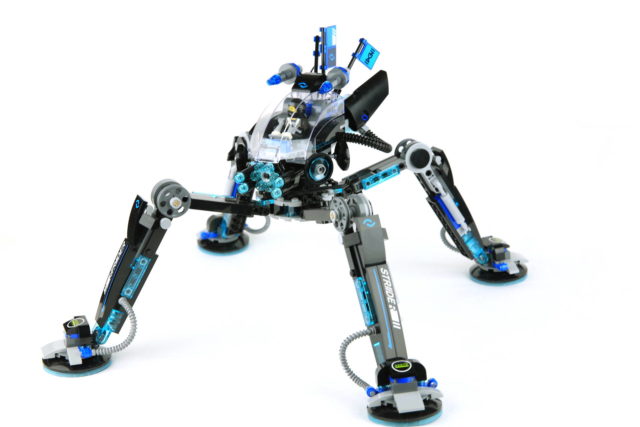 This thing is massive! Thanks to it's long legs, the Water Strider feels large and in charge. Admittedly, it is a bit of a cheat. The long legs adds volume, and makes it feel larger than it actually is. If you take the legs out and focus on the cockpit/pod/body, it's really not that substantial. But the things that make it seem larger are also part of the draw.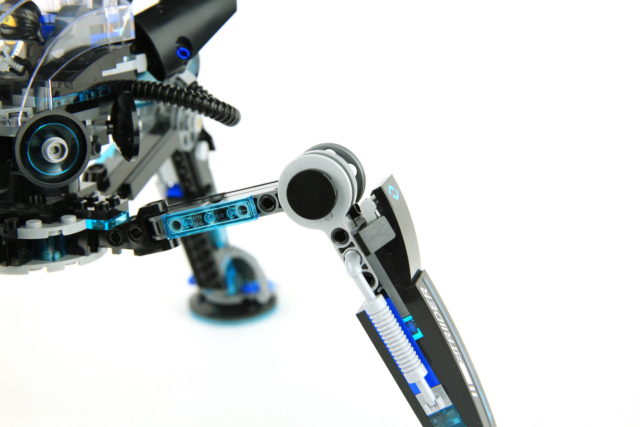 The legs are pretty substantial and are a solid build. The knee joints use the rotation joints which enable them to lock into any position without the potential of giving way due to weight or position.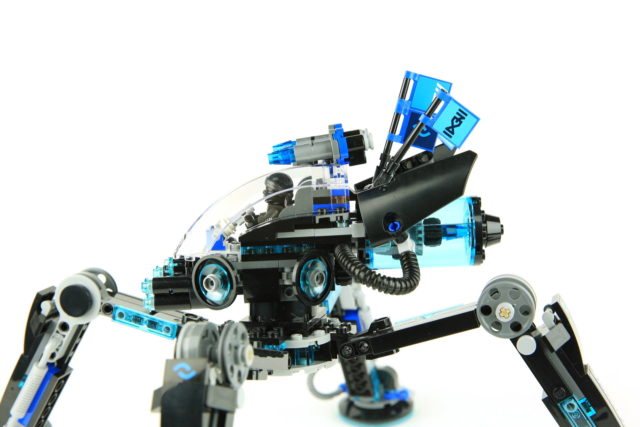 The legs are a bit limited in the range of motion where the hip joint should be. They are locked in a 4-point position and are unable to move either laterally or vertically. It would have been nice to have additional points of articulation there, but I am okay with the way it is currently set up.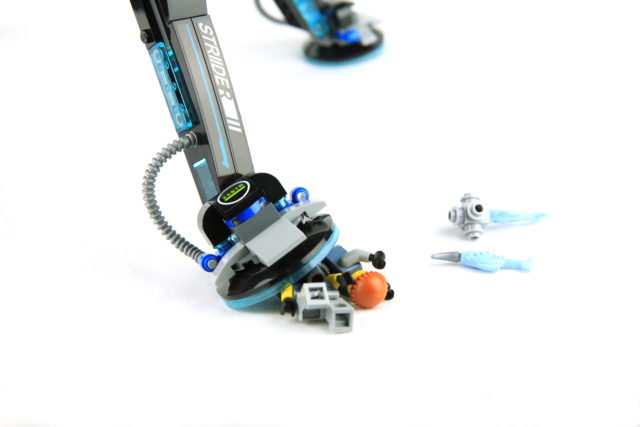 The ankles are connected via ball joint. They allow the Water Strider to pose atop just about any rough surface. They do not allow it to stride atop water, unfortunately.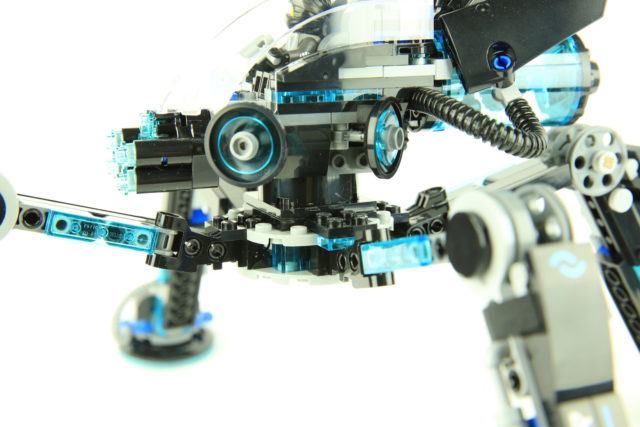 One aspect I'd like to call attention to is the cockpit pod. I don't know where else to put it so I'll add it to this subsection. The cockpit pod rests on a ratcheted turntable, so if you pose the Water Strider at an angle, you can face the cockpit in any direction without it succumbing to gravity and swinging to an undesirable position. This, along with the knee joints and ball-jointed ankles, allow you to put the Water Strider just about anywhere for some cool action poses.
The Standards
These were absent from Luhloyd's Green Dragon Mech, and seem to be present in a few other others, but I'm smitten by these flags. I'm not full up on my NINJAGO lore, and have no idea what these flags mean in their universe, if anything. Obviously, they are meant to resemble sashimono, the standards that Japanese foot soldiers carried centuries ago. Their inclusion in Nya's Water Strider and other mechs are a nice touch and really give it that look and feel of Japanese culture. Again, I'm not entirely sure if they are omnipresent in the NINJAGO universe, but they add a nice touch of detail and a bit of flair to an otherwise standard LEGO build.
Final Thoughts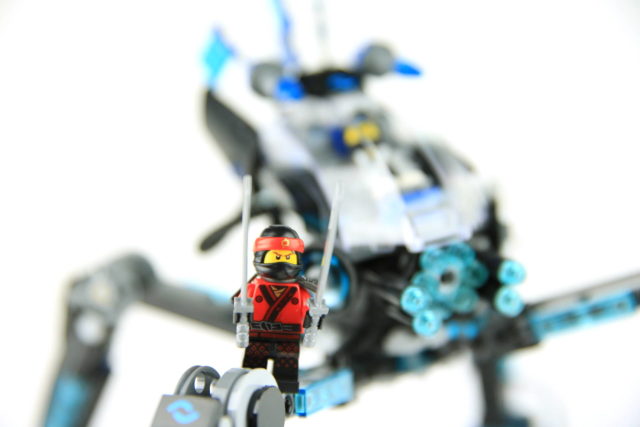 Again, you get all this in a $24 package. Its MSRP is $29.99, but like I said at the beginning of this review, it seems to be discounted pretty regularly by 20%. And, honestly, after it's all said and done, it feels like a $40 or $45 set. And even at that price, I'd say it would be worth picking up. You get 494 pieces, which pushes it closer to a $50 value. In the interest of full disclosure, lot of those pieces come in the form of Technic elements but after its all said and done, you barely notice. The overall build time is very short so you'll be playing with this set quite soon after you start.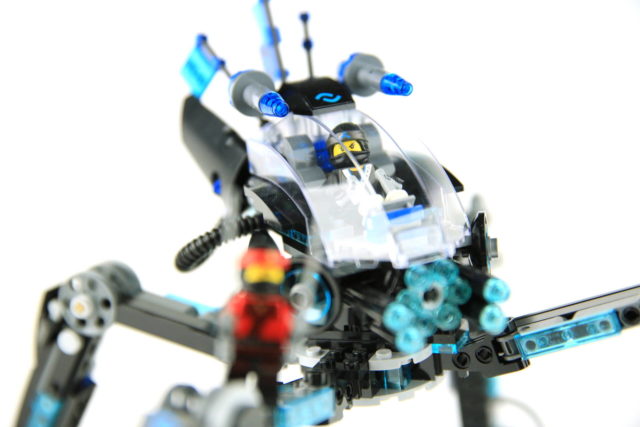 If my gushing about this set didn't make it obvious, it scores a 5 out of 5 stars. It's a great value at regular price, and on sale, it's a steal. Amazon has 70611 Water Strider right now for $23.99, 20% off of the list price. I'm not sure if the set designers intentionally made the Water Strider smaller for a lower price point; it seems overly-suited to be the cheapest NINJAGO mech set. But even if they did, they did not skimp on the build quality.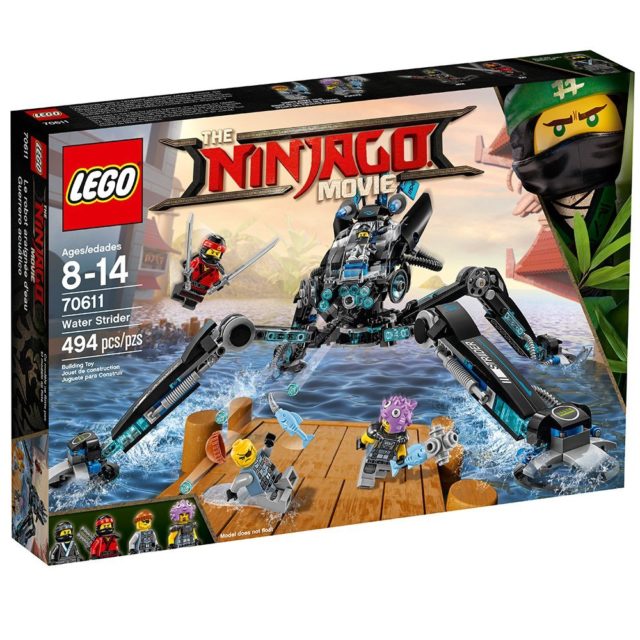 How much do I love this set? I was willing to risk life and limb and climb down a cliff to reach some tide pools at low tide, just so I can take pictures of the Water Strider on some reef formations. But alas, time, temperature, and opportunity did not align. I did the next best thing though and broke out the studio lights and the good camera and snapped away.
Will It Fit In A Ziploc Freezer Bag?
Yes, yes it will. You'll need to disassemble the legs though.
All Of The Pictures
No Giveaway
I'm keeping all of my TLNM sets for the foreseeable future. They are too good.
Help Keep The Lights On
Like the review? Consider helping FBTB keep the lights on by donating or becoming a subscriber. We get little support from LEGO these days so we rely on ads, affiliate fees, and donations to keep going. 100% of the money goes towards operational costs and set purchases for reviews, giveaways, and contest prizes. Thank you for your consideration.
And for the record, LEGO did NOT provide a review copy of this set.