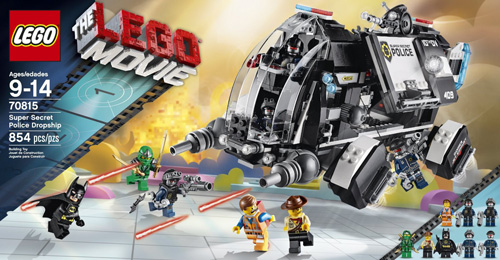 Like the headline says, Target via eBay is selling The LEGO Movie 70815 Super Secret Police Dropship by five whole dollars less, making the effective discount almost 39%. Your final price will be $49 plus any applicable sales tax. Your sets will ship for free. This is cheaper than buying it from their site for $55.00 and applying the 5% REDCard discount. That being said Amazon has price matched Target.com's price of $55.00.
This is one of my favorite sets from The LEGO Movie. It comes with a whopping 8 minifigures: Emmet, Batman, Green Ninja, Johnny Thunder and 4 Robo SWATs.
So many deals online…. and it's not even Monday.