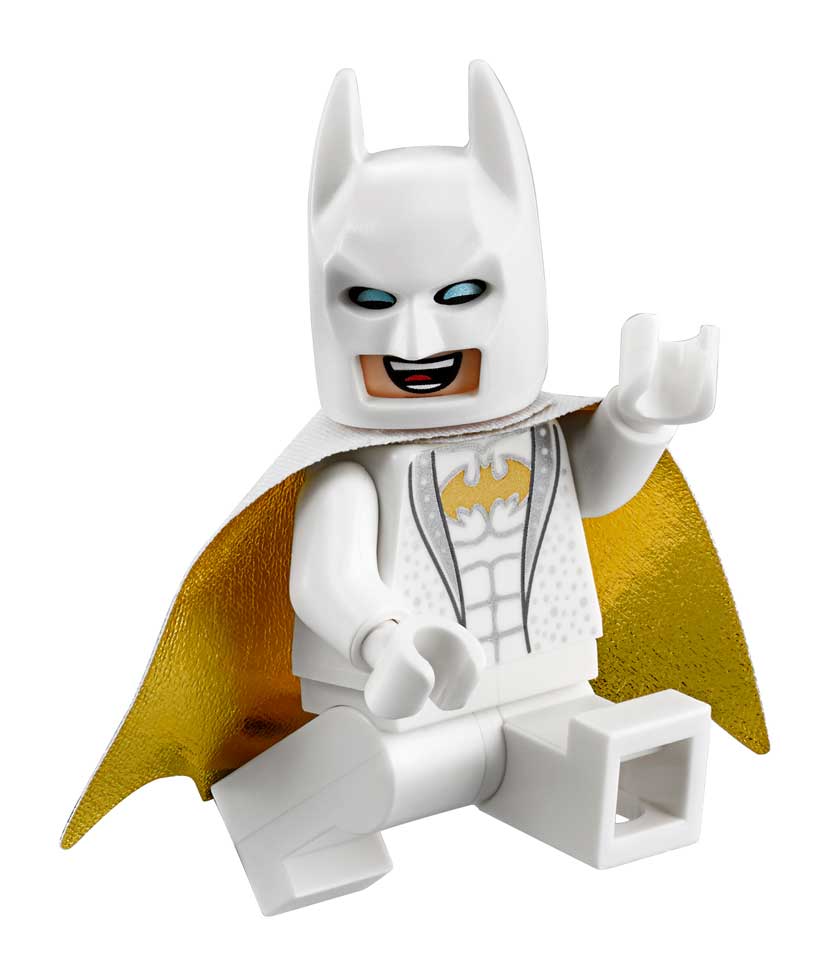 Just when it felt like the TLBM sets were winding down, LEGO comes out swinging with 70922 The Joker Manor. And why should you care? Because it has the white tuxedo "disco" versions of the minifigs from the closing musical act! And here I was hoping they'd do a TLBM Collectible Minifigures Series II to get all those sweet figs, but no, they decide to jam them all into a $270 dollar set. It's not everybody in disco suits, just Disco Batman, Disco Joker, Disco Batgirl, and Disco Robin, so there's still room for more, maybe? In a future set we still don't know about? Anyways, The Joker Manor more or less looks like Bruce Wayne's manor when he took over the estate in the third act of the movie. It kinda looks like there's some play features jammed into the set, like a small roller coaster.
The set is on display today at TTPM, which I don't think many of you reading this would be attending.
And if LEGO is listening, there is still a ton of potential left to fill out a Series II Collectible Minifigures line. Just sayin'.
70922 The Joker Manor will be avilable to hurt your wallets on November 24th, 2017. I wouldn't try buying it on LEGO Shop@Home's website though. We all know how well that worked when the last big set was released.
More images, official press release, and no designer video but the end credits scene from the movie are below.
70922 The Jokerâ"¢ Manor

Ages 14+. 3,444 pieces.

US $269.99 – CA $349.99 – DE 269.99€ – UK £249.99 – DK 2299.00 DKK
*Euro pricing varies by country. Please visit shop.LEGO.com for regional pricing.

Dare to enter The Jokerâ"¢ Manor!

Help Batman™, Barbara Gordon, Alfred Pennyworth™ (in his classic Batsuit) and Nightwing™ regain control of the jokerized Wayne Manor with this massive THE LEGO® BATMAN MOVIE set. The Joker™ Manor is packed with iconic details from the movie and cool functions, including a rollercoaster encircling the whole building, a huge buildable The Joker head with trapdoor and slide, punching boxing gloves, a rocking 'The Joker' sign and rotating 'big eye' tower. The interior includes a cinema room with a romantic DVD element, kitchen with buildable microwave plus lobster and lemon-slice decorated tile elements, living room with a buildable grand piano, fireplace and bust, swimming pool room, and a music studio with guitar element and buildable mixing desk and loudspeakers. Build this magnificent manor and then recreate your favorite scenes from the movie with 10 included minifigures.
• Includes 10 minifigures: The Joker™, Batman™, Barbara Gordon, Harley Quinn™, Nightwing™, Alfred Pennyworth™ Classic Batsuit, Disco Batman™, Disco The Joker™, Disco Batgirl™ and Disco Robin™.
• Features a grand entrance flanked by 2 buildable bombs with translucent spark-style elements, 2-level and 3-level towers with turrets and flag elements on top, a rollercoaster track and train with 3 cars (each with a minifigure seat), rotating 'big eye' tower with lever-operated iris to 'look' up and down, huge buildable The Joker™ head with trapdoor and slide, rocking 'The Joker' sign, 'Ha! Ha!' sign, 2 wheel-operated punching boxing gloves, plus many multicolored, translucent light-style decorative elements.
• Activate the trapdoor to send a minifigure tumbling from the top of the The Joker™ head, down the slide and out through the mouth.
• Interior includes an entrance hall with 4 plastic, bendy 'mirror' elements; living room with a buildable grand piano and stool, bust, and fireplace with translucent-red fire-style elements; cinema room with a screen, minifigure seat and assorted elements including a romantic DVD; kitchen with cup, pot and pan elements, and a buildable microwave with lobster, lemon and plate elements inside; music studio with a buildable mixing desk and loudspeakers, seat and a guitar element; swimming pool room with translucent-blue water-style elements; and an attic with 2 buildable boxes and a rat figure.
• Weapons include Batman's Batarang, Barbara Gordon's revolver and Harley Quinn's bat.
• Disco Batman™, Disco The Joker™, Disco Batgirl™ and Disco Robin™ minifigures are new!
• Recreate and reimagine memorable scenes from THE LEGO® BATMAN MOVIE.
• The Joker™ Manor measures over 21" (55cm) high, 25" (66cm) wide and 10" (27cm) deep.
• Rollercoaster train measures over 1" (3cm) high, 5" (15cm) long and 1" (3cm) wide.

Available for sale directly through LEGO® beginning
November 24, 2017 via shop.LEGO.com, LEGO® Stores or via phone:
US Contact Center 1-800-453-4652
CA (English) Contact Center 1-800-453-4652
CA (French) Contact Center 1-877-518-5346
European Contact Center 00-800-5346-1111

LEGO, the LEGO logo and the Minifigure are trademarks of the LEGO Group. ©2017 The LEGO Group. All rights reserved. TLBM legal line