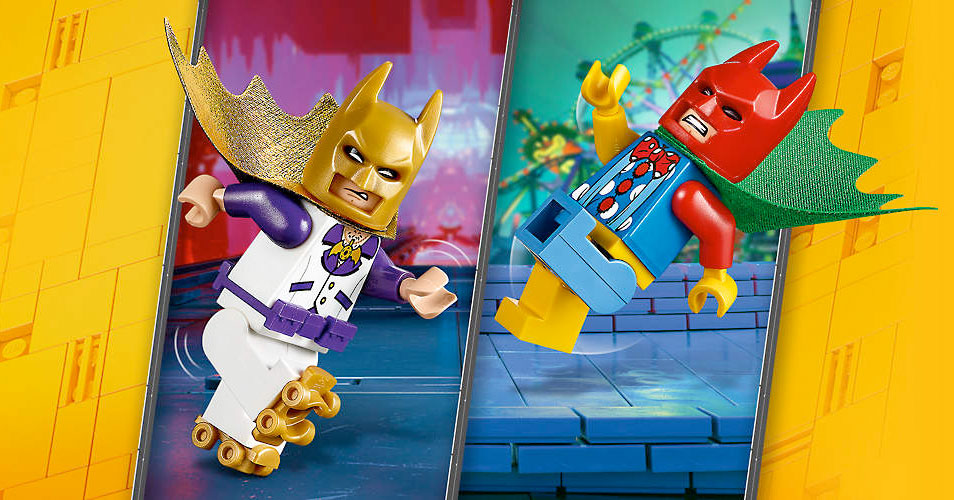 You may think you're all caught up on Batman minifigs but you'd be wrong 'cause you don't have Tears of Batman and Disco Batman! Not yet anyway. You can now finally get your mitts on these figures by heading over to LEGO Shop@Home and making any LEGO purchase of, brace yourself, $75 or more. The figures will be automatically added to your cart once your cart total reaches the threshold. If you do manage to hit the minimum, you'll also automatically qualify for free shipping. And you're not limited to just getting sets from The LEGO Batman Movie; you can make any LEGO purchase to qualify. Offer is valid from today February 10th until 11:59pm EST February 28th or while supplies last and I'm guessing supplies aren't going to last.
In addition to the duo of minifigs, you can also get a free LEGO Batman Movie poster, pictured below. There's a different poster for each week of February and a total of three different designs to collect. The promotion started a few days ago and this weeks poster is Batman and you can get him until February 12th. Batgirl is available from February 13th through 19th and Robin is available from February 20th through 28th.
LEGO Shop@Home set up a special LEGO Batman Movie page promoting all things LEGO Batman Movie, so check it out and relive the movie!