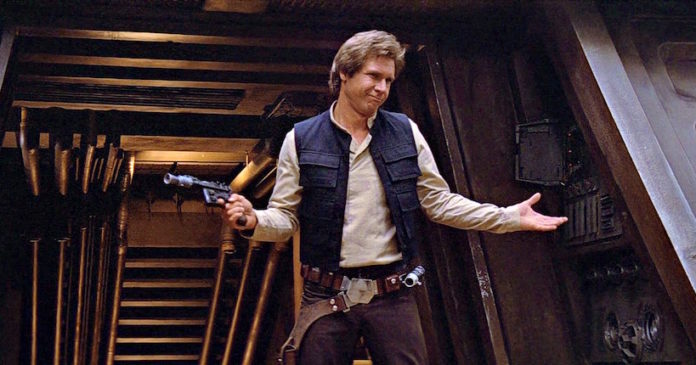 From Collider:
It may be a while before we see any more movies like Solo: A Star Wars Story out of Lucasfilm. Sources with knowledge of the situation tell Collider that Lucasfilm has decided to put plans for more A Star Wars Story spinoff movies on hold, instead opting to focus their attention on Star Wars: Episode IX and what the next trilogy of Star Wars films will be after that film. Sources tell us that the previously rumored Obi-Wan movie was in active development, but those who were working on the film are no longer involved. It was recently reported that Logan filmmaker James Mangold was in early talks to write and direct the Boba Fett film, but that was before Solo's release.
This news comes in the wake of the disappointing launch of Solo, which was only Lucasfilm's second A Star Wars Story spinoff, but which received mixed-positive reviews and fell short of box office expectations. The film scored $84.4 million on opening weekend and has grossed $192.8 million domestically (and $339.5 million worldwide) in four weeks, which is nothing to scoff at but is far, far lower than the performance of other Star Wars movies at this benchmark. For comparison's sake, Rogue One opened to $155 million and had grossed $424 million domestic by Week 4. To put it simply, while Solo did fine by blockbuster standards, it wasn't the "event" that Lucasfilm expected out of a brand new Star Wars movie.
We've only had two anthology movies. One I consider to be the best of the new movies, anthology or not, and the other was Solo. There's lots of reasons why Solo kinda sucked and we outlined them in our review. If Boba Fett and Obi-Wan were going to be more of the same, I'm glad they're being put on hold.
As far as the stuff that's still in development? Episode IX will close out the current trilogy and with J.J. Abrams back in the director's chair, it has a chance to redeem itself after the mess that Rian Johnson left behind with The Last Jedi. And speaking of Rian, his new trilogy? Not really looking forward to it. The other new trilogy by D.B. Weiss and David Benioff? Not looking forward to that either. They ruined Game of Thrones with cliché plot devices, so they'll probably stick to unoriginal story-telling with Star Wars. The live-action series by Jon Favreau? That might be the only one I am really looking forward to. The animated series? I never finished a Star Wars animated series I started to watch. I doubt Star Wars: Resistance is going to fare any better.
And despite my tone, I am not Mr. Grumpypants at all. It's just that with the state of Star Wars right now, there's little to be excited about.