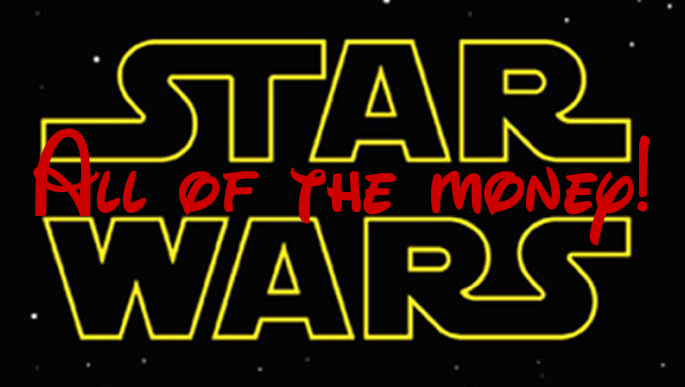 Update: Added video to the end of this post.
I need to come up with a new logo, because I'm pretty sure The Force Awakens already made all of the money, so they need to print up new money so Episode VIII: The Force Sleeps In a Little Bit can make all of the new money. That being said, despite being just a couple of months removed from the surprisingly good Episode VII, filming is starting for next year's Episode VIII. I assume that we'll get little leaks here and there, a ton of misinformation, and generally, a lot of speculation between now and then. I'm betting that they're counting on Rogue One to be the focus so they can keep some of the info under wraps…
That being said, the first of the cast lists did come out, and are fairly non-spoilerish, unless you haven't watched Episode VII and therefore don't know why some characters aren't returning. I can't help you then. Still, I'll be nice and put it after the fold…
Rey took her first steps into a larger world in Star Wars: The Force Awakens and will continue her epic journey with Finn, Poe, and Luke Skywalker in the next chapter of the continuing Star Wars saga, Star Wars: Episode VIII, which began principal photography at Pinewood Studios in London on February 15, 2016.

Star Wars: Episode VIII, which is written and directed by Rian Johnson and continues the storylines introduced in Star Wars: The Force Awakens, welcomes back cast members Mark Hamill, Carrie Fisher, Adam Driver, Daisy Ridley, John Boyega, Oscar Isaac, Lupita Nyong'o, Domhnall Gleeson, Anthony Daniels, Gwendoline Christie, and Andy Serkis. New cast members will include Academy Award winner Benicio Del Toro, Academy Award nominee Laura Dern, and talented newcomer Kelly Marie Tran.
I'm curious to see what Del Toro, Dern, and Marie Tran are going to add to this. I'd also expect the list to grow greatly, given that this is just the first announcement (there were several additions to the cast past the initial reading for TFA, so I expect this to update as well). Anyone else hoping that we get the major property crossover, and it'll be The Collector showing up in Episode VIII? Or is that just me?