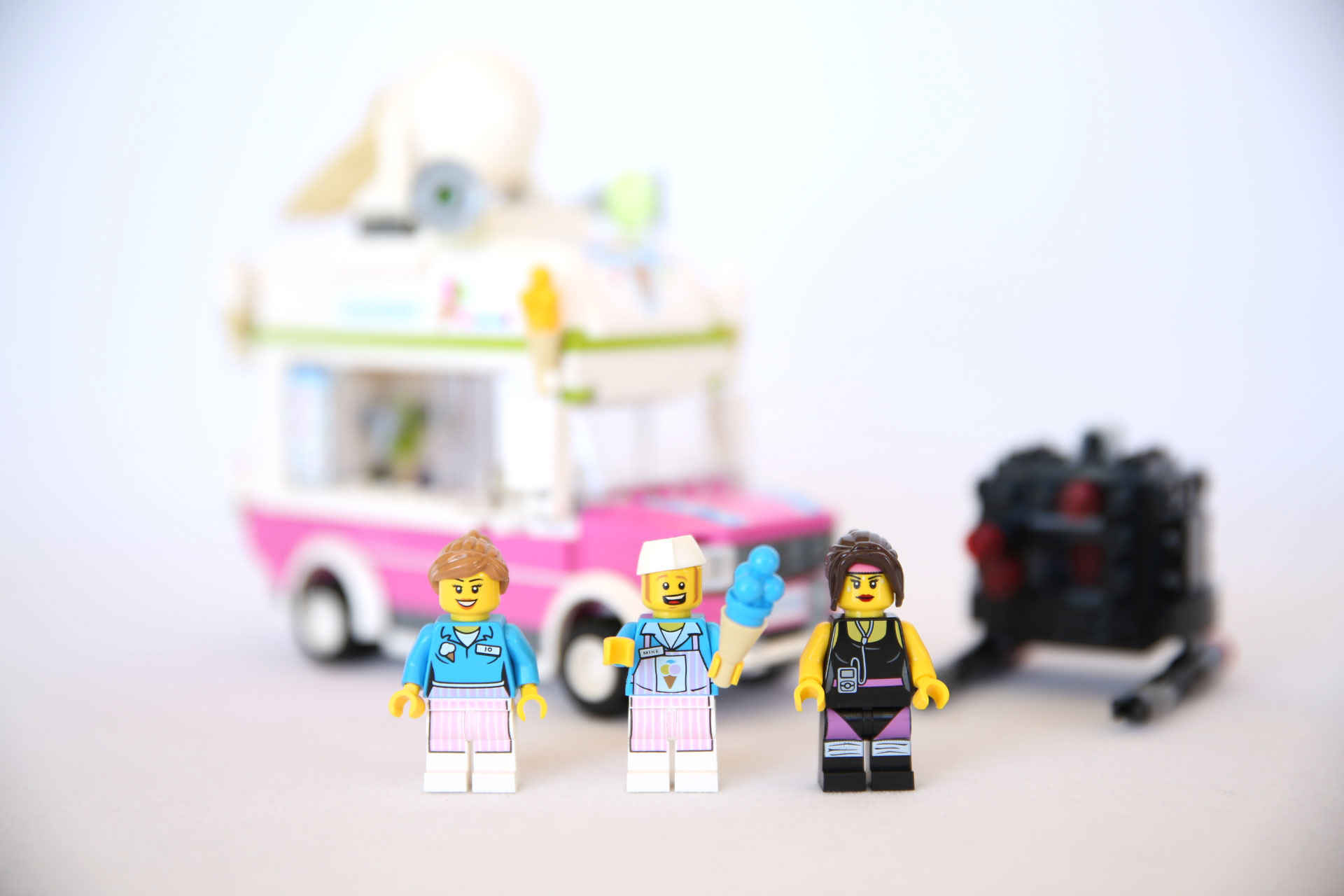 As far ice cream trucks go, I can say without a doubt 70804 Ice Cream Machine is the BEST ice cream truck set that LEGO has ever released. Of course it's probably the ONLY ice cream truck set they've ever made so the bar is set really low but don't let that color your judgment.
If this were a normal CITY set, I'd imagine that an ice cream truck would be slotted in for a cheapy $10-$15 dollar set, maybe $20. There's no way they'd allocate so many parts for a vehicle that's not even a municipal vehicle. But the rules are different for The LEGO Movie sets. 70804 Ice Cream Machine is a whopping $29.99 and comes with 344 pieces. The price per parts ratio isn't as good as some of the other Movie sets, but it is still leagues better than some of the other themes.
Let's get right to the good stuff: the truck. It's rather tall, almost comically tall, as a truck, but with a giant ice cream cone on the top, you almost don't even notice. The height is there for a reason and that's so you can stand a minifig inside at the window to hand out tasty, frozen treats to the citizens of Bricksburg. The top pops right off like you're used to from other vehicles with plenty of room to insert the minifigs inside with ease. There's a refrigerated box that holds two popsicles. There's also an ice cream machine that dispenses what else but ice cream.
The Ice Cream Machine's main mode is a fighter jet-inspired attack vehicle with a separate cockpit for pilot and gunner. The attack vehicle has a pretty impressive array of weapons: the ice cream cone on the top is turned around to act as a fire extinguisher, at least that's what the picture on the box has me believe; the actual ice cream machine from inside the truck powers the lasers; there's a pair of cone cannons front and center; and last but not least, the popsicles are turned into flick fire missiles. I normally hate flick fire missiles, but come one, popsicles flick fire missiles are, like, totes better. It's easy to swoosh around and quite satisfying going pew-pew with such a large array of weapons at your disposal. That drone doesn't stand a chance.
The drone is of the jet propelled type complete with a flick fire missile clip that holds three missiles and stopper to prevent the clip from dropping off of the drone. A simple build, about the same size as the other ones you get from the other similarly priced 2-in-1 sets. I like the fact that the missiles come shooting out from dead center of the drone's face. The drone has these puny little grabber arms that seem pretty useless. What are they for? The thing has missiles, it would blow up its intended target. Are the claws to clear away the debris? Pick up blow'd up minifig parts? I guess it doesn't matter. The Ice Cream Machine'll blow this thing out of the sky with its superior armament.
Oh man, and the minifigs. How awesome are these minifigs of Mike and Jo. They look like they would fit right into any ice cream parlor thanks to their aprons and ice cream logos. And that hat that Mike is wearing? It's a super shame that there is only one in the set. If you were looking to build a 50's style diner or a modern day Johnny Rockets, this hat would be perfect. You only get one and it's actually molded to sit on the head at an angle the way a cool hip waiter would back in the day.
The other minifig you get in this set is Cardio Carrie who plays the role of the damsel in distress. She sports the double sided head we come to expect from emotive characters. Cardio Carrie even sports a pink headband so Bruce Wayne won't be the only minifig sporting the 80's step aerobic look.
Using our fancy new rating scale:
5 – An Absolute Must Buy
4 – Worth the money
3 – Get it when it's on sale
2 – One for the clearance bin
1 – Not even if they paid you to take it
I rate 70804 Ice Cream Machine a 5. Even if you're not a big CITY guy, or into the Movie sets, the novelty of a fun ice cream truck set should be reason enough to get it. It looks great just by itself on a shelf or parked in front of your Parisian Restaurant in your sprawling city layout. The minifigs look great and that hat! I loved this set as much as 70808 Super Cycle Chase.
Buy 70804 Ice Cream Machine from LEGO SHop@Home or Amazon: