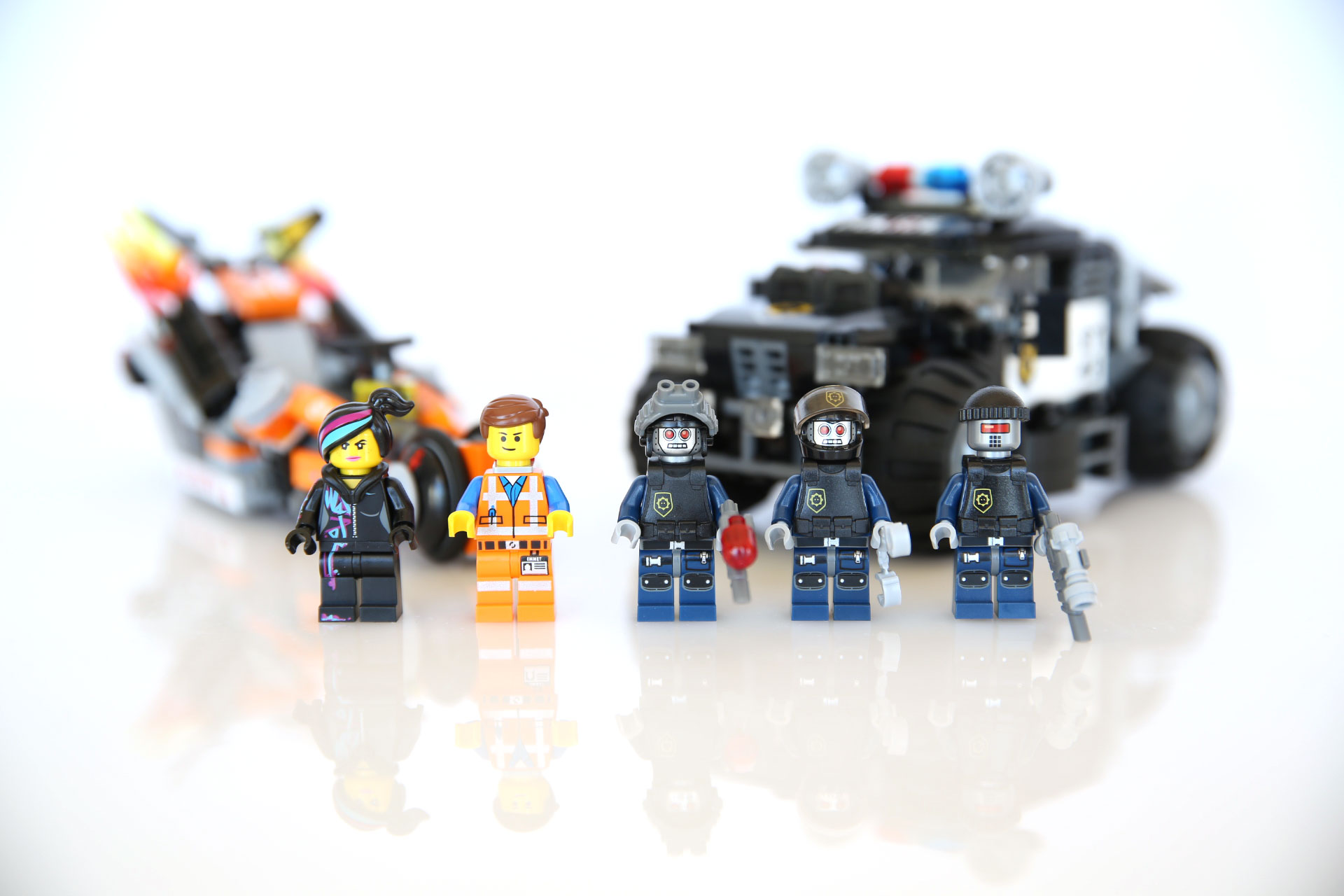 There have been a few times where LEGO has made "versus" sets and have that idea run rampant throughout the theme. Space Police III, Galaxy Squad, and DC Universe Super Heroes are a few examples of this and The LEGO Movie sets are following suit. Normally this means that in a set, you would get a GREAT main model, and then a laughably smaller set so that the good guys can fight the bad guys. I personally can't stand this approach as I would rather have the element count used for the small model be used to make a better main model. This is true for Space Police III and Galaxy Squad. DC Universe Super Heroes faired a little better, but in the end you still ended up with two medium-sized, mediocre models instead of one really great model in most of those sets.
The LEGO Movie sets seems to continue this trend of "versus" sets, but not in a terribly bad way like in previous themes. Yes, you get one REALLY great model, and a puny secondary model but given that the secondary model are just, what I assume to be, generic attack drones, this works out really well. 70808 Super Cycle Chase trends towards the Batman sets where you get two medium-sized models, but they are anything but mediocre.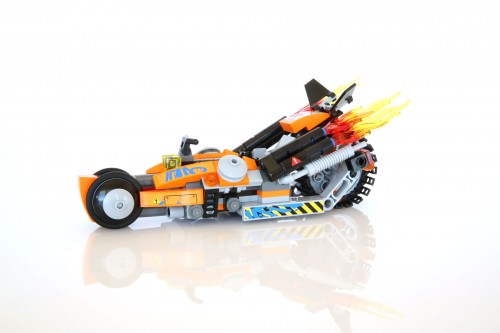 Street Hawk. Kineda's Bike. The list of famous motorcycles is short. In fact, those two are the only ones I can think of. So Wyldstyle's Super Cycle is joining a pretty small but elite crowd. I wasn't even going to mention the other bikes until I started applying some of the stickers to Wyldstyle's ride, reminding me of the cowling on Kaneda's Bike. But the similarities pretty much end there.
The Super Cycle is highly stylized from front to back designed as a two seater with a small front wheel and a much larger rear wheel. The front end is probably my least favorite part of the set. With almost every other slope on the bike decorated with a sticker, the nose is the only part left untouched. I moved some slopes around to see what it would look like with a sticker, and I must say the appearance improves. What also bugged me was the direction of the slope. I reversed it in another pic and liked that orientation better. There is a tiny sticker you apply to one of the wheel's hubcap which could have easily been left out but I'm glad that they included it. I for one appreciate the little details like this.
The gigantic rear wheel is made up of Technic conveyor belt treads and I kid you not it is gigantic in relation to the rest of the bike. There is enough dress around the rear wheel to hide most of it though so it's not so overwhelming. The four exhaust pipes with shooting flames helps draw your eye away and there are a few tiny stickers for detail on the pipes as well. The bike is a two seater designed to carry Wyldsytyle and Emmet. Both can sit comfortably even with Emmet and his backpack on.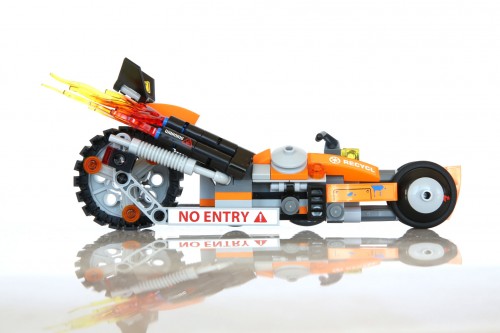 Hinge plates aid in the construction of the angled lines and long curved slopes give it the sleek look. As I mentioned earlier, there are stickers on just about every orange slope, and I must say, seeing the bike all stickered up like this makes it look really cool. It stands up just fine without a kickstand due to the wide rear wheel. It rolls fairly well but since there is practically zero ground clearance, it can only effectively roll on the smoothest of surfaces such as a table top or hardwood floors. You'll have a much harder time on carpeted surfaces or even studded baseplates.
The other vehicle in the set is a Police SWAT vehicle and it does not disappoint. It's a good beefy size, mean looking, aggressive looking, and has big balloon tires. What's not to like?
Like most of LEGO's vehicles, the top pops off easily so you can access the inside. It being an 8-wide vehicle, there is room for two of the Police bots to sit side-by-side but just getting them in there is a bit of an exercise. Instead, do what I do and just have the other bots hang off the sides of the vehicle. It's a much more effective way to transport the troops.
The running boards on both sides of the vehicles cleverly hides some flick fire missiles. Flick fire missiles may not be for everyone so if you choose to never deploy them, they are tucked away out of sight.
There is a storage compartment in the back accessible by a flip-up panel. There's a stick of dynamite in there but you can store just about any of the other accessories your police bots come with.
You also get a spike strip with the set with a simple flip lever to deploy the strip to try and stop Wyldstyle in her tracks. But she probably gets away.
As far as the minifigs go you get Wyldstyle with her "hood down" accessory. She's a great looking figure with printing on her legs, torso, and one of her arms in colors that matches the streaks in her hair. Her head is double sided but there is very little difference between the two expressions.
Emmet carries with him the brick of destiny. I have no idea if that's what it's called but it's more fun calling it that than "1x2x2 with hole on one side 2/3rds of the way up". Anyways, he too sports a double-sided head and the scared expression is hilarious, probably one of my favorite ones of his so far.
The three police bots are different in their accessories and their head elements. The flak jackets are brand new and they each come with one. The night vision goggles are another great new accessory. The police bots' torsos and legs are identical and come with some back printing. The print patterns are generic enough to use in any CITY layout needing a couple of SWAT officers.
70808 Super Cycle Chase is in my eyes pretty much the gold standard of what a great versus set could be. Priced at $49.99, you'll get 514 pieces to build two kick ass vehicles and five minifigs. Using our handy dandy new rating scale:
5 – An Absolute Must Buy
4 – Worth the money
3 – Get it when it's on sale
2 – One for the clearance bin
1 – Not even if they paid you to take it
I rate this set a full 5 out of 5 stars. If there is one set to get from this initial first wave, this would be it. I can recommend getting this set without any hesitation whatsoever. A great set.
You can buy 70808 Super Cycle Chase from LEGO Shop@Home: