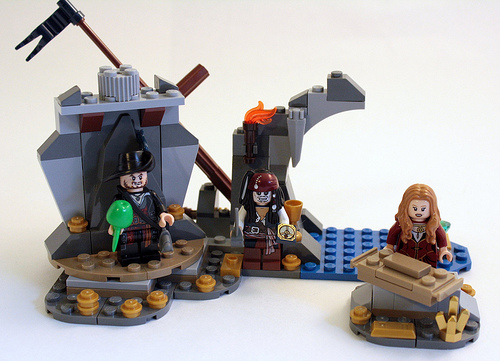 The first of two $20 sets, Isla de la Muerta is a familiar scene from the first Pirates movie. Like the majority of the line, it's a scene/playset, and it focuses on the figures more than anything. We get four in the set: Jack Sparrow with "undead" face, Living Barbossa, Skeleton Barbossa, and Elizabeth Swann.
Conspicuously absent is Legalos… I mean, Will Turner. I'll admit that it's been a bit since I've seen this movie, given that I can't help but watch it without the travesty that is the sequel coming to mind, but I do seem to remember he was rather important to this particular scene. Or, the whole point of it. In fact, he was a rather important part of the first movie.
Captain Jack appears in every Pirates set, though there are variations in most of them. I get that he's really what makes the whole series, but it's not like these are Batman. He wasn't in every scene, and they could have done something more with the rest of the cast. I'll cover it more in the rest of the reviews, but it does take away what would be a better fitting figure. Or in this case, including the other main character.
There are two Barbossa figures in the set, one skeletal version and one human one. The skeletal one is one of the Ninjago with a bearded face. Both versions feature the Swashbuckler hat from Minifig series 4 (with a nice dark blue feather), and both have a shoulder scabbard and scimitar. Both also carry a nice green apple. The living figure looks nice, with good printing for the pirate costume, and the face would have some decent uses with his beard. I've also included a picture of the one from the Fountain of Youth as a reference.
Elizabeth Sawn is the least noteworthy of the figures. A new fleshy female face, a new hairpiece, and yet still, it seems like so many of the other maiden figures we've gotten recently. It works, not bad, and it's nice that they included her in the line somewhere. But somehow, it just strikes me as a little boring.
This set is unique, at least in the PotC line, for only having one new part of note, new gold coins and the rather awesome gold ingots. I have nothing against these, they actually look quite nice. And it means you get more coins in a packet. But I have so many chrome gold from so many Bricklink orders that I kind of hate getting something else. But I will get them. In bulk. And someday, when I have enough, I will be building Scrooge McDuck's Money Bin.
Other than that, there aren't all that many notable pieces to the set. Some dark tan stuff like we saw in Prince of Persia, one of those round grill bricks we saw with this year's Atlantis stuff, and the rest is all fairly mundane.
The set itself, as a playset, is somewhat boring. Barbossa is set up on a spinner, so you can flip around the transformation. There's half of a cave wall, with a thick sword blade posing as a stalagmite, I suppose. For a playset, it's okay, but a little boring. The spinner, part of a cave, and a treasure chest where Will should be dropping the piece of gold, and that's about it. The treasure chest itself is kind of nice, can slide it across to open, after which it promptly falls off it's peg. And does include some more dark tan pieces, though hopefully the Pirates line does a little better than the Prince of Persia line did.
Update: I realize I neglected to photograph the boat in the review. Suffice it to say, it's like every little boat that's littered Pirates sets for some time. You've seen it before, trust me.
Overall the set has decent value, several minifigs, and coins for people who like treasure. I wish that they would have found a way to put Will Turner into the set, perhaps by moving Elizabeth Swan. It would have made it feel a little more… complete. For a $20 set, it does okay. Worth it for some parts, maybe for some play, and certainly for some figures. But like most other sets in this series, you get action figures for your money and some bricks you'll want to take apart.
Value: 8/10
Build Quality: 7/10
Accuracy: 6/10
Swoosh Factor: N/A
Play Features: 7/10
Minifigs: 8/10
Reviewer's Tilt: 6/10
Final Score (Average): 7.0
Verdict: Buy… when it's on sale (maybe two, for parts)