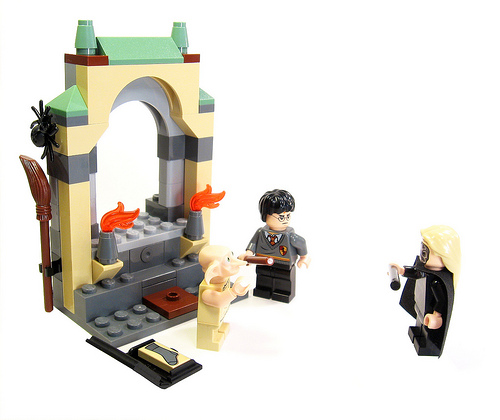 Join me as I contemplate whether Dobby should ever be free.
When I first bought this set, I felt like it was a little overpriced. But you know what? The Collectible Minifigs (and the minifig magnet packs) have put things into perspective for me. If I'm willing to put down $15 for 3 minifigs and their accompanying magnets, or umpteen collectible figs for $2 or $3 a pop, $10.99 for 3 fantastic minifigures and the best play feature ever is a STEAL.
I dare you to come up with a matchup that isn't hilarious. The "Dobby magically launches Lucius" function is one of the most compact, enjoyable action functions I've seen in a set.
Dobby is one of my favorite licensed minifigs to come along in quite a while. Simply by adding paint to what I believe is the original head mold, they've made a Dobby that absolutely teems with life. Lucius is the best version yet, and Harry, well, is Harry. He feels like mostly a retread (BEGONE, you awful hairpiece!)
All said, this set with its 3 solid minifigs and way-too-fun play feature is a worthy addition to the Lego Harry Potter lineup.
See the full set of photos here on Flickr!
Value: 10/10
Yep!
Build Quality: 10/10
The model doesn't break when I launch figures!
Accuracy: 6/10
This ain't no hallway, and what's with the broom?
Swoosh Factor: 9/10
Watch the figs fly!
Play Features: 10/10
Yes!
Minifigs: 8/10
Strong!
Reviewer's Tilt: 9/10
Way better than I thought it would be!
Final Score (Average): 8.9