With the Comic Con announcement of the licensing of Marvel and DC there was a collective nerdgasm with LEGO and comic fans alike. There is so much potential with this it boggles the mind. Not only is there a positively vast library of reference material in the form of comic books, comic book movies are hot these days. It's really too bad this didn't happen a bit earlier because with this summer's offering of Thor, Green Lantern and Captain America a lot of people (including myself) feel it was a bit of a missed opportunity.

Last week I watched Captain America, and enjoyed it very much. It's a charming picture with all the right stuff to make a perfect summer movie. The production design and story also lend themselves so much to potential LEGO sets. SPOILER ALERT: If you haven't seen the movie, you might not want to continue…you've been warned!
Just off the top of my head there could be a small set with the really cool HYDRA motorcycle and the Cap's bike.

See More Captain America: The First Avenger Publicity Still at IGN.com
A set with Red Skull's car and part of his secret lab.

See More Captain America: The First Avenger Publicity Still at IGN.com
The chamber where Steve Rogers becomes Captain America (with a cool transformation play action and light in the pod).

See More Captain America: The First Avenger Publicity Still at IGN.com
A factory rescue set where the Cap not only rescues the lost troops but finds his team of heroes. That set could include a factory portion, with simulated destruction play action, the prison cells, the cool HYDRA tank for them to steal and the Captain in his first cobbled uniform (if you don't count his somewhat ridiculous USO uniform).

The big set could be the HYDRA lair with a large portion of the secret base as well as Red Skull's flying wing. A couple of those cool HYDRA fighters would be imperative as well.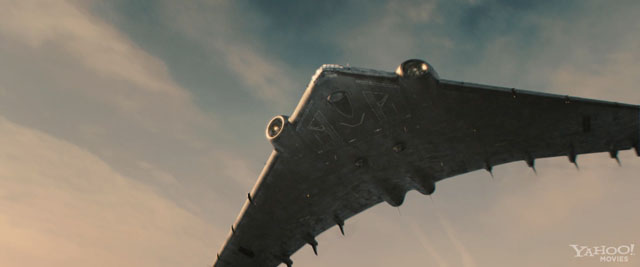 There you go, an entire line of Captain America sets, multiple sizes and price points, that practically invented themselves. There's plenty of scenes that are left too, the zip line to the train, the chase to the secret submarine, etc. If it's that easy for me, can you imagine what the creative geniuses at LEGO are going to come up with?
We can only hope that LEGO will come through with not only comic book inspired sets, but will also capitalize on movies and TV. The amount of material they can draw from is staggering, and I can only imagine what kind of impact it will have on Comic Con next year. I envision a LEGO booth so irresistible that it has a measurable gravitational pull.