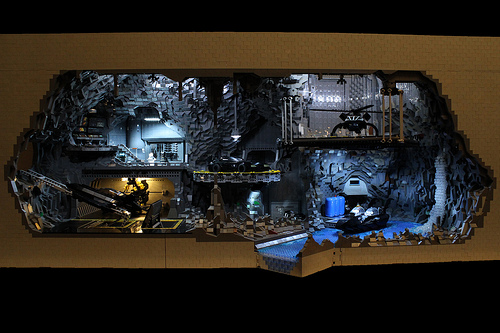 This version of the Batcave created by Carlyle Livingston II & Wayne Hussey was highlighted by The Brothers Brick the other day, but it's just too impressive not to spotlight here as well. The details are as amazing as the scale of the build and they managed to work a balance between the industrial finished sections of the cave and the fantastic rock work around them. The picture below featuring the two builders gives a sense of the creations scale and even manages to dwarf a couple of the largest SW sets in the process.
It's impossible for me to pick a favourite part of this MOC, so take a look at the set on Flickr and let the pictures speak for themselves. Make sure you watch their videos too and check out the stats on this massive accomplishment.
We spent 400 hours each over three months building this. We started in Early January and finished in late March.

We estimate over 20,000 pieces but it's probably much more.

It weighs in at 100 pounds.