Our annual tradition moves along, another batch of Advent Calendars. Ace handling Star Wars (again), Eric handling Harry Potter (again), and Nick handling Marvel (again). We're adding a little twist to this and doing our own bonus calendars of silly things, so Ace is doing <something>, Eric is sampling Hot Sauces that may kill him, and Nick is enjoying indulging his stupid amount of knowledge of the world of Warhammer 40k through little chibi Space Marines.
---
One day left!
Star Wars: Star Wars: 11 Hits / 11 Misses
Harry Potter: 11 Hits / 11 Misses
Marvel: 9 Hits / 13 Misses
LEGO Star Wars / ??? (Ace)
Santa Gonk Droid can go to hell. It doesn't even look like a Gonk Droid. Me calling it a Gonk Droid is a huge assumption on my part. For all we know it could be a Jawa inside carboard box. It's top heavy and tips over easily. The only good thing I can say about is that it has the Santa colors right. But not sure what the 1×2 ingot plate is supposed to be. It fits in neither the Santa nor the Gonk Droid aesthetics.
LEGO Harry Potter  / Hot Sauces (Eric)
Quick recap here: I have 24 sample hot sauces. I down a tablespoon, then open and build the day. Oh, and I record it all.
The temperature in Nashville dropped 50 degrees last night. Snow is covering the ground now – gives it a real Christmas-y feeling that I hadn't realized I'd been lacking. You know, because this Advent Calendar has nothing to do with Christmas.
I can't help but love this build, though. If every single day had been as good as today and yesterday, this calendar would have hit legendary status. The mini train is gorgeous, and I appreciate that they added a part of the station in the back – again, it gives it some depth, and makes it feel like much more of a real scene.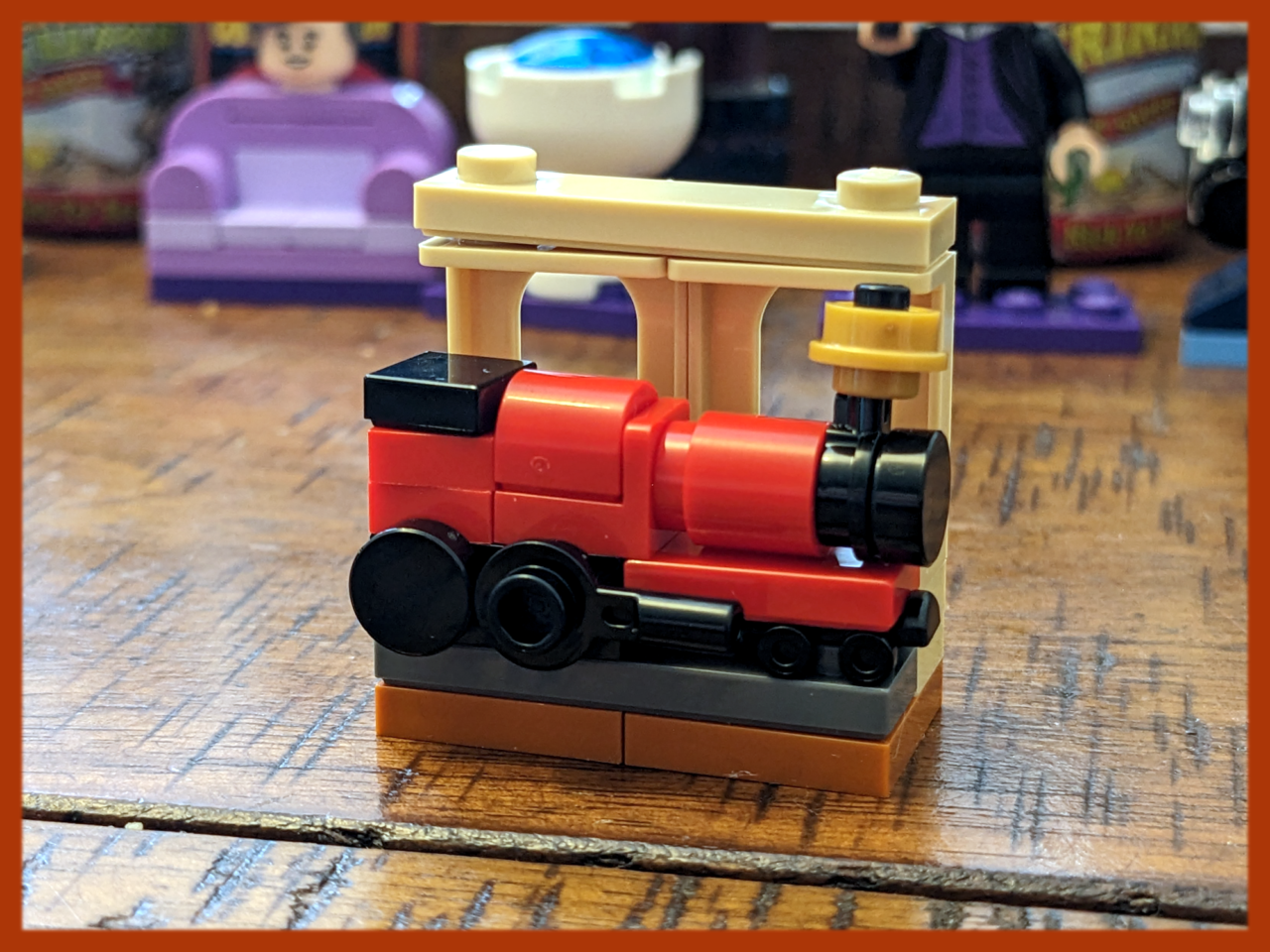 I mean, just look at that thing!
Today's hot sauce is CHIPOTLE BBQ. It's actually pretty good – I'd throw it on a pulled pork sandwich.
One day left, and one minifig left! Maybe it'll be Santa.
LEGO Guardians of the Galaxy / Warhammer 40k Chibi (Nick)
We are up to day 23, and we get a trash back on the butt of this butt of a build.
Oh, look, it's a garbage sleigh that took three days of this calendar. I think. It could just be something that someone made up. My wife and I watched the Guardians of the Galaxy Christmas Special last night. It was good, we laughed – my comment at the opening was "this sounds like Rhett Miller" and then I saw that it featured the Old 97s, and Rhett Miller is the lead singer, so, that was really cool.
There was nothing at all that looked like this at any point in the special. It doesn't even look like anything I know of in Guardians. Maybe this could have come together and been a cool build that was worth three days, but it just didn't. It's like I want to go back and take away all of the marginal ups that I'd given this thing. This is awful.
So I did a little mix-up and switched my day 22 and day 23, and this was supposed to be yesterday's feature instead of the Flesh Tearers, but you know, who was gonna know that but me? I could have said nothing.
I've mentioned that the lore of 40k is based upon the fact that the narrator is just… unreliable. I don't mean in individual stories, I mean the omnipresent "narrator" of the whole universe. Retcons are something that can leave a Star Wars fan complaining for twenty five years as things get changed and rechanged and changed again. For a Warhammer fan, a retcon is just a Tuesday.
I'm not sure I'm using that joke right.
The Tome Keepers are the "official" chapter of White Dwarf, the official marketing materials magazine of Games Workshop. Out of game, they're the newest one in the whole calendar, having only been introduced back in 2020. Of course, the history they got along with that was that they date back to M32 and the 4th founding, and have been in the background all along – and that they're a bunch of book nerds.
Well, one sort of book nerd, more of that they're really big into journaling. Every brother of the Tome Keepers keeps a record of their deeds, their battles, and their actions. A written record, and when a brother falls, another brother acts as the scribe to write the final entry before it's entered in the vault with the other fallen brothers. In theory, this means that the Tome Keepers likely have one of the most complete and unbroken records in the Imperium of, albeit a narrow slice, of what has happened over an 8,000 year period. Of course, that knowledge is mostly sealed away and likely forbidden, and like almost everything, looking at a lot of it is Heresy.
All of the lore for the Tome Keepers has only ever been published in White Dwarf, which has short stories from their own staff and Black Library writers. Most of them have been fairly solid, though haven't given a whole lot. The color scheme is fairly interesting and unique, but they haven't been given a whole lot in background as of yet.
Check Out the Previous Days
FBTB's LEGO Advent Season of EXTRA Spam 2022: