Comic Con is back after a two-year (well, 1.5 if you count last year's special edition version held during Thanksgiving weekend, but no one does so let's just pretend it didn't really happen 'mkay?) hiatus. It's been… interesting.
I've been half-jokingly referring to it as Covid Con. The mass amounts of people in tight spaces is just a recipe for disaster. I've had some close friends contract the virus from Star Wars Celebration where there was no mask requirement no proof of vaccination status. Comic Con handled things differently. First step to even get near the doors was to have an orange wristband obtained by showing your proof of vaccination or negative PCR test within 72 hours. Those without realizing they needed a wristband would find themselves in a long line. The wristband is good for the entire weekend and should you lose it or rip it off you can get a replacement. The second step was to have a face covering of some kind. And to my surprise, 99.9% of the people I saw on the exhibit hall complied with this rule. It was probably as safe as it could have been. WAY more safer than Star Wars Celebration from the sounds of it.
The LEGO Booth
I'll just get this out of the way: LEGO HAD NO EXCLUSIVES THIS YEAR.
Don't know where the LEGO booth is? Look for the giant bricks hanging from the ceiling. Once you're there you can play a "tap the LEGO elements" game on a giant touch screen vending machine.
Yes, vending machine. You can tap as many plates and bricks on the screen within a time period. And at the end of the game, a small boxed set gets spat out in the retrieval window.
On two corners of the booth were some photo-opp statues. One of the Darth Vader from the upcoming advent calendar and one of Mario and Luigi figures from the starter sets. The Mario and Luigi were complete with the LCD screens for the eyes and chests.
The back of the booth had their retail portion where you can purchase a selection of sets from a wide variety of themes. Obviously they couldn't sell everything or have a large quantity on hand due to space issues. By this morning, some sets were already sold out. While there was no retail exclusive, they did offer a free GWP:
5000063 TC-14! He was free with a purchase of $125 or more. Can't confirm this but I guess on preview night, you could have randomly gotten either this or 5002125 Electro from Spider-Man 3 and only need to purchase $70. Today though, it was all TC-14s at $125 and unsure if Electro will make a return.
LEGO x Nintendo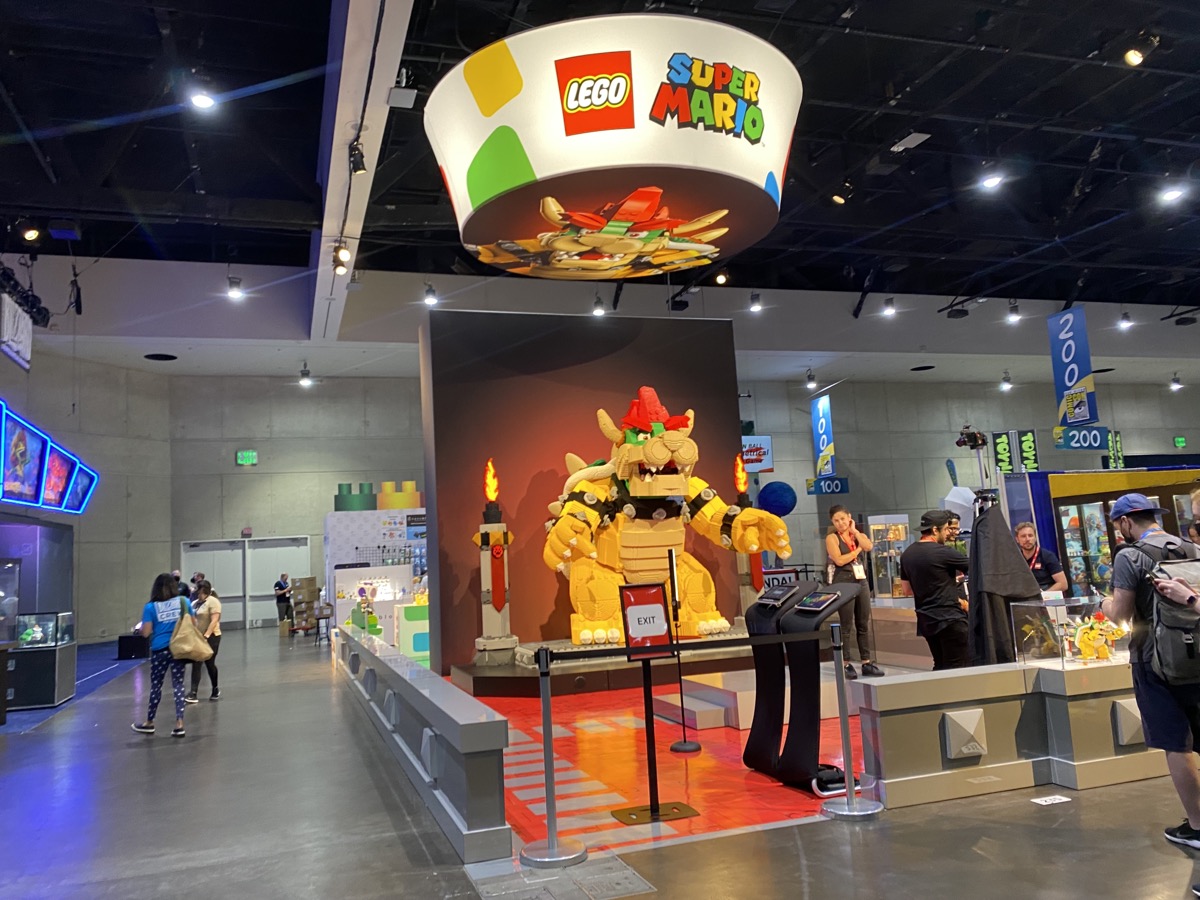 Nintendo didn't have anything game-related at their booth. Instead they had this giant 4-ton Bowser made with almost 700,000 bricks (663,900 to be exact). It's animated, and there's a platform where you can take a photo. Or Nintendo will. I'm not entirely sure. it's not something I was really into discovering but it drew a huge crowd as usual. The animatronics was impressive. Even the eyes moved side to side.
I honestly didn't know what to expect of the con. There's a lot of new booths/vendors. I can only imagine the pandemic directly or indirectly being responsible for past vendors pulling out of this years show. It seemed like it wasn't as crowded as years past but that might have been due to today being the first full day and the whole wristband situation described above. There was still a crush of people and long lines and tight spaces and exclusives to chase. LEGO not having anything this years might have been due to the long lead time required to design and manufacture a product and honestly I don't think a lot of people thought this year's con was even going to happen. I was never really into attending panels or do any of the outside events and attractions. I'm here until Sunday. It'll be an interesting next couple of days.