Today's set, 4452 Coca-Cola Forward 4, is an old set. You can tell because of its 4-digit number.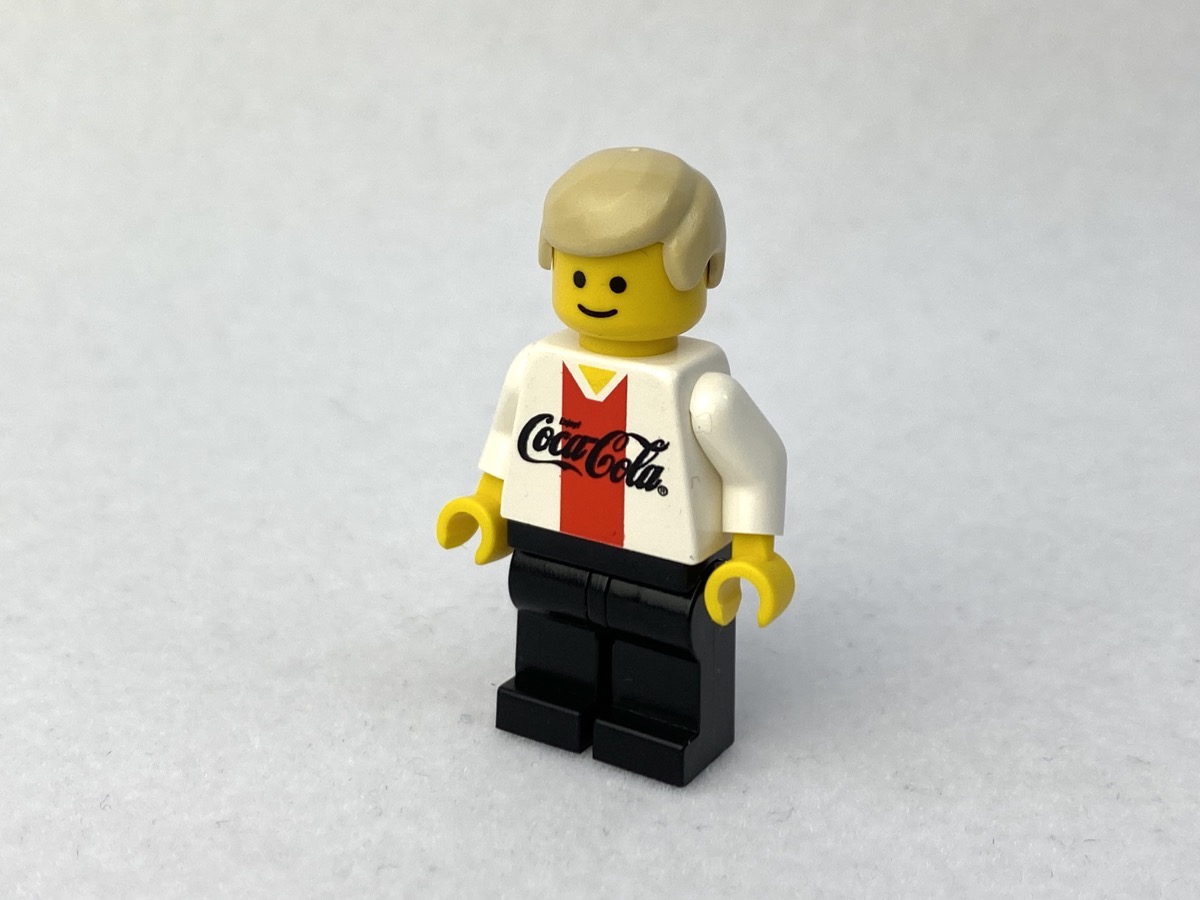 I don't remember how this came to be in my possession. I'm going to assume it was through Bricklink. And I got it for the very obvious reason that there is a Coca-Cola logo plastered on the front of the torso. This set came out in 2002 in Japan as a promotional item that's pretty much all I know about it. I'm assuming it was to coincide with the World Cup that Japan was hosting at the time. I was still relatively new to LEGO at the time, slowly expanding my interests outside of the Star Wars theme and then I come across this guy. Actually, this theme because I remember getting a couple more of the different promo sets, like 4464 Coca-Cola Bottle Case and 4465 Coca-Cola Vending Machine.
These were promotional sets, and because of just how light weight these were I can only imagine and hope that they were free. There was a bunch to collect in this line, 30 small polybags in all. I didn't go whole hog and get them all, just a handful of them and how this one survived not being opened all this time is beyond me. And it was pretty easy for me to get it off of Bricklink. I don't know what the distribution method was for these promo polybags, but with 30 of them I could see it being a bit maddening to collect them all. But how cool is this minifig? With a Coca-Cola print? I don't think you'll ever see something like this again.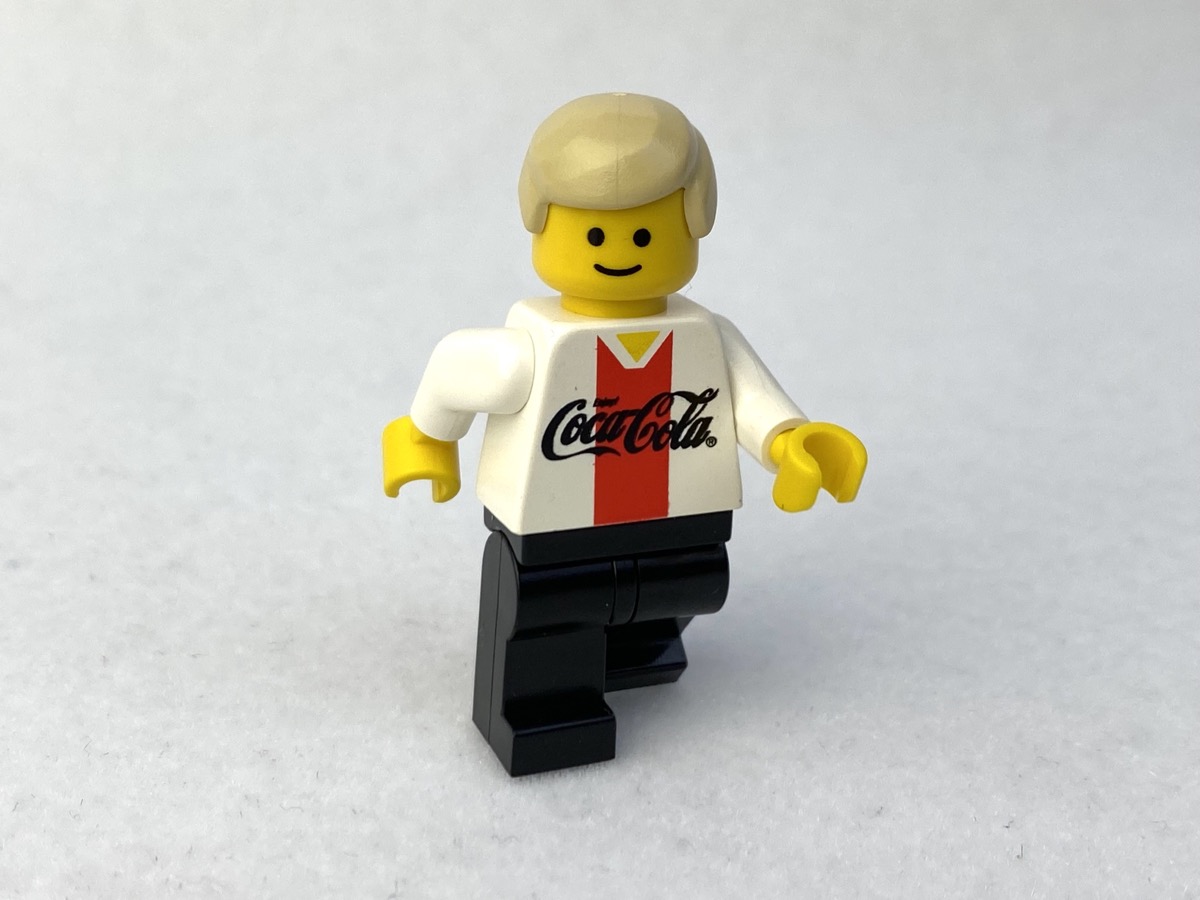 And admittedly, it's use would be kind of limited. I mean, it would be like getting a minifig with the Star Wars logo plastered on the chest. Well, now that I've said that, I kind of want that too!
Does It Suck or Does It Rock?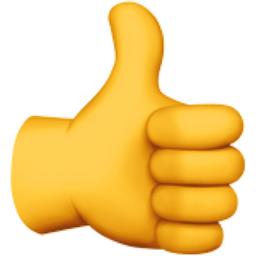 This set rocks! When it comes to LEGO, I lean towards the licensed stuff, so this minifig speaks to me on that level. Plus it's a bit of a rare license. I could be wrong but it may be the only time that The LEGO Group and The Coca-Cola Company have ever collaborated. Some of the polybags out of the 30 they put out for this promo are dumb but the minifig ones are all thumbs up.
Sponsorship
There's no sponsor this week, and with sponsorships lasting a whole week, you can get plenty of exposure for mere pennies. Pennies I say! Want to sponsor a review? Send me a message to admin@fbtb.net or hit me up on discord of the polybag set you have that you want me to review. If selected, in exchange for the set you'll get a mention right here in the review post and a link to your website or social media account or just about anything else.. Nearly free advertising, so what's stopping you?
You Can Win This And Every Other Polybag I Review This Year
I'll be raffling every polybag I review this year in one big lot, all 260 sets (with the possibility of more). Each set will be individually stored in a ziploc baggie complete with the extra pieces, instructions, and the actual polybag bag it came in. The cost of a raffle ticket is just $1 USD and you can enter as many times as you want. Send a PayPal payment to paypal@fbtb.net for $1 USD for every ticket you want to purchase. DO NOT send one payment for multiple entries i.e. do not send one $5 USD payment for five tickets; five $1 USD payments must be made instead. Raffle is open to everyone in the world except where raffles are illegal. Be sure to put "POLYBAG RAFFLE" in the notes section of the payment in order to be entered successfully. Winner will be drawn sometime early January 2023 and contacted at the PayPal email address the payment was sent from to arrange for delivery. For a running list of all the sets that you can win, check this Google spreadsheet.