In what has been our annual tradition, it's another year and another batch of Advent Calendars. This year gives us a unique opportunity with the addition of the Marvel Advent Calendar, allowing all of us to focus on licensed Advent Calendars. Ace will be handling Star Wars (75307), Eric will take Harry Potter (76390), and Nick is taking on Marvel (76196) instead of City. We'll be walking through them all, giving our little pictures and mini reviews, and keeping a running tally of the hits and misses for each day.
***
Things are steadily improving across the board:
Star Wars: 9 Hits / 4 Misses
Harry Potter: 7 Hits / 7 Misses
Marvel: 6 Hits / 7 Misses
Which honestly makes me happy because who wants a calendar full of disappointment?
LEGO Star Wars
After yesterday's Scout Trooper I was full on expecting some sort of Speeder Bike but instead we get this:
I don't know what this is. The slit there makes me think it's some sort of sentry wall. The two studs on the bottom, is that for the Scout Trooper to stand on?
If it is, he's way too high to make use of it as a peep hole. Plus he looks like this on the other side:
But maybe he's suppose to stand just in front of it? Would that make him a bit more eye level?
Nope. Maybe it's more to just stick a blaster through:
Okay, this makes a bit more sense but he still can't see what he's supposed to be aiming at. Maybe I got the intent of this build all wrong. Besides, I can't remember for the life of me if there ever was a peep hole in The Mandalorian, and at this point I don't care. I put way too much thought and effort into today's post. If it's not obvious what it's supposed to be, then an F grade it gets.
LEGO Harry Potter (Eric)
Did I misunderstand the orientation of yesterday's model? Yes. Is that on me? Yes. But there's no way I could mess up today –
Gold! Lots of gold! On a nice little plate. This is another one of those days that combines with another, although since I couldn't figure out the right way to display the vault:
I just sort of laid the gold on there and called it a day. There's not too much going on with this model today, but I've got no problems with it.
LEGO Marvel Super Heroes (Nick)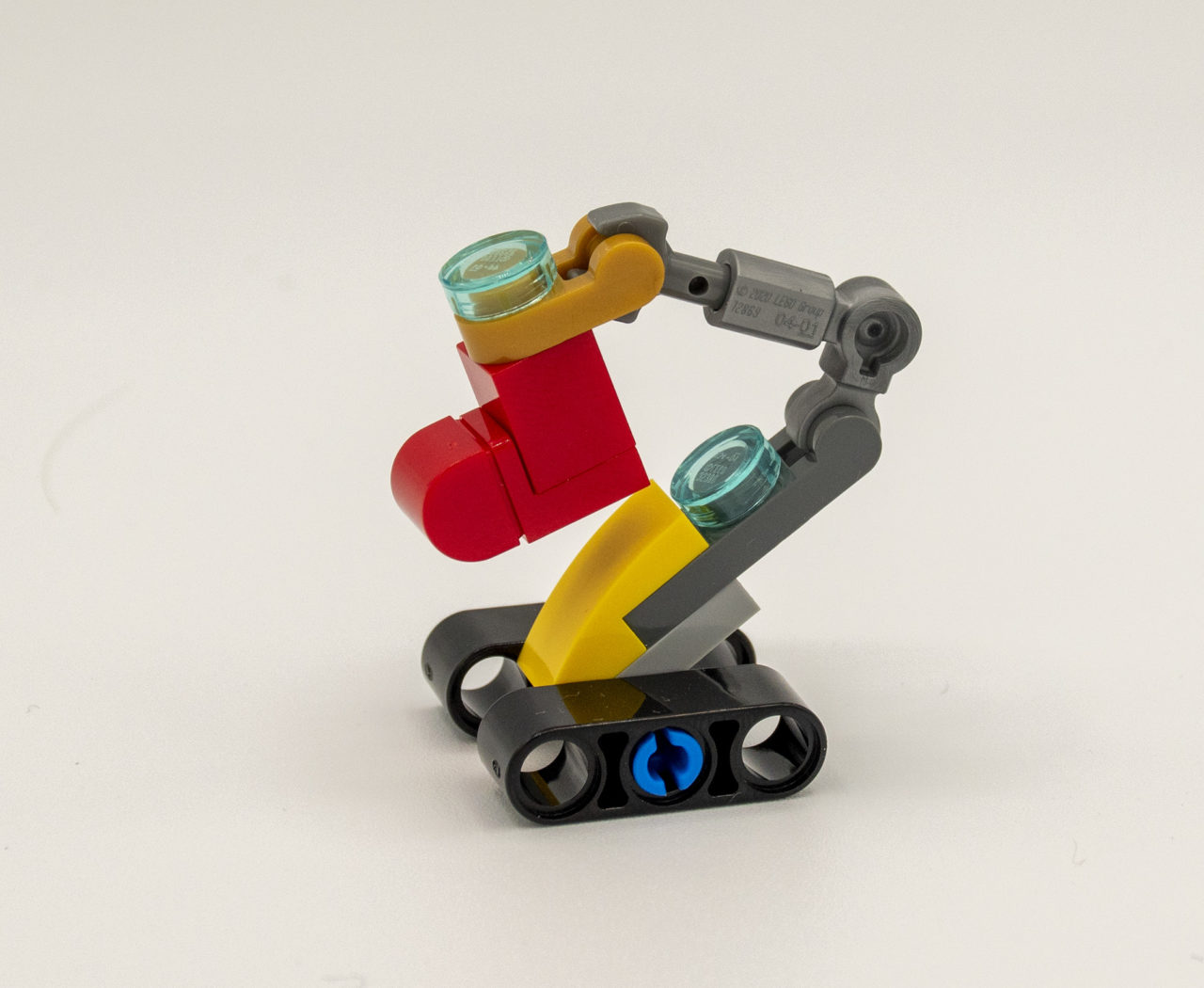 For the first time since day 2, the Avengers calendar is sniffing at being at 50% again. After a long drought, we've had a few hits and then get to… what is quite possibly my favorite little build in the whole calendar. It's DUM-E! Look at him, how cute he is, and holding the little stocking. We get a great little "character" that rewards being a fan of the films, and it hits the Christmas theme. This is what every one of these builds should be like. Incredible hit.
Previous Days