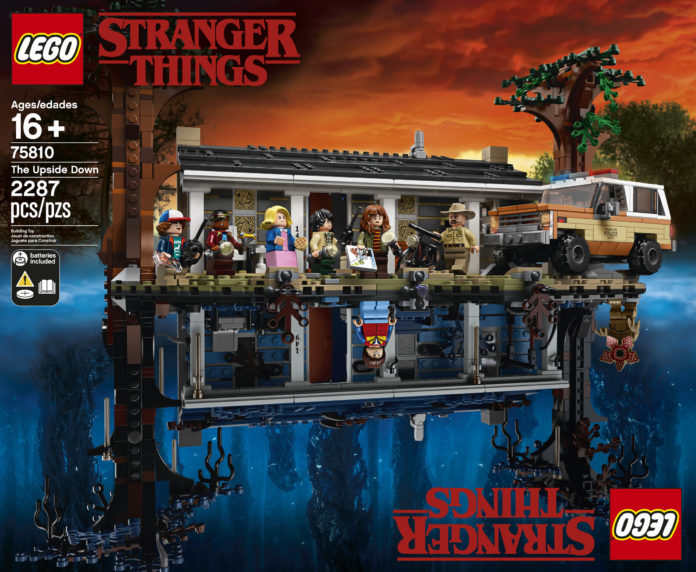 Well, it finally happened. Today at midnight local time at Leicester Square in London, LEGO pulled the wraps off of its newest and adult-oriented D2C set, 75810 The Upside Down based on the hit Netflix series Stranger Things. Price is just about what I thought it would be, $199.99 USD. And for that you get 2,287 pieces eight minifigures which includes a pretty awesome looking Demogorgon.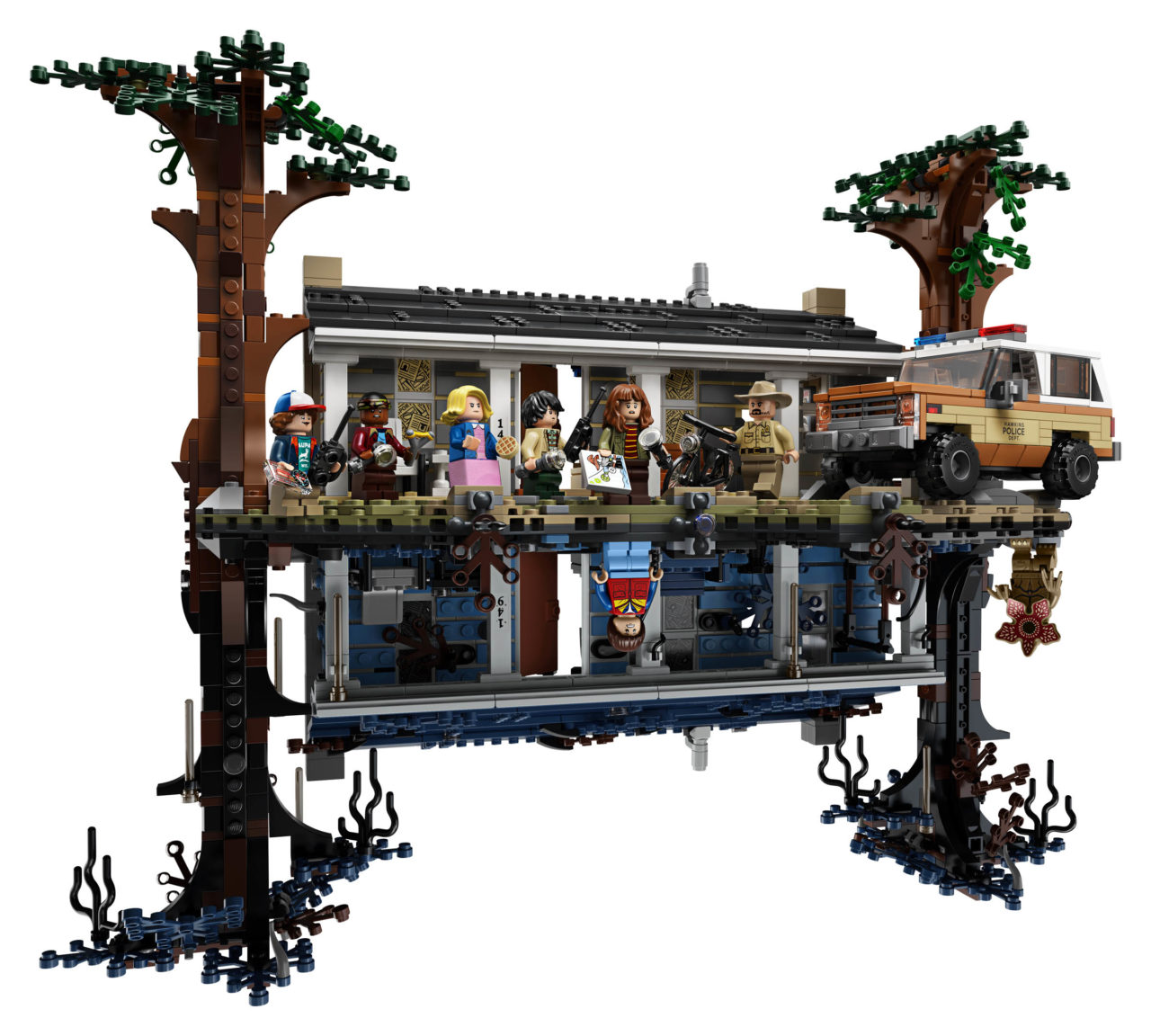 Now, I know the box shot was out there already , but it's a bit hard to tell what exactly was going on. Do you build both houses? And do you build them at the same time? Looking back, the answer is yes to both of those questions, but I honestly never thought you'd build them on top of each other. I thought maybe you'd build them separately and that the box shot was just a photoshop job to make it look like a mirror image, much like the Princess Bride DVD cover art: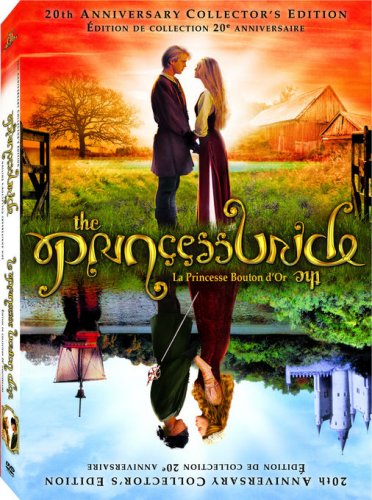 You can flip that cover upside down and get the virtually the same image. The masterpiece about that cover is that the title is readable both ways. I thought that was what the box for The Upside Down set was going to be like. And it is… just not one gigantic MOC.
And if this lifestyle pictures is to be believed, I guess you're supposed to stand it up on the tops of the upside down trees: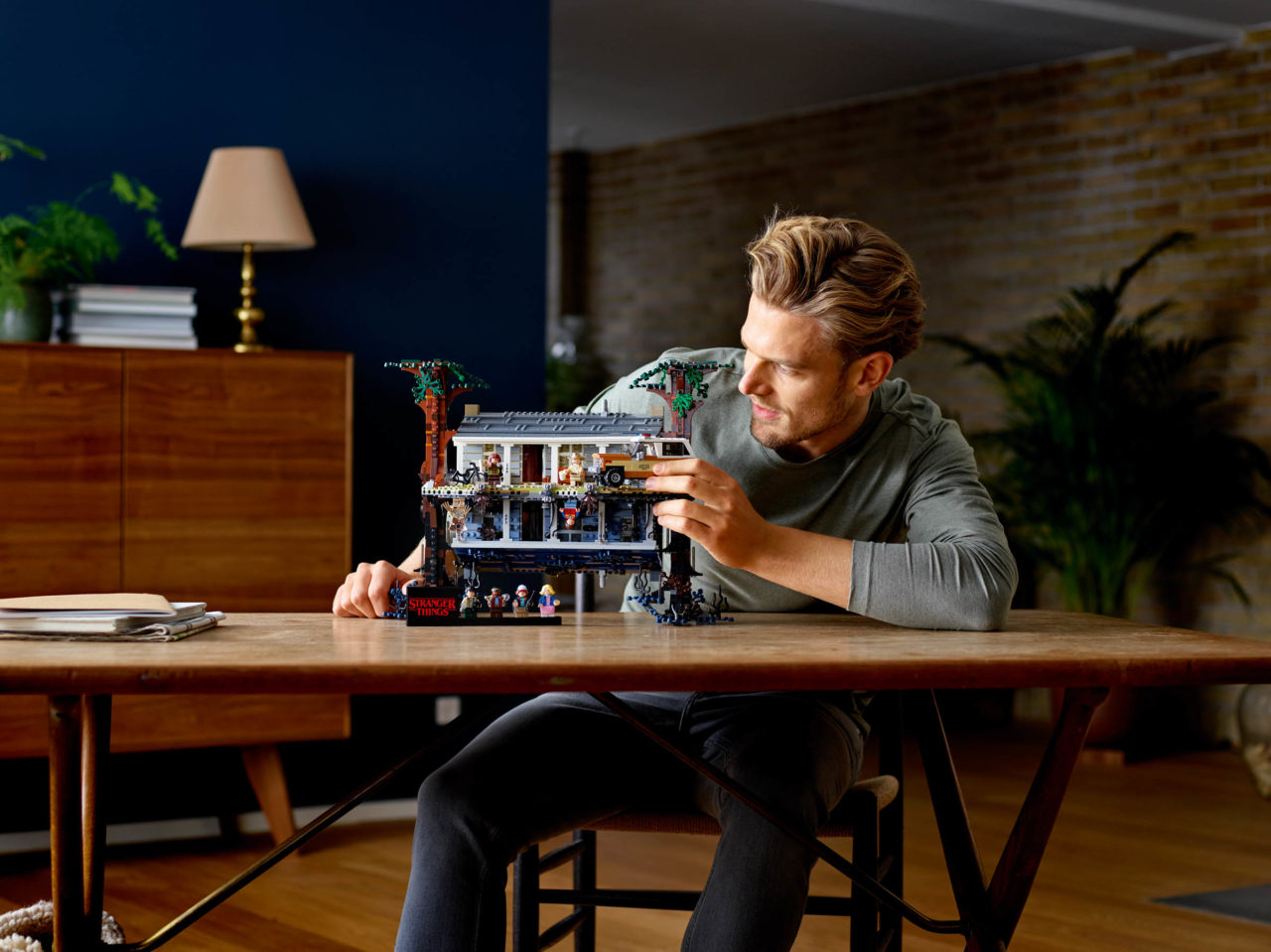 That seems awfully unstable. Like, really, REALLy unstable.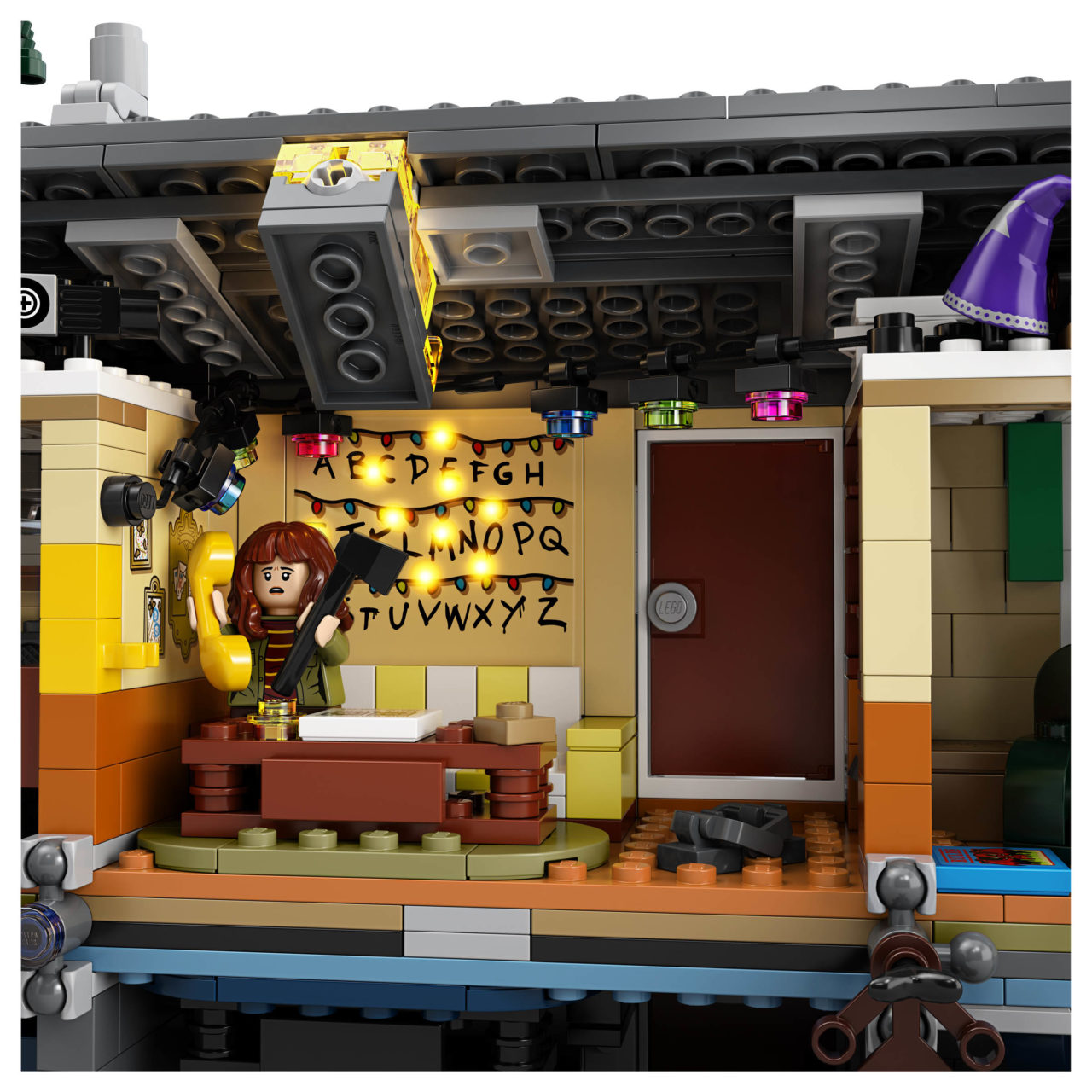 My favorite bit? The custom light brick to simulate the Christmas lights.
LEGO Stranger Things 75810 The Upside Down goes on sale on June 1st, 2019 but VIP Members can purchase this set starting TOMORROW! LEGO already has a page up for it!
Want more pictures? That's below as well as the official press release slash product description.
LEGO Stranger Things 75810 The Upside Down Official Images
LEGO Stranger Things 75810 The Upside Down Press Release
75810 The Upside Down
Ages 16+. 2,287 pieces
US $199.99 – CA $269.99 – DE €199.99 – UK £179.99 – FR €199.99 – DK 1799DKK
*Euro pricing varies by country. Please visit shop.LEGO.com for regional pricing.
The ultimate LEGO® Stranger Things model to build and collect!
Fans of the global hit Netflix original series will appreciate the authentic details of this highly collectible LEGO® Stranger Things toy – 75810 The Upside Down. This sturdy, brick-built model can flip between the real world and The Upside Down. The design of the model's building instructions makes it a great shared building experience with friends and family. The Byers' house features Will's bedroom, the living room and the dining room. The Upside Down version of the house, from an alternate dimension, features all the rooms from the real-world model but with a dark, vine-covered, dilapidated look that fans will instantly recognize from the series. With 8 Stranger Things figures, each with its own accessories, this playset makes a great gift for Stranger Things fans who will love to build and display this model to show their passion for the series.
This LEGO® Stranger Things toy includes 8 instantly recognizable Stranger Things minifigures from the hit Netflix original series: Eleven, Mike Wheeler, Lucas Sinclair, Dustin Henderson, Will Byers, Joyce Byers, Chief Jim Hopper and the Demogorgon.
The Byers' house features a front porch with furniture, living room, dining room and Will's bedroom.
The living room features authentic details from the series, like the alphabet wall with a light-up function, couch, coffee table, telephone, axe, 'have you seen me?' flyer stickered element and a bear trap to catch the Demogorgon.
Will's bedroom plays a central role in the series, which this model faithfully replicates, including details like Will's boombox, bed, desk, desk lamp, drawings and movie posters.
The dining room includes an armchair, boxes that store Christmas lights, fantasy game rule book stickered element and a potted plant.
The attic space includes a Mind Flayer drawing stickered element and a wizard hat for 'Will the Wise'.
The Upside Down set captures the look and feel from the Netflix original series, including creepy vines, dark coloring and a dilapidated look.
Chief Jim Hopper's police truck includes a removable roof for easy access to the interior and a pumpkin element as a reminder of Season 2.
Accessory elements include Lucas' slingshot and flashlight, Dustin's walkie-talkie and compass, Mike's flashlight and walkie-talkie, Hopper's coffee mug, Joyce's flashlight and drawing of 'Will the Wise', and Eleven's waffle.
This Stranger Things collectible includes over 2,200 pieces and comes in 11 bags, so the real world and The Upside Down can be built at the same time for a shared building experience.
Measures over 12" (32cm) tall, 17" (44cm) wide and 8" (21cm) deep.