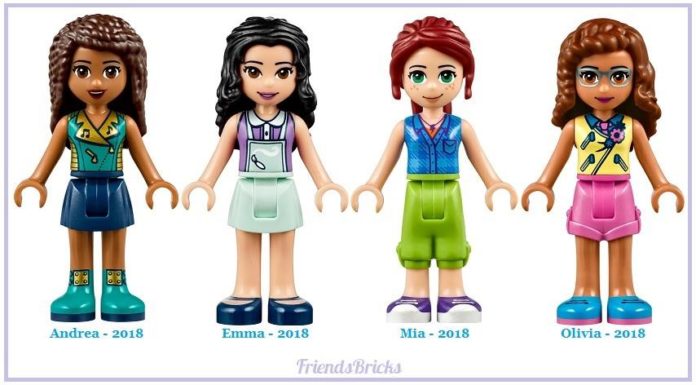 There was this post over at Friends Bricks' Facebook page that had a message from "The LEGO team in Billund":
From the LEGO Friends Team in Billund:
Every year we strive to innovate and make our products even better for children all over the world. A lot of effort has gone into the development of the LEGO characters and universes across our entire product range, so it makes us very happy when changes are noticed.
LEGO Friends in 2018 looks a bit different than what it has in the past. To be specific, the 5 main characters have a slightly different look but also the city and the citizens of Heartlake City have changed.
But what are the reasons for the change?
Firstly, we want to assure you that all 5 friends are still there in 2018.
Andrea, Mia, Emma, Stephanie and Olivia – they all still exist! Also the character's main interests and personalities remain mainly unchanged.
What you will see in 2018 is an evolution of LEGO Friends, a progression of the story and characters to make sure children get an even greater play experience. Every year more than a million children and parents reach out to us and share what they love and what they would like to change. In the LEGO Friends range children told us that they would like even more differentiated characters and also suggested improvements to Heartlake City.
We always take great care to listen to input from children, and the LEGO Friends team has worked hard to make even more engaging and relevant experiences for children – and also make the LEGO Friends universe more true to the actual world children live in.
Taking a starting point in reality, we've made the characters more diverse in their appearance and have added more depth to their personality. And of course, they still live in Heartlake City. But just as the characters have changed, Heartlake City has become more differentiated and rich. There are different districts and there are other citizens that play a more active role in the story.
The changes we have made does not change the fact that previous and new LEGO Friends sets will cater for great building and play experience in 2018 and beyond, and we hope to inspire even more stories and play opportunities for children in the future.
I scavenged the internet looking for the original designs of the minidolls pictured above, and here they are from 2012: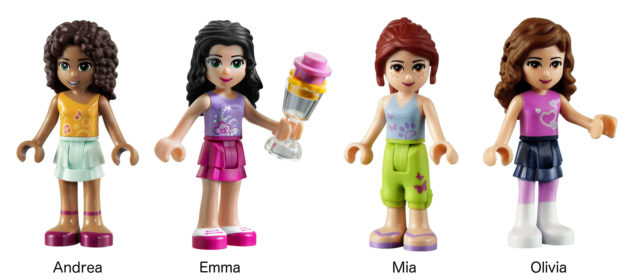 Compared to the new figures in 2018: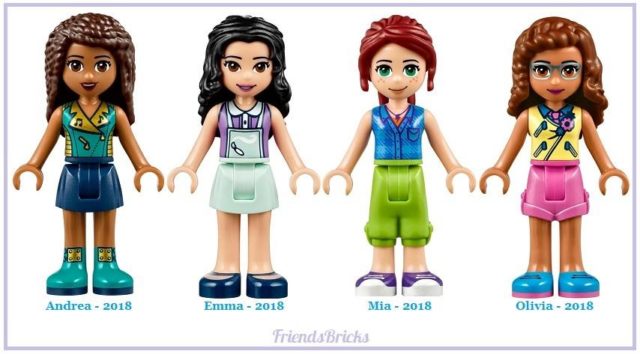 Most seem innocuous evolutionary changes. I don't even mind the different eye colors, colored contacts I say. Designs of minifig printing and minifig accessories change all the time, why should minidolls be immune? So the new versions of Andrea, Emma, and Mia don't really seem too different. Emma practically looks untouched.
But Olivia? I don't understand why she was completely overhauled to such a drastic degree. It's practically a Rachel Dolezal-level change. LEGO could have easily introduced a new character and kept Mia as is or give Mia the same level of changes as the other three girls. Is Heartlake City not big enough for more characters?