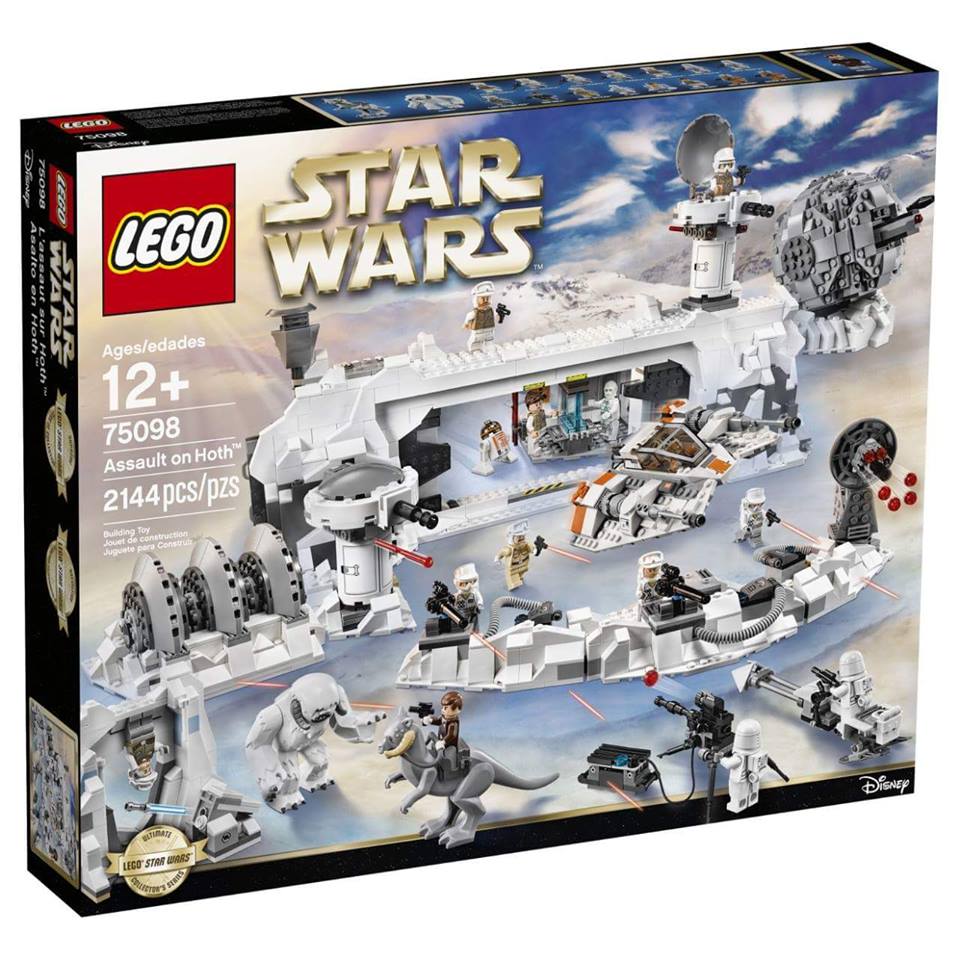 Update: Adding a couple of pictures of the box that popped up on Facebook. Hopefully we will get some more pictures once Toyfair kicks off. Box back is at the bottom of the post. Just disappointed that we are not getting Leia in the set…
In perhaps the worst kept secret, as this set has been rumored since last year, LEGO has spoiled their own (hopeful) Toy Fair reveals and let us know that the next big UCS set. I'm frankly excited, because it had been forever since we've gotten a Hoth-based set or Snowspeeder</sarcasm>. I do also wish LEGO would release pictures so I didn't have to find something to put in the header, but hopefully we'll get an update on it tomorrow once the show starts.
Modular Rebel base (so hopefully the other Hoth sets will fit in), and a lineup of minifigs that seems to be conspicuously absent a certain Princess (unless she's just lumped under "and more" now). Not a whole lot in the description to get excited for, since it seems like it will end up being Rebel heavy, and an "Assault" should feature more of that Imperial heavy artillery.
Here's hoping it ends up being just a giant Ion Cannon.
LEGO Assault on Hoth™ Base will Challenge Even the Most Skilled Fan Builders
Experienced builders can recreate the Rebel Force's Echo Base from Star Wars: Episode V – The Empire Strikes Back in an unbelievably detailed recreation of one of the most iconic scenes in the original Star Wars trilogy. The 2,144-piece building set inspires fans to build their own scouting missions with the Snowspeeder, armed with twin spring-loaded shooters, and get back to base on the speeder bike to help Luke, Han and the other Rebel heroes. The modular design enables fans to customize their Rebel base configuration, including a Wampa cave and Wampa figure.  The set features LEGO minifigure versions of Luke Skywalker, Han Solo, Toryn Farr, Wes Janson, Wedge Antilles, K-3PO, and more. Available May 1 for $249.99.