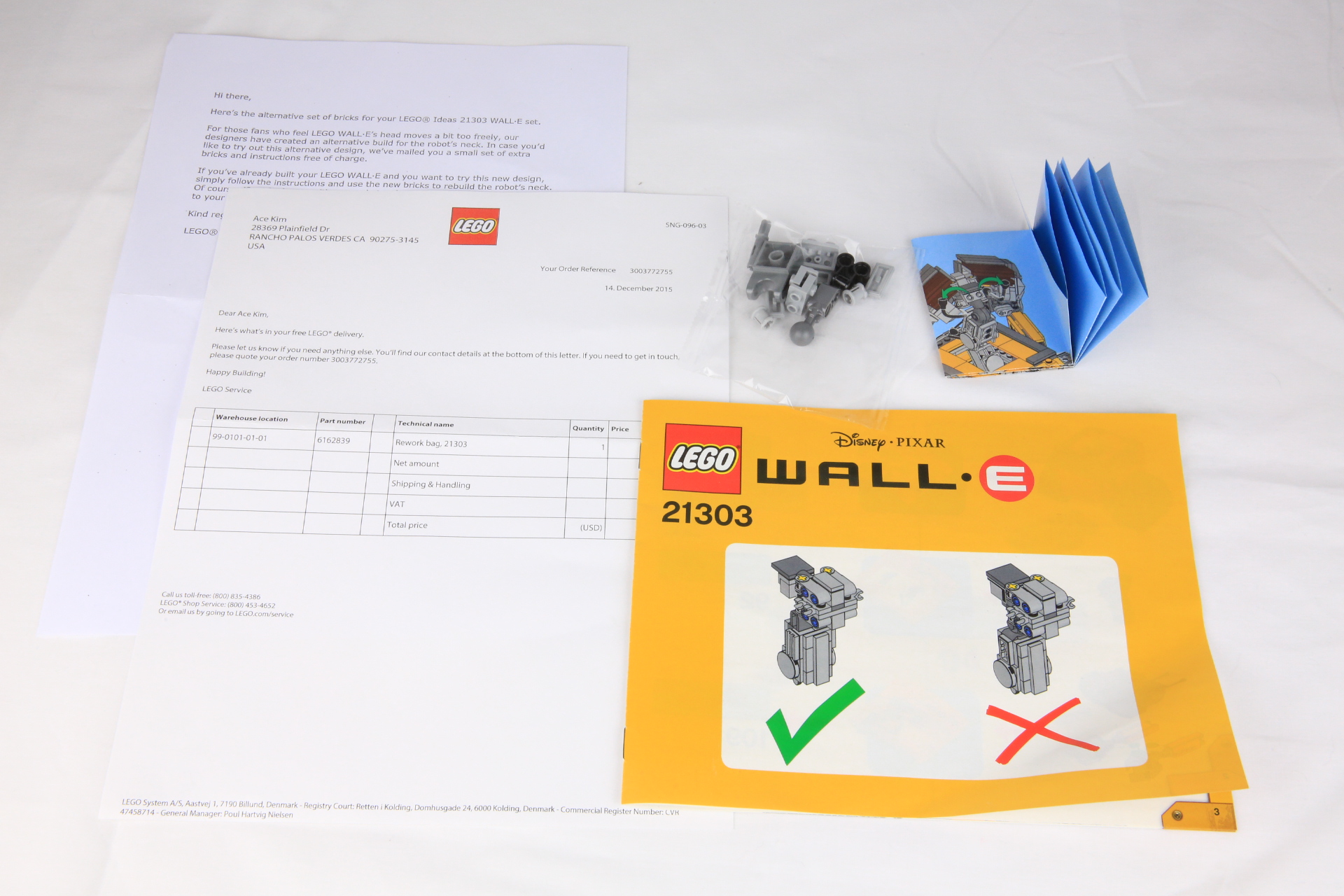 I FINALLY got my service pack to update the neck joint for my copy of 21303 WALL•E. Included in the envelope was a letter of non-apology, a packing list, a small bag of parts, and two sets of instructions.
The folded instruction sheet that looks like it came from a polybag are to deconstruct the neck. The small booklet is where the fix is. The bag of parts is pretty sparse in terms of the number of new elements needed. The fix itself is simple and light compared to the McVeigh Modification which feels a bit more robust for whatever reason. Like McVeigh's mod, LEGO's solution also uses a ball joint, the same one used for WALL•E's arms. I absentmindedly applied the fix before taking inventory of what was in the parts bag. You can probably scrounge up the parts from your own collection and download the updated instruction manual from LEGO directly to apply the fix yourself (start at step 92). There are no hard-to-get elements but despite that, if you bought a copy of the set, I highly suggest you call LEGO and request part number 6162839 Rework bag for 21303 and have them send you the parts. The service pack won't cost you a dime.
The fix does wonders and WALL•E is now as perfect as can be. For those of you who have held off on buying this set because of the defect, if you order from LEGO Shop@Home the set you receive will have the service pack included. They open up the box, toss in the parts and instructions, and then re-seal it with an additional tape seal so now there are three pieces of tape instead of the usual two. I think this is how you're supposed to tell if the WALL•E you are holding has the updated parts or not.
Now that LEGO has addressed the worst flaw in the entire set, I went back to my review of 21303 WALL•E and updated the score from 4 to a 5 out of 5 possible stars. I honestly think I was being generous in my initial assessment but now that it's defect free, it is in my opinion one of the best sets to come out of Ideas.
I may give LEGO a hard time for their non-apology apology, but they finally came through and delivered a product that is up to their usual standards of quality. Why the model didn't use a ball joint right from the start is beyond me.
Buy 21303 WALL•E from LEGO Shop@Home: