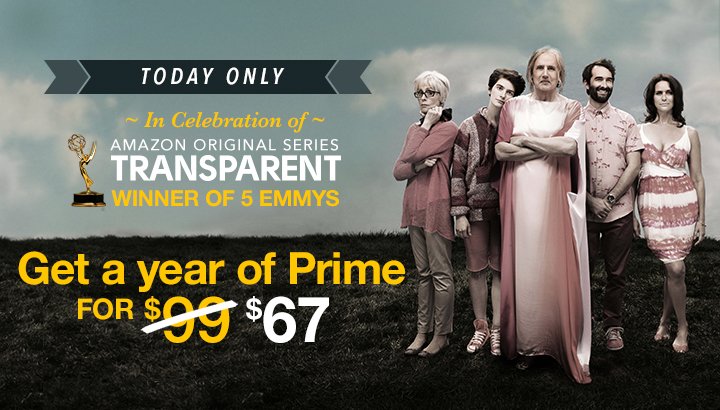 Update: Sorry about that. The links have been updated. Amazon set up a special Prime promotional page. Please note that it will show up as $99 in your cart but will reflect the discount at checkout. Oh, and Kinja was wrong. You can't give the gift of a discounted Prime membership. Oh well. Sorry for the confusion, folks.
Amazon Prime's original tv series, Transparent, took home five Emmy awards this past weekend including one for Jeffrey Tambor for Outstanding Lead Actor In A Comedy Series, Jill Soloway Outstanding Directing For A Comedy Series for "Best New Girl", and Bradley Whitford for Outstanding Guest Actor in a Comedy Series. To celebrate, Amazon is offering Prime membership for just $67, down from $99, for one day only, Friday September 25th, 2015. The deal starts right now at 12:00am EST and expires at 11:59pm EST. There are a ton of benefits to being a Prime member:
– FREE Two-Day Shipping on millions of items
– Unlimited, ad-free access to over a million songs
– Instant streaming of thousands of movies and TV shows with Prime Video including some HBO content
– Free unlimited photo storage in Amazon Cloud Drive
– Read free books each month through Kindle First and the Kindle Owners' Lending Library
You also get free one-day shipping on select items and access to Prime Now which offers one-hour delivery on select items in select areas. And every now then, Amazon will offer sale prices to Prime members only. It's definitely worth it in my opinion.
Already a Prime member? You can still net the $32 in savings with a little extra work. Give yourself a gift subscription. Then you'll need to stop auto-renewal on your existing membership and once that lapses, apply the gift subscription to your account, and then set up auto-renew again. Boom! $32 stays in your pocket.