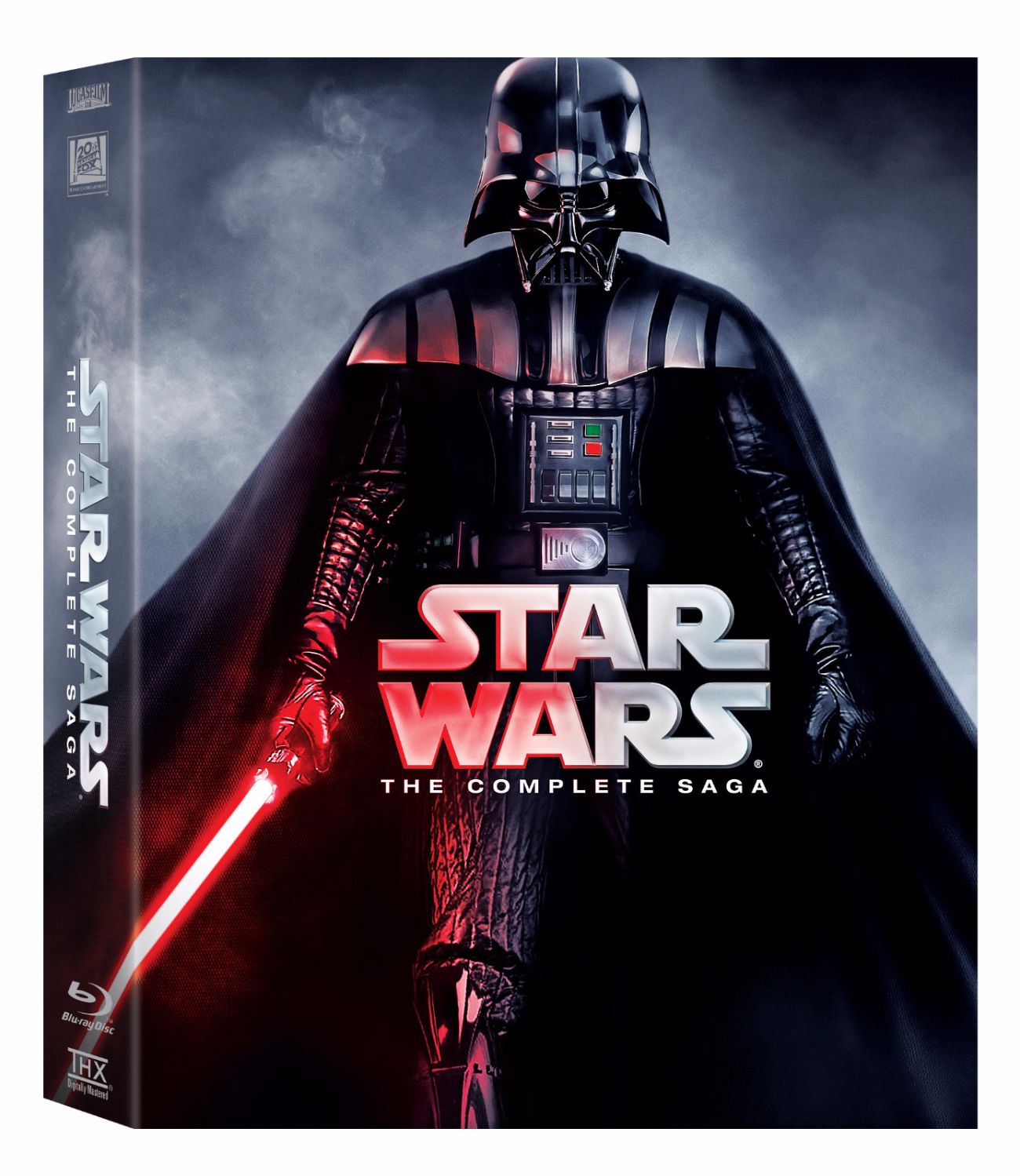 In typical marketing fashion, Twentieth Century Fox Home Entertainment will be re-releasing the Blu-ray versions of the Star Wars films individually as well as in a special collection with new packaging. As far as I can tell, this is the first time that Blu-ray versions of each individual film will be available to purchase separately. Previously, you could only buy physical copies in the three editions: The Complete Saga, Episodes IV-VI Trilogy, and Episodes I-III Trilogy. You could buy each individual filme digitally through iTunes and Amazon. But if you were a physical copy kind of guy and really only wanted Empire you were out of luck if you didn't want to spend a fortune. Now people who only want Blu-rays of specific films or were lazy and/or had procrastinatory tendencies (like me) and never got the HD movies from the get-go have a chance to pick them up with some nice Steelbook packaging. The thing is, it sounds like the Steelbook packaging is only for the individual movies so if you wanted to get the complete saga with all of the extras, you'd need to get the Saga collection that doesn't appear to be in Steelbook. What to do, what to do… That Darth Vader on the cover is pretty sweet though and is WAY better than young Ani that graced the current collection cover.
The repackaged movies will be officially available on November 10th with pre-sales beginning in two days on August 7th. Pric
You can check out the collection packaging shot above, and the individual Steelbooks below. And if you care for such things, the official press release is after the jump.
Each Film Presented in Unique, Collectible Character Steelbook Packaging available November 10th

Also Available Newly repackaged Star Wars: The Complete Saga
to be released on October 13th

Los Angeles, CA (August 5, 2015) – As the galaxy prepares for the next generation of Star Wars, the six epic films will each release as commemorative Blu-ray steelbooks on November 10th. These highly collectible films will be available for a limited time only and can be pre-ordered beginning August 7th. In addition, Star Wars: The Complete Saga will be released in newly repackaged artwork on October 13th. The announcements were made today by The Walt Disney Studios, Lucasfilm Ltd., and Twentieth Century Fox Home Entertainment.

Each film from the Saga is presented with new character packaging allowing fans to choose their favorite or collect all six for a limited time. Characters include: The Phantom Menace – Darth Maul; Attack of the Clones – Yoda; Revenge of the Sith – General Grievous; A New Hope – Darth Vader; The Empire Strikes Back – Imperial Stormtrooper; and Return of the Jedi – Emperor Palpatine.

In addition to the collectible steelbook packaging, each single disc Blu-ray includes existing audio commentary with George Lucas and the film crew as well as audio commentary from archival interviews with the cast and crew.

The newly repackaged Saga includes all six feature films on Blu-ray, along with three additional discs containing more than 40 hours of previously released extensive special features.

About The Walt Disney Studios
For over 90 years, The Walt Disney Studios has been the foundation on which The Walt Disney Company was built. Today, the Studio brings quality movies, music and stage plays to consumers throughout the world. Feature films are released under the following banners: Disney, including Walt Disney Animation Studios and Pixar Animation Studios; Disneynature; Marvel Studios; Lucasfilm; and Touchstone Pictures, the banner under which live-action films from DreamWorks Studios are distributed. The Disney Music Group encompasses the Walt Disney Records and Hollywood Records labels, as well as Disney Music Publishing. The Disney Theatrical Group produces and licenses live events, including Disney on Broadway, Disney On Ice and Disney Live!.

About Lucasfim Ltd.
Lucasfilm Ltd., a wholly-owned subsidiary of The Walt Disney Company, is a global leader in film, television and digital entertainment production. In addition to its motion-picture and television production, the company's activities include visual effects and audio post-production, cutting-edge digital animation, interactive entertainment software, and the management of the global merchandising activities for its entertainment properties including the legendary STAR WARS and INDIANA JONES franchises. Lucasfilm Ltd. is headquartered in northern California. Lucasfilm, the Lucasfilm logo, STAR WARS and related properties are trademarks and/or copyrights, in the United States and other countries, of Lucasfilm Ltd. and/or its affiliates. © 20 15 & TM Lucasfilm Ltd. All rights reserved.

About Twentieth Century Fox Home Entertainment
Twentieth Century Fox Home Entertainment, LLC (TCFHE) is the industry leading worldwide marketing, sales and distribution company for all Fox produced, acquired and third party partner film and television programing. Each year TCFHE expands its award-winning global product portfolio with the introduction of new entertainment content through established and emerging formats including DVD, Blu-ray™, Digital HD and VOD. Twentieth Century Fox Home Entertainment is a subsidiary of 20th Century Fox, a 21st Century Fox Company.