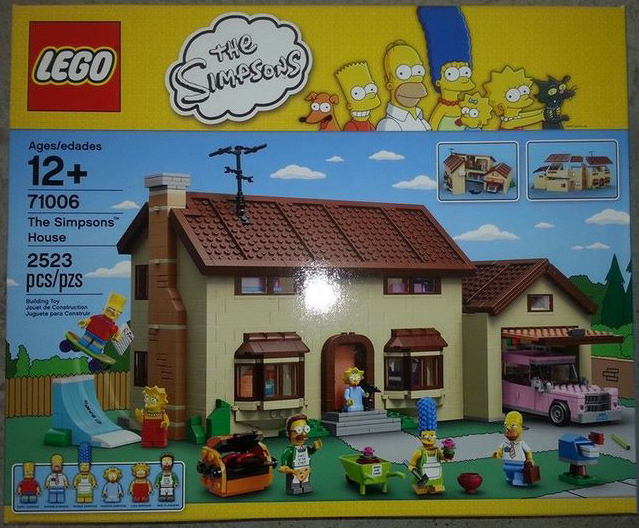 Updated to add a picture of the back of the box. 
Okay, it's not a bad reveal, I just guess Lego isn't a Stonecutter (or a member of the Ancient Mystic Society of the No Homers), and thus didn't get the leak tube fixed before this spilled all over the internet. We've known for awhile that Lego Simpsons was coming out, with a few hints at minifigs and some general statements about it… but this is the first time an actual set has wandered its way to us. Thanks to Eurobrick's Carlos S, we've now seen another salvo against our wallets in Lego's never-ending war.
Personally, I'm torn on this one. I mean, at 2523 pieces, and carrying a Licensed theme, this is obviously a Direct-to-Consumer Shop@Home exclusive that's going to be north of $200-250. More than that, without seeing the inside, there's nothing to really wow you. Sure, the minifigs are cool, but anyone doubt that these minifigs won't be in the CMF line (or any smaller sets that show up). And with the exception of Ned and Marge (perhaps Homer in his tie), none of the minifigs even look overly unique.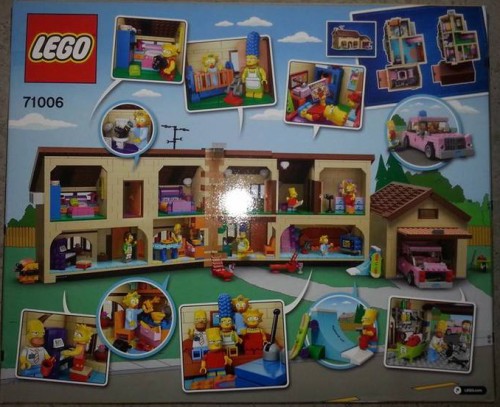 Okay, there's the back of the house, and the interior as well. I'm curious what Ned is doing in there, since Homer could legally shoot him (unless he was invited). There's a whole lot of blockiness to this house, and I stand by my first impression of "big tan box." They could have done more to connect the differeht pieces to make it work, but that's just me.
It could be that Lego is targeting this set squarely at AFOLs (not a stretch, given the price), and perhaps the whole theme, given that this show has been on the air three times longer than the minimum suggested age of the set. I'd be curious to hear what everyone thinks of this thing… for me, until I see Homer in a muumu, I'm not a believer.
Thanks to the multitude of people that emailed this set, showed up in chat, or pointed us to a whole bunch of other sites that covered this, and CloneEmperor for pointing me to the picture of the back of the box on Flickr. We've rehosted the images here and cropped them a little bit.