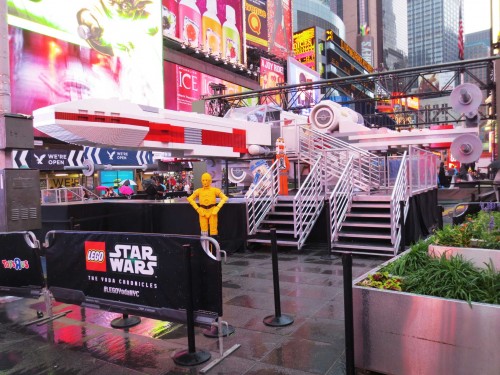 When I posted earlier this week asking for a volunteer field reporter for the Times Square event that happened earlier today, Maxwell Lux stepped up to the plate and answered the call. He snapped up a few photos and did a write up. A bit unusual for what I was looking for but worth reading:
It was a hot and humid morning in the city of New York, the kind of sticky suffocation that hangs low in the air, hastening the escape of the 9-to-5ers into their cubicles of air-conditioned paradise. Taking my leave of the PATH train, I shuffled uptown, a pang of hunger in my stomach and a mission in my mind: there was LEGO to be revealed. Broadway opened into that storied valley of neon: Times Square, a commercial utopia of chain stores and tourist traps, ringed by hundred-foot high video screens. A familiar red, white and yellow logo beckoned from the horizon: I had reached my destination. Nestled in the heart of Duffy square stood a monolith of fantastic proportions, hitherto unseen by the eyes of man: a staggeringly huge LEGO box. Secrets to reveal there were.

I had heard the stories, spread by enigmatic press kit to a lucky few, of the world's largest LEGO creation: a Star Wars set weighing tons, comprised of millions, if not billions of colorful plastic bricks. The electric billboards of the American Eagle store, usually flashing titillating clips of cavorting clothing models, were now lit green with exciting brick-built battles from a long, long time ago in a galaxy far far away. The new Yoda-line look was on full display, brand-new commercials silently showcasing the yet-to-be released summer sets, along with tantalizing teasers of Cartoon Network's The Yoda Chronicles. That was, after all, why I had been summoned here, was it not? I was to bear witness to the birth of a new chapter in the Star Wars saga in a massive blitz of marketing magic unlike any I had seen before.

The box itself, in reality a series of themed tarps supported by metal framework, bore an enigmatic set title: Secret Model Indestructible Box, and a impossible age recommendation: 6-850. Weighing 45,980 pounds and clocking in at 5,335,200 pieces, the packaging possessed the dimensions of a typical LEGO retail outlet (although in typical LEGO fashion, the box seemed to be a little larger than necessary, presumably to provide a sense of inflated value.) Splashed dead-center, in place of the usual set photograph were only the words: 'Secrets To Reveal There Are'.

Trusty Press pass in hand, I made my way to the front of a specially-roped off area, ducking a wildly-swinging camera boom to situate myself with a perfect three-quarter view of the soon-to-be-revealed set. At 10:45AM, mere minutes after taking my place, a sprightly model attired in the familiar orange jumpsuit of a Rebel pilot bounded onto the stage situated directly in front of the mystery LEGO creation. Bubbly almost to a fault, she began hyping up the growing crowd, promising a live video-call (?) from Coruscant at exactly 11:00, a call that would herald the unveiling of this now-almost-messianic model.

After chatting with a few Yoda-eared lightsaber-wielding padawans hailing from across the five boroughs, the Rebel emcee was suddenly interrupted by the promised call- from MINIFIGURE YODA HIMSELF. Clad in a 'New York I Love' t-shirt, Yoda bounded onscreen to help sway a wavering planet into giving The Yoda Chronicles a shot when it premiers (May 29th, 2013 at 8/7 central on Cartoon Network). Using the Force (accompanied by a handy Force-O-Meter), Yoda valiantly tried to unveil the model himself. However, it was only with the assistance of the parents in attendance (yes, the model specifically called on the PARENTS to help) that the curtains finally parted.

Accompanied by hisses of smoke and much fanfare, a colossal Lego X-Wing starfighter, made its triumphant debut to an adoring and starstruck public. Modeled after the soon-to-be-retired 9493 and not the newly-released 10240, this sleek starship replicated its smaller cousin exactly, down to the brick-built rubber bands holding the blocky S-foils in flight position. Life-size, and humbling in it's blocky majesty, the model slowly made it's way down the platform, massive laser cannons wobbling slightly as it went. Four months of work from a 35-person build team in the Czech Republic had come down to this: a exacting recreation of a now-classic set, proudly displayed in the heart of the Greatest City In The World ®. The excitement didn't end there, however, as audience members were treated to a two-minute trailer for The Yoda Chronicles! The humor, as with most LEGO media was quite timeless, and this jaded reporter actually found himself chuckling once or twice.

Amid the promises of photo opportunities inside the cockpit of this brick behemoth, and a take-home X-Wing minibuild (for younglings only) I slipped away into the throngs of people, late for work once again. Yet, reflecting throughout the day on that grand reveal, I found myself pondering: why 9493? Why not the newer, more detailed and more expensive 10240? Making my post-work way through the now rain-soaked streets of night-time New York, I found my answers in the hallowed halls of the Time Square Toys R Us, proud sponsor of that day's event. Arranged in pillars a dozen deep were specially marked copies of 9493- marked up to $74.99 from a US retail of $59.99. 'Free New York I Love Yoda With Purchase! Only 1000 Of This SPECIAL EDITION Minifigure available' a sleeve slipped over the standard sets proudly proclaimed. 'Of course.' I muttered to myself, and slipped back into the night. Returning to Duffy Square for one last look at the X-Wing, now bathed in a shimmering rainbow of reflected lights, I was surprised to notice something had been added next to the cockpit, now vacant of giggling children. A brick-built 2-D silhouette of the Jek Porkins minifigure, life-sized and pleasantly portly, smiled at me. I smiled back and walked off into the night.
I had no idea about the exclusive minifig. I lifted the below images from a ridiculous ebay auction asking for $999 buy it now for the minifig. Like Maxwell reported, the price of the set was $74.99, marked WAY up from MSRP of $59.99. $25 mathfail $15 bucks isn't too bad considering how rare the figure is. If anyone's got a spare and willing to help out a West Coaster, drop me a line. Please be reasonable.