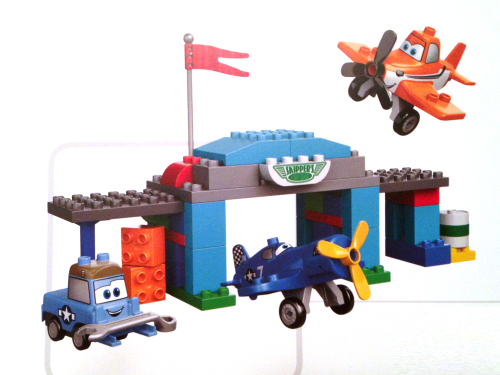 10511 Skipper's Flight School
$39.99 USD / $39.99 CAD
53 pieces
Available August
I don't know. On one hand, this theme was one of the sets that was under embargo at Toy Fair. On the other hand, there's no watermark protecting this image from the retailer's catalog. Then there were other sets in the catalog that have the watermark, but were available for photography on the show floor. So I have no idea what the deal is. In any case, here's the one pic that was available from the catalog. There are two other sets listed but no pic and no name. Here's the info from the other two sets:
Item #10510
$24.99 USD / $24.99 CAD
40 pieces
Available August
Item #10509
$14.99 USD / $14.99 CAD
16 pieces
Available August
With LEGO's propensity to make vehicles, I'm a little surprised that there isn't a regular System line in the works. Yet. Maybe. I love me some LEGO air vehicles, and I would have been soooo on Planes.