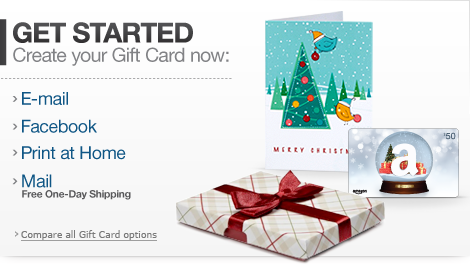 Amazon Gift Cards
! Like, duh. Was there anything else I could have possibly suggested? I suppose you could hit up a big box store and deal with parking, the crowds, the long lines, but is it seriously worth your time? I ended up having to go to Toys'R'Us yesterday to pick up some diapers (and space marines *cough*). I consider myself lucky that I was in and out in 45 minutes from the time I entered the lot to the time I left. 45 minutes. For diapers.
Amazon has a variety of delivery methods for their gift cards: Facebook, email, even print and color your own. With crayons! And the gift card recipient can turn around use that gift card to preorder the newest LEGO sets or whatever else catches their fancy.
Do I love Amazon? Yes I do, I link to them a lot. And I was totally ready to write up this whole other paragraph about how LEGO Shop@Home Gift Cards would just as nice of a last-minute gift idea, but their site only lists physical gift cards even though their 'Redeem Gift Card' page alludes to the existence of an e-gift card. Confusion abounds! Maybe they exist in another country.
Oh well. Hit up Amazon and you can call it a night.