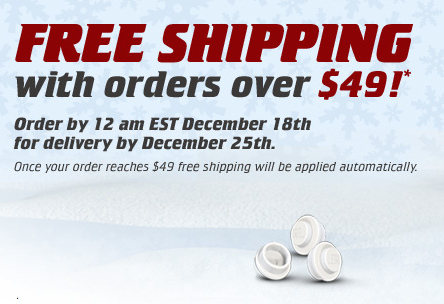 LEGO Shop@Home is offering free standard shipping on all orders $49 or more, just in time for Christmas. There doesn't seem to be an end date listed on this page, but since the deadline to ship in time for the big day is December 18th, I'm guessing that would be it. Just add products to your cart and once your order reaches $49 or more, free shipping will automatically be applied. No coupon required.
Remember this post? I did. I was waiting for the 17th to come around and was planning on ordering some TMNT sets on that day to qualify for free shipping in time for Christmas. But I just checked some of the product pages and alas, the availability date has changed to December 19th, just missing the Christmas deadline. The only options at this point are to pay for expedited shipping through Shop@Home, hope that free shipping is still an option on the 19th and get the sets late, hope that Shop@Home gets their inventory earlier than expected, or brave the crowds and hope to run into them on the shelf at a Walmart or Target (since finding them at TRU at MSRP is never going to happen especially at this time of year). Lots of hoping going on but hey, it's Christmas! The time for miracles is upon us!
Thanks to Jason for writing it in.