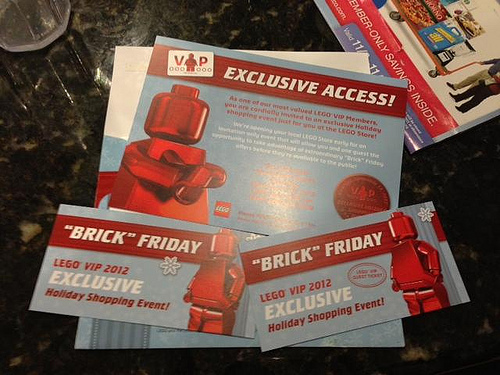 Forum member that guy received his invitation for LEGO Brand Retail's Black Friday event. The Black Friday event is a special sales event held by the LEGO Brand Retail stores where a select number of customers are invited to shop at the store during special hours. It is still a mystery as to how LEGO chooses which customers to invite. The only distinction that shopping at a retail location versus online are the pull cards. The details he was able to glean are as follows:
One guest per person
One pull card per person (allegedly only at checkout)
About 30 people invites for my store
$5000 pre discount limit
Max 5 per item except holiday which is limit 1 per item
He also adds the following: "They wouldn't confirm what the discounts will be this year but their 'guess' was 10/20/50 like last year."
murphquake also unveiled this year's holiday exclusive set in his photostream which was picked up by Brickset and the like. It's a single set, compared to last year's two parter, and a rather nice one at that. It can be dropped into any of the Winter Village sets for additional holiday delight. Yes, I said delight. It will most likely be free with a minimum purchase of, I'm guessing, $99 or more. Don't feel like acquiring one? You can build it yourself with the instructions from LEGO.com.