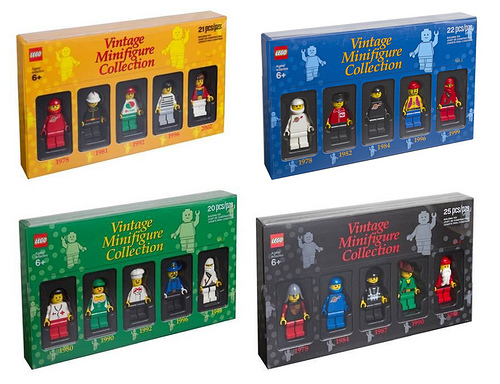 In an unprecedented move, LEGO has sent over assets and information to FBTB and other AFOL sites regarding a store promotion involving LEGO.
Unprecedented!
Okay, enough of the cheekiness. You might have seen this thread already on our forums started by ufjason. It's about Toys'R'Us's month-long Bricktober promotion for the month of October. We've been given the above image and the press release below. There are also two in-store events scheduled for October 20th and 27th, the latter for a Monster Fighters themed build and giveaway just in time for Halloween.
Celebrate Bricktober at participating Toys "R" Us® stores this October!

It's time to celebrate Bricktober at participating Toys "R" Us® stores! This October, make a qualifying LEGO® purchase in a Toys "R" Us store and you'll be able to take home an exclusive vintage minifigure collection! There are a total of four unique volumes; a different set available each week during October. Collect all 20 vintage minifigures!

Take a trip down memory lane with the opportunity to bring home four volumes of the vintage minifigure collection! Each collection features 5 unique and famous LEGO minifigures from the past. Venture into space with the astronaut, explore the Wild West with the cavalry colonel, sail the seven seas with the pirate, and even protect the castle with the brave knight! There are lots more classic minifigures ready to join your collection. These friendly, smiling characters have always made building fun! Quantities are limited and will only be available in October from participating Toys "R" Us stores. Please note that the exclusive vintage minifigure collection is only available in participating stores during the month of October while supplies last. A qualifying purchase is required and this product is not available for individual purchase.

For more details please visit your local Toys "R" Us Store.