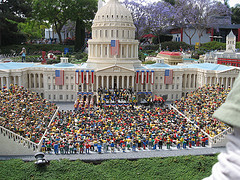 While I continue hammering out an exhaustive Star Wars Days post, I thought I would drop by and share with you guys an exciting opportunity: Legoland California is looking for new model builders!
 
Has it always been your dream to build Lego for a living? Here's your shot!
Interviews and build challenges for the positions (I'm told there are 6 slots they're looking to fill) are June 24th and 25th. Instead of a nationwide search and competition, they seem to be going for a more low-key hiring process this time around.
Longtime FBTB fans might remember I applied for a model builder position at Legoland back in 2006. Those same fans might also remember how sad I was when I didn't make it past the first round. Did it deter me? Nope! I'm going to give it another shot!
Hit the break for the entire job description and details

You can access the job posting by clicking here, then selecting "Creative/Design" in the JOB CATEGORY window, then searching. Model Builder will be the sole open position you can view.
For your benefit, I've got the entire listing here for you:
Description:
LEGOLAND California is currently looking for MODEL BUILDERS to fill open job positions on its creative team. Model Builders will be working on exciting LEGOLAND expansion projects.
Qualified candidates will be considered for the assessment process taking place on June 24th and June 25th.
The new Model Builders will not only be helping with projects within our Park such as the new Dune Raiders attraction opening in June, but with the thousands of LEGO models going into LEGOLAND Malaysia and LEGOLAND Dubailand as well.
Qualified applicants must be at least 18 years old and will be judged on their creativity, strategy, ability to build a three-dimensional model and their calmness under pressure.
The Model Builder Search will be a two day process if qualified applicants successfully complete all three challenges on the first day of competition. Those challenges include a copy build, a team build and a creative build.
The two days of competition will be Wednesday June 24 and Thursday, June 25 with the ultimate build-off being held Thursday afternoon at 1:30 p.m.
Must be able to build complicated LEGO models for a wide variety of LEGOLAND attractions including, but not limited to miniature scale models and life sized organic models. Must have a flair for the use of color and ability to copy LEGO models from 3D prototypes, 2d drawings and computer files.
——————————————————————————–
Requirements/Qualifications: Requires experience in model making or craft field. Background in some form of Model Making preferred. Must be able to read drawings and sketches pertaining to model production. Ability to understand and follow directions in the English language. Must have a general of knowledge LEGO elements. Ability to observe and remember details, and to follow supervisor�s directions effectively. Ability to make quick and proper decisions.
——————————————————————————–
Responsibilities :
1. Builds glued LEGO models for park attractions, including building from LEGO graph paper, scaled down prototypes, partial and/ or full prototypes
as well as photos.
2. Often uses LEGO brick-builder program to build and edit models.
3. Determines access panels and works closely with Model Designer and Animation tech to determine infrastructure.
4. Builds access for animation & support into models as needed.
5. Works with direction from Model Designers for limited design projects.
6. Gives direction to Model Shop Associates on group production projects.
7. Pays attention to detail & exhibits an ability to make decisions independently
8. Assists in logistics involved in Model Production as needed.
9. Immediately identifies management of safety related concerns and keeps safety #1 priority.
10. Ensures that all model work areas are kept clean, neat and orderly at all times.