Oh, look, another Star Wars polybag (spoiler alert: there's going to be a lot of Star Wars sets): 30461 Podracer. This set came out a few years ago as part of the 20th Anniversary collection.
Those were the opening lines in my first draft of this review. It's all I can remember at the moment. I had it all written out. Then I went to take pictures came back and tried to save the draft. And poof! It disappeared. You know what's worse than having to write a review on a bad product? Having to write it twice. But that's okay. Maybe I'll be a little more succinct with my words this time.
If you haven't caught the drift yet, this is a bad set. Where do I even begin.
I guess we can start with the engines since they are the first things you build. They mostly capture the look and that is the most positive thing I can say about it. The back section is fine. I don't have any complaints there. But those steering flaps are just terrible. The yellow tiles that represent them have a single point of connection to a 1×1 round plate. Those 1×1 round plates then attach to a Travis brick (a 1×1 brick with studs on all four sides). The Travis brick then attaches to the 2×2 round brick at the top.
It's another single point connection but this particular connection is the worst. If the yellow tiles are not aligned perfectly, and I mean PERFECTLY in all caps, to the brick, they will actually prevent the Travis brick from making full contact with the round brick. And without a solid connection, the whole flap configuration has a tendency to just fall off. You'll be doing so much fiddling that you'll inadvertently disconnect the tiles from their single point connection too. The whole thing is just built so terribly that I really doubt it passed any sort of play test standards because there is no way the model would stay together even after a few seconds of play.
Not only is the construction shoddy but it's not quite movie accurate either. There is a grey wheel that's in the center of all of those flaps. The actual on-screen source material has that part of the engine as yellow. Not only that, there is a protrusion that isn't represented at all. The grey wheel is attached to the bottom of the Travis brick by a grey Technic pin. Had the grey Technic pin been replaced with a half pin with a stud on one end and the grey wheel replaced with a yellow cone or 1×1 round brick, I think it would stayed more true to the source material.
The two purple lighsaber bars represent the energy binders that keep the two engines attached to each other while racing. Pretty sure there's only supposed to be one but I'll give it pass only because they offer stability by providing two connection points for a 1×3 plate with two clips. Unfortunately, that plate is connected to the top of the bars the bottom of the plate facing up and the trans-clear rod attaches to the bottom of that plate. That model you see in the photo above is not upside down. This is how it's supposed to be built. The energy binders are practically hidden from view.
That trans-clear rod being attached to the top like that really bothers me. The rod is the cheat, the man behind the curtain, the magic trick that connects the engines to the pod. LEGO isn't even trying to pretend here having it attached right at the top for the world to see. And it's connection to the pod isn't much better.
It's quite obvious the pod was built around the 1×1 brick with axle hole. And that 1×1 round plate that's supposed to be Anakin is laughably bad. It should have at least been brown since that was the color of his helmet but I get it. It's cheaper to just add an extra grey plate since there's already so many of them instead of sending its parts robots to another bin to just get a brown plate.
And you know, since this piece exists: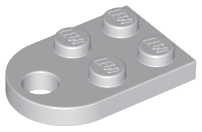 Couldn't the designer at least try and incorporate one or two of these pieces to hide the trans-clear rod a little? I mean just having the axle hole brick exposed at the front and jamming the rod in there is a pretty amateur move. But again, not surprising since it doesn't seem like LEGO is trying to make this a good looking set.
After building the set and marveling at just how ugly it was, I tried something. I flipped the engines over, reversed a couple of things, and this is what I ended up with:
Not to toot my own horn but I think it looks tons better. You can actually see the energy binders and the plate end of the trans-clear rod is a little more discrete.
My last gripe is the lack of cables that attach the pod to the engines. The trans-clear rod is the cheat to keep them connected but actual cables would have elevated this set a good degree. Given LEGO's parts library, there does exist string with 1×1 round plates attached at the end so why couldn't they add that element here to bring a little bit more realism to the model? Sure I can imagine that the cables are there, but I could also imagine that I didn't waste $5 bucks on such a crappy set.
Does It Suck or Does It Rock?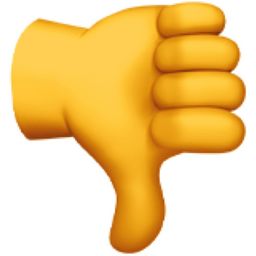 If you haven't figured it out by now, this set sucks! You know the set is going to be bad if you want to make improvements to it even before you're finished building it. This is what happened with 30461 Podracer. I am not a MOC builder by any means so if I can take a set and make it better with a few piece substitutions that I feel are pretty obvious, or by just flipping over half the model, then you know it's a bad set. LEGO ought to be embarrassed they released this piece of crap as part of the 20th Anniversary collection.
Sponsorship
Want to sponsor a review? Send a pic to admin@fbtb.net or hit me up on discord of the polybag set you have that you want me to review. If selected, in exchange for the set you'll get a mention right here in the review post and a link to your website or social media account. Nearly free advertising, so what's stopping you?
You Can Win This And Every Other Polybag I Review This Year
I'll be raffling every polybag I review this year in one big lot, all 260 sets (with the possibility of more). Each set will be individually stored in a ziploc baggie complete with the extra pieces, instructions, and the actual polybag bag it came in. The cost of a raffle ticket is just $1 USD and you can enter as many times as you want. Send a PayPal payment to paypal@fbtb.net for $1 USD for every ticket you want to purchase. DO NOT send one payment for multiple entries i.e. do not send one $5 USD payment for five tickets; five $1 USD payments must be made instead. Raffle is open to everyone in the world except where raffles are illegal. Be sure to put "POLYBAG RAFFLE" in the notes section of the payment in order to be entered successfully. Winner will be drawn sometime early January 2023 and contacted at the PayPal email address the payment was sent from to arrange for delivery. For a running list of all the sets that you can win, check this Google spreadsheet.