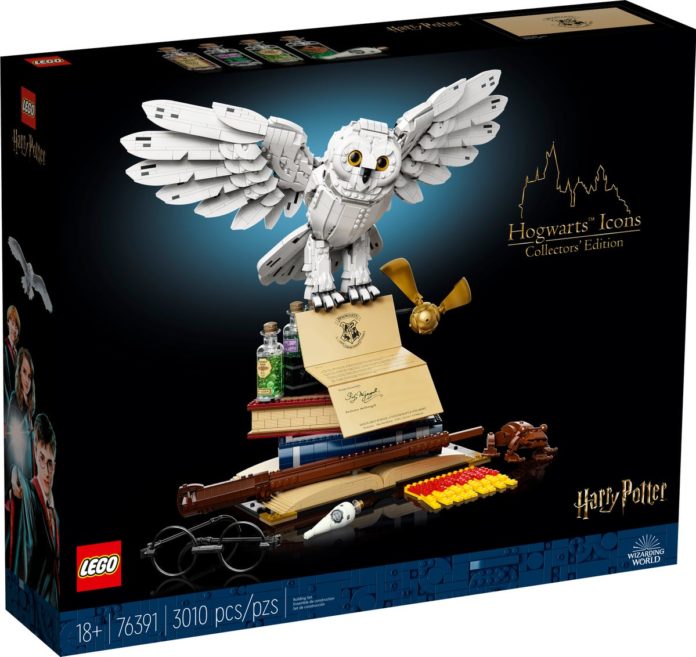 Update: The Camp Nou set was finally revealed. Portions of this post below has been updated with correct information.
It's September 1st on the east coast and that means there's new product available. Like I did for the August wave, I'll cover the some of the highlights of licensed themes first, and then list the categories that have something new. But first, the promotions!
Free 40485 FC Barcelona Celebration GWP
This GWP is free with a purchase of the new LEGO Camp Nou – FC Barcelona set. LEGO hasn't officially released any details on the stadium set, but a quick Google search yielded the following information:
10284 Camp Nou – FC Barcelona
5,509 pieces
$349.99 USD
40485 FC Barcelona Celebration is free for VIP members with the purchase of 10284 Camp Nou – FC Barcelona and runs from 9/1 through 9/12 or while supplies last. Now as of this writing the product pages for Camp Nou and the FC Barcelona Celebration sets serve up a 404 page, but the promotion states it starts on September 1 so I imagine there'll be some sort of official announcement in the morning.
Now the other thing I suspect is happening is that this promo is only good at a Brand Retail locations. The promo link takes you to a page for the stores so :insert shrug emoji here:. The set is available online and in-store.
Also, one thing I do know for sure is that 40485 is only available to VIPs with the purchase. I'm sure everything will get cleared up by the morning.
Free 30389 Fuzzy & Mushroom Platform Polybag Is Still Happening
This promo is still happening and runs through 9/19 or while supplies last. I still kind of suspect these will show up at Target at some point. You can get this free with a LEGO Super Mario purchase of $40 or more, excluding starter sets. You can check out our original post for some ideas on what to get. The Series 3 CMF's are still a good bet.
Now, the new stuff:
LEGO Harry Potter
76391 Hogwarts Icons – Collectors' Edition is just a gorgeous set. Whenever I buy a Harry Potter set, it's always intended for my daughter, but this one may make it's way into the living room to add to the decor. It's priced at $249.99. Not bad for a 3,010 piece set? Maybe? I don't know, I don't really pay attention to the price per piece ratio anymore when it comes to the big sets. The bad news is that due to shipping delays, the official release date for this set has been pushed back to September 15, 2021 with online pre-orders beginning September 2nd.
The only other new set for LEGO Harry Potter is the annual advent calendar for $39.99, 76390 LEGO Harry Potter Advent Calendar. You can probably get these at a 20% discount. I know that's what I'm waiting for.
LEGO Marvel Super Heroes
Only two items for Marvel. First up is 71031 LEGO Minifigures Marvel Studios, a CMF series based on the Disney+ animated show, What if? It started mid-August. I haven't watched it yet due to time being a premium these days but it looks pretty interesting. 71031 will run you $4.99 per pack. I'm sure there'll be a limit of 12 per order. This one is technically a CMF theme but I'm sticking it here.
The second is the first ever LEGO Marvel advent calendar, 76196 The Avengers Advent Calendar. Like the other advent calendars, best wait for the inevitable 20% off sale.
The other Marvel items, all the Spider-Man sets, are still slated for October 1st.
LEGO Star Wars
75319 The Armorer's Mandalorian Forge is one of two new LEGO Star Wars sets. This one is 258 pieces and only costs $29.99. it looks like a pretty nice set to be honest. They haven't put out a lot of vignette sets that I'd call great, but this could be one of them.
The other LEGO Star Wars set that's new for September is, surprise, the advent calendar. 75307 LEGO Star Wars Advent Calendar 2021 is $39.99 and yada yada yada 20% discount.
LEGO Jurassic World
This LEGO Jurassic World theme is going strong! Dinosaurs and LEGO make a winning combination. This siet, 76942 Baryonyx Dinosaur Boat Escape is $79.99 and one of four new sets for September. I'm highlighting this one because the boat really floats! It says so on the box! Here are the other sets:
And the rest…
Here are the scant few other themes that have new product:
Affiliate Disclosure
FBTB is an affiliate of LEGO.com. If you click through the links in this post and make a purchase, we may earn a small commission. As always, we thank you for your continued support.