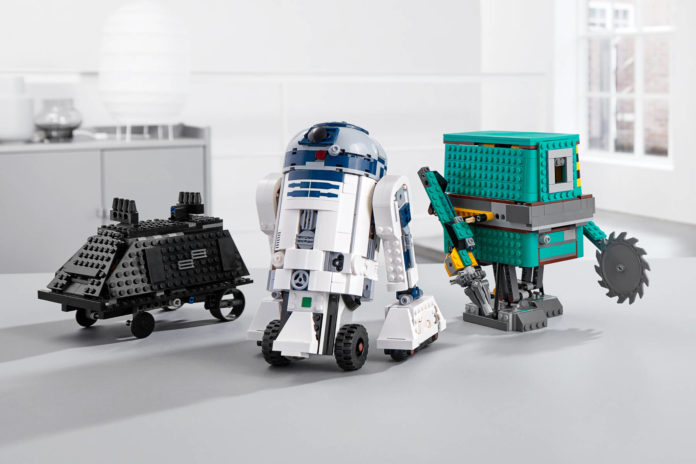 Man, if i had these LEGO Star Wars BOOST Droid Commander sets as a kid, I'd probably be a way, way, way better programmer than I am today. LEGO is releasing a Star Wars entry in their BOOST line of programming sets. You can build, code, and play with iconic Star Wars droids R2-D2, Mouse Droid, and Gonk Droid.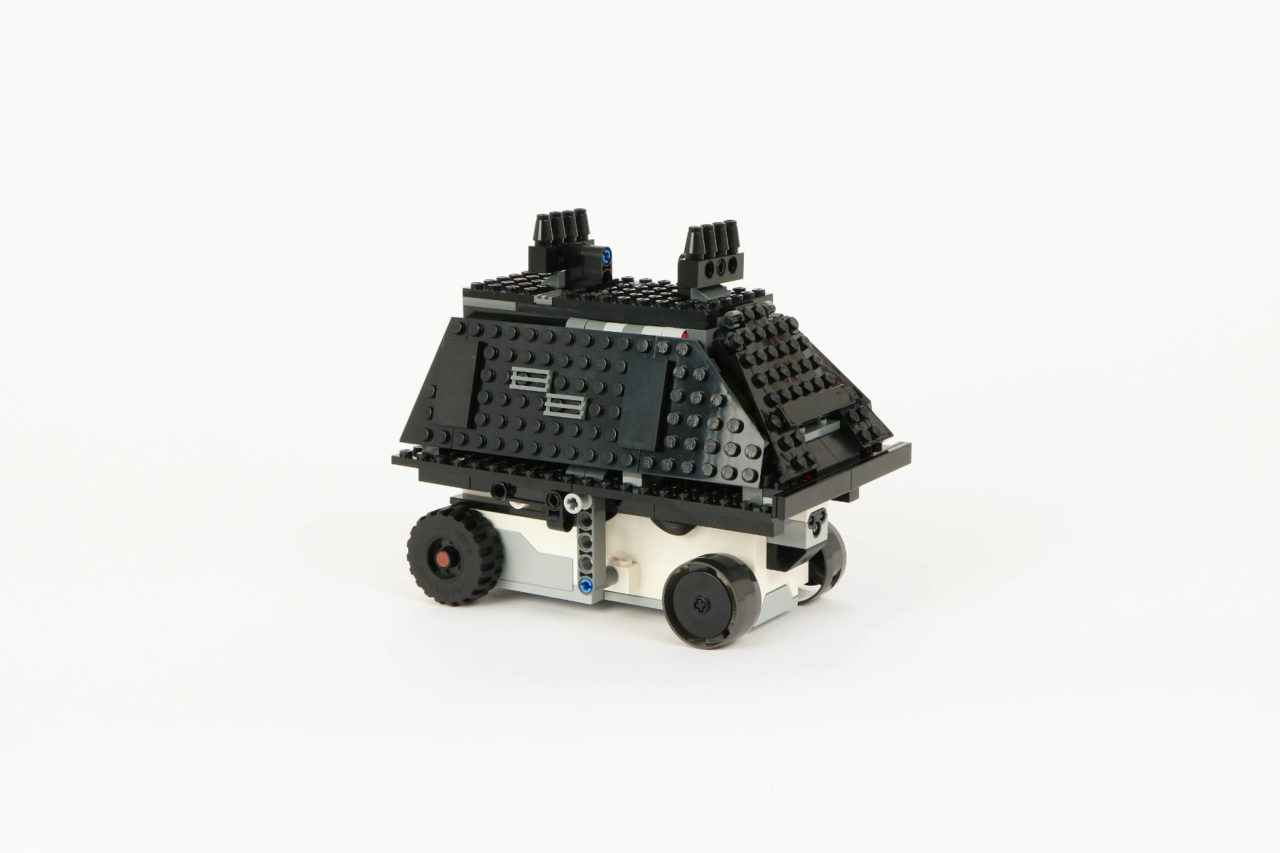 Hit, hit, miss. That's how I'd rate them in that order based on the first picture above. I mean, the Mouse Droid looks pretty spot on and dare I say cute?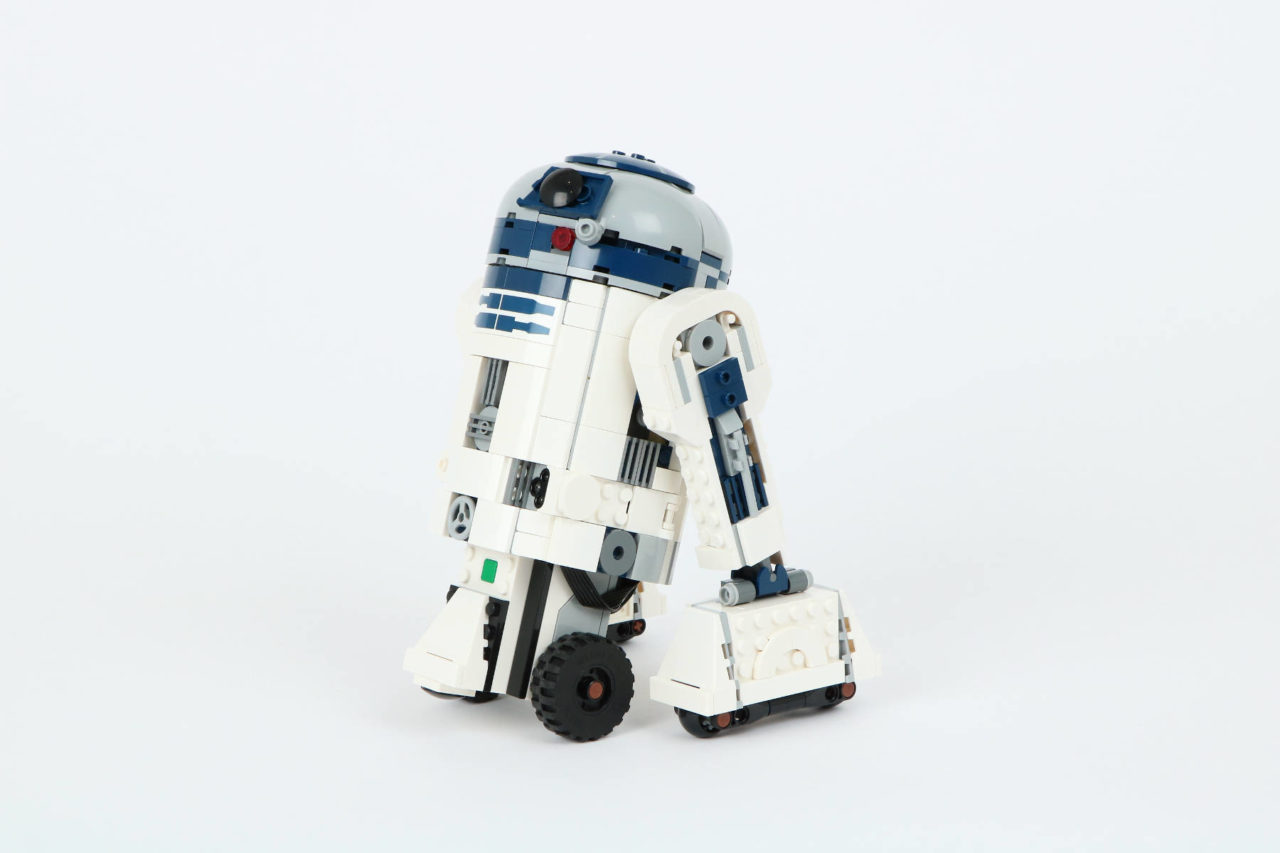 R2 looks fantastic and WAY better than that skeletal Droid Developer Kit we got two decades ago. That thing didn't even have a complete dome. But this one more than makes up for it.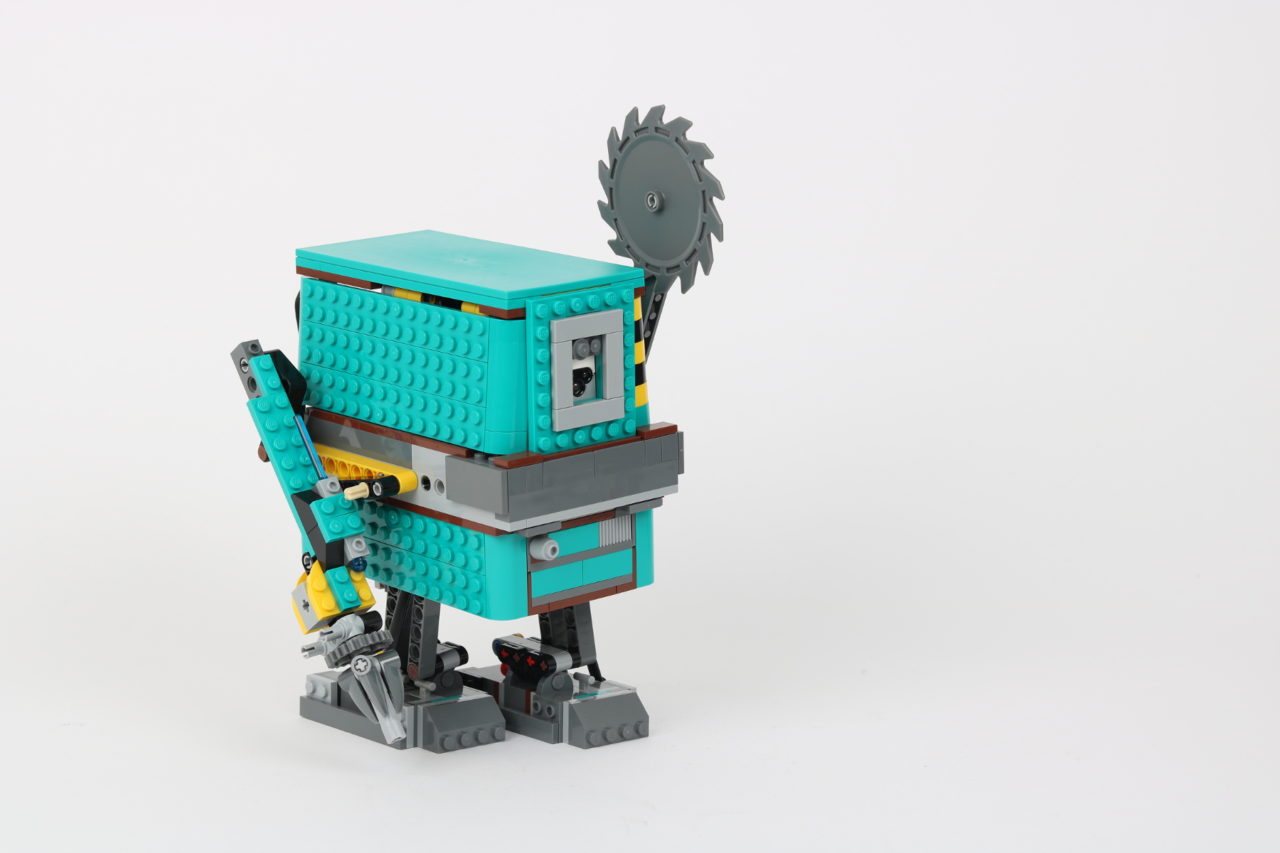 The Gonk Droid though looks like it was designed by someone who never saw A New Hope or even a picture of what a Gonk Droid is supposed to look like. I suppose they had to come up with a third droid and Gonk… was it? How did this thing beat out, like, the FX Medical Droid, like this one: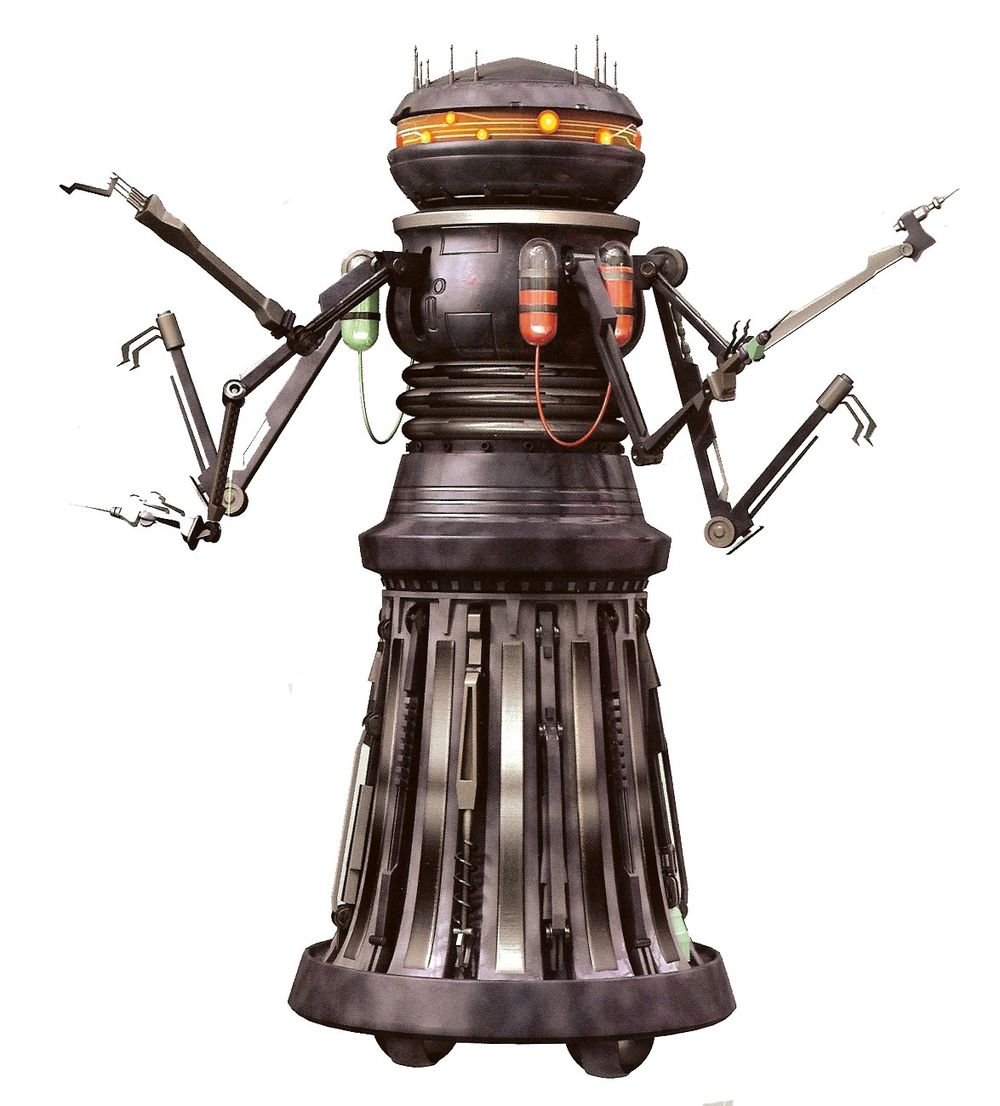 This things looks like it's meant to be both benevolent and menacing at the same time.
Anyhoo, you'll be able to get pick up this LEGO Star Wars BOOST Droid Commander set on Septembers 1st, 2019.  The set contains all three droids and carries a retail price of $199.99. There's a promo video below and the official press release below that which gives a lot more detail as to why this is a big deal. And I'm not saying that to sound snarky. I really think the BOOST sets are great.
LEGO Star Wars BOOST Droid Commander Promo Video
Official Press Release
LEGO® Star WarsTM BOOST Droid Commander set takes the Force to a new level, introducing the droids you have been looking for…
New LEGO® Star WarsTM BOOST Droid Commander set lets fans build, code and play with three iconic Star Wars droids – whether they're a young Padawan or Jedi Master
BILLUND, DENMARK (May 4, 2019): Today, the LEGO Group unveils the latest addition to its much- loved Star WarsTM range – and it's something even Yoda's Force sense didn't see coming. The new LEGO Star Wars BOOST Droid Commander set offers all the creativity and coding fun of LEGO® BOOST alongside the chance to build three of the film franchise's most iconic droids: R2-D2; the Gonk Droid; and the Mouse Droid.
It's the first time the intuitive drag-and-drop LEGO BOOST coding technology has been used in a LEGO licensing product. With the technology overhauled to match the LEGO Star Wars galaxy, the result is a whole new play experience in which kids and parents can team up to build, code and play with the droids, then create their own Star Wars stories and battlegrounds with inspiration from 40+ interactive missions. What's more, every time they play with this LEGO Star Wars brick galaxy of lovable droids, they will also be honing their STEAM (Science, Technology, Engineering, Arts and Maths) skills, which are ever more important for children in today's digital world.
Julia Goldin, Chief Marketing Officer, LEGO Group, said: "We've been fuelling the imagination of young Padawans and Jedi Masters for twenty years and wanted to take the Force to a new level. By introducing LEGO BOOST and creative coding into the LEGO Star Wars galaxy, kids now have the chance to develop essential 21st century skills while immersing themselves in the amazing world of Droid Commanders. Our children are the problem solvers of tomorrow and STEAM skills will be essential to help them conquer the challenges of the future."
The LEGO Star Wars BOOST Droid Commander set is the latest example of how the LEGO Group is using product innovation to help boys and girls gain vital STEAM skills like creativity, critical-thinking, problem-solving and communication – all while enjoying the thrill of playing with their favourite LEGO Star Wars characters.
Launching globally September 1, 2019 just in time to mark the upcoming release of Star Wars: The Rise of Skywalker , all three droids (R2-D2, Gonk Droid and Mouse Droid) included in the set are great fun to build, code and play with, and completely customisable for every child.
"These are the droids you're looking for."
LEGO® Star WarsTM BOOST Droid Commander product facts:
The set includes a color & distance sensor, interactive motor, Bluetooth (Move Hub) and 1,177 pieces – enough to build all three lovable R2-D2 robot, Gonk Droid and Mouse Droid, each coming with their own personalities, skills, and authentic Star Wars sounds and music
R2-D2 measures over 7" (20cm) high and 5" (14cm) wide. LEGO® Gonk Droid measures over 7" (18cm) high, 3" (9cm) wide and 6" (16cm) long. LEGO Mouse Droid measures over 5" (14cm) high, 3" (9cm) wide and 6" (17cm) long.
Free LEGO® BOOST Star WarsTM app is available for selected iOS, Android and Fire smart devices. Using the app, young commanders can build the droids, insert the Bluetooth- controlled Move Hub into the droid they want to see solve each of the 40+ missions, and bring it to life using the intuitive drag-and-drop coding environment.
Mission examples include:

R2-D2:

Plot a course
Receive and decode an incoming message
Party infiltration
Assisting flying an X-wing

GONKDroid:

Arena Training
Work as a load lifter
Ready for the fighting pit
Power droids

MouseDroid:

Thrash sweep
Thrash dump
Message delivery
Locate Rebels
And many more…
For more information, visit: www.lego.com/starwars-droidcommander
STAR WARS and related properties are trademarks and/or copyrights, in the United States and other countries, of Lucasfilm Ltd. and/or its affiliates. © & TM Lucasfilm Ltd.
###
About the LEGO Group:
The LEGO Group's mission is to inspire and develop the builders of tomorrow through the power of play. The LEGO System in Play, with its foundation in LEGO bricks, allows children and fans to build and rebuild anything they can imagine.
The LEGO Group was founded in Billund, Denmark in 1932 by Ole Kirk Kristiansen, its name derived from the two Danish words LEg GOdt, which mean "Play Well".
Today, the LEGO Group remains a family-owned company headquartered in Billund. However, its products are now sold in more than 140 countries worldwide. For more information: www.LEGO.com