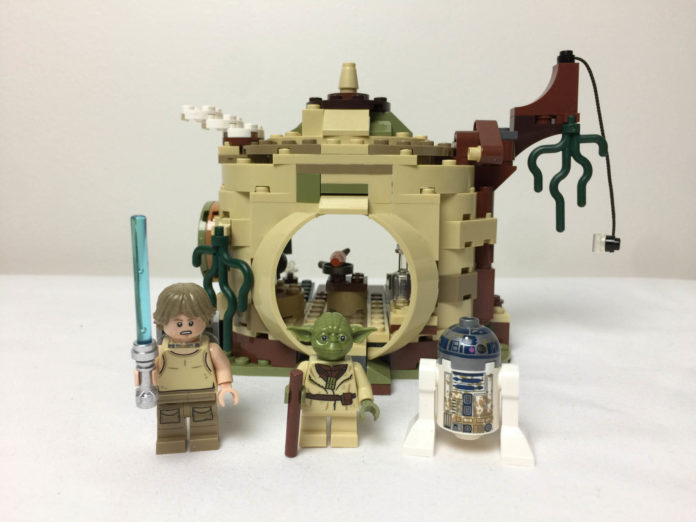 I really wanted to like 75208 Yoda's Hut. The idea and what it was trying to do intrigued me enough to get me out of my review dry spell. It's not that great but I'm going to do my due diligence and finish this.
75208 Yoda's Hut is… an interesting set. It attempted to encapsulate an entire third or so of The Empire Strikes Back into a sub-30 dollar set. I have to applaud LEGO's attempt in doing so, because all of the the alternative approaches would not have been any better.
If they took the Ewok Village UCS approach, and created a massive behemoth, it would not have been interesting. All Dagobah was was a swamp planet. And other than a few critters here and there, it was mostly devoid of any life worth rendering into LEGO form. Yoda, Luke, and R2 were the only inhabitants, so they couldn't just make a gigantic set with three minifigs.
They could have broken up each key scene into a series of smaller, budget-priced sets, but that would be like scraping the bottom of the barrel. How many $10-$15 dollar sets can actually be made about Dagobah that would be worth buying let alone making? Not much if you ask me.
So really, this was the only logical approach. Try and take some key scenes, distill them down to their very essences, and attach them around a single location, Yoda's Hut. If we focus on just that, mission somewhat accomplished. There are two scenes are that are missing: the X-wing and the cave scene with Vader.
The Minifigs
The set comes with three minifigs: Luke Skywalker, Yoda, and R2-D2.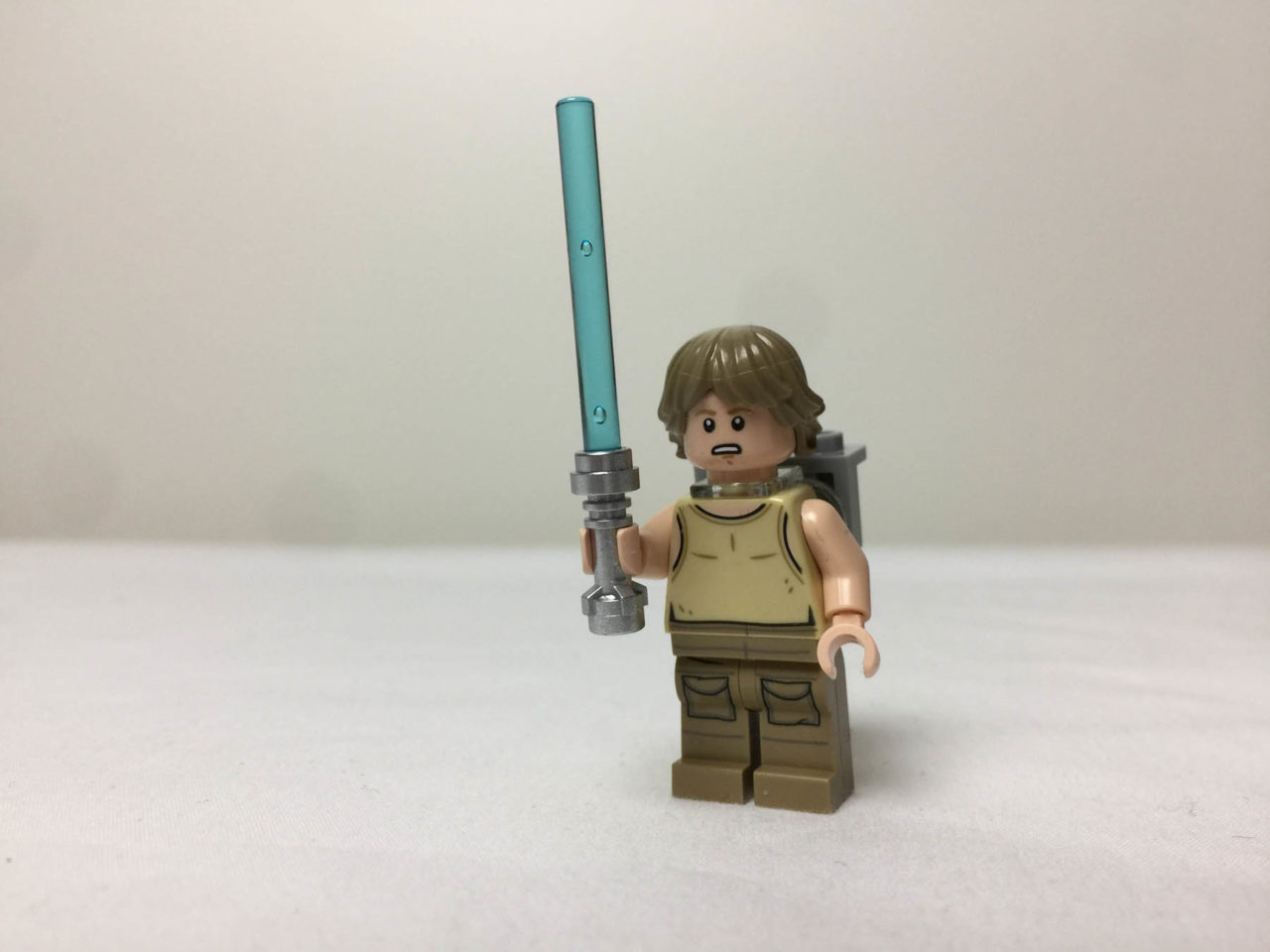 Luke comes with a lightsaber, a neck clip with a plate with side studs for Yoda.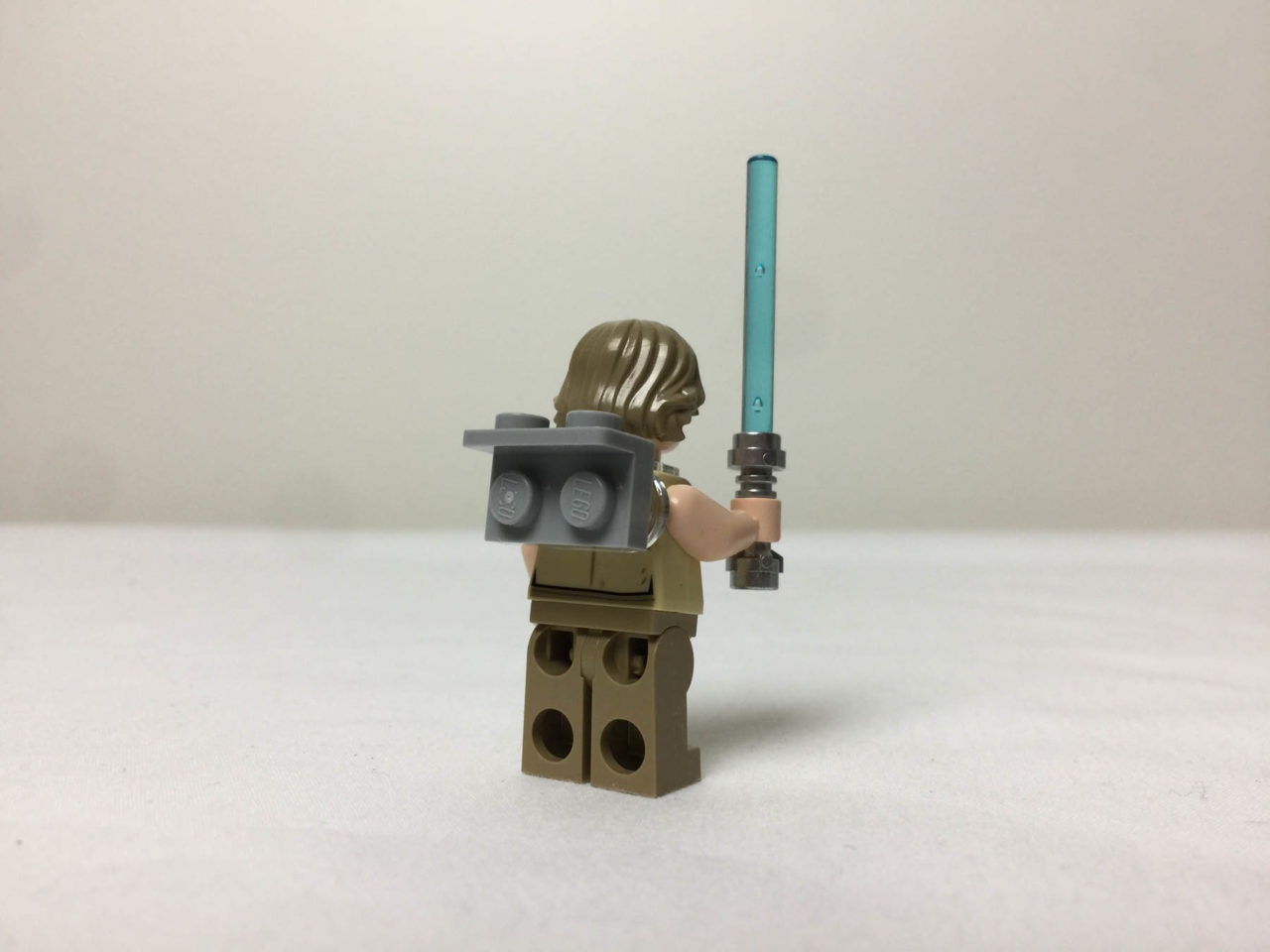 More on that a little later. His face if double-sided, with the flip side being his concentration face.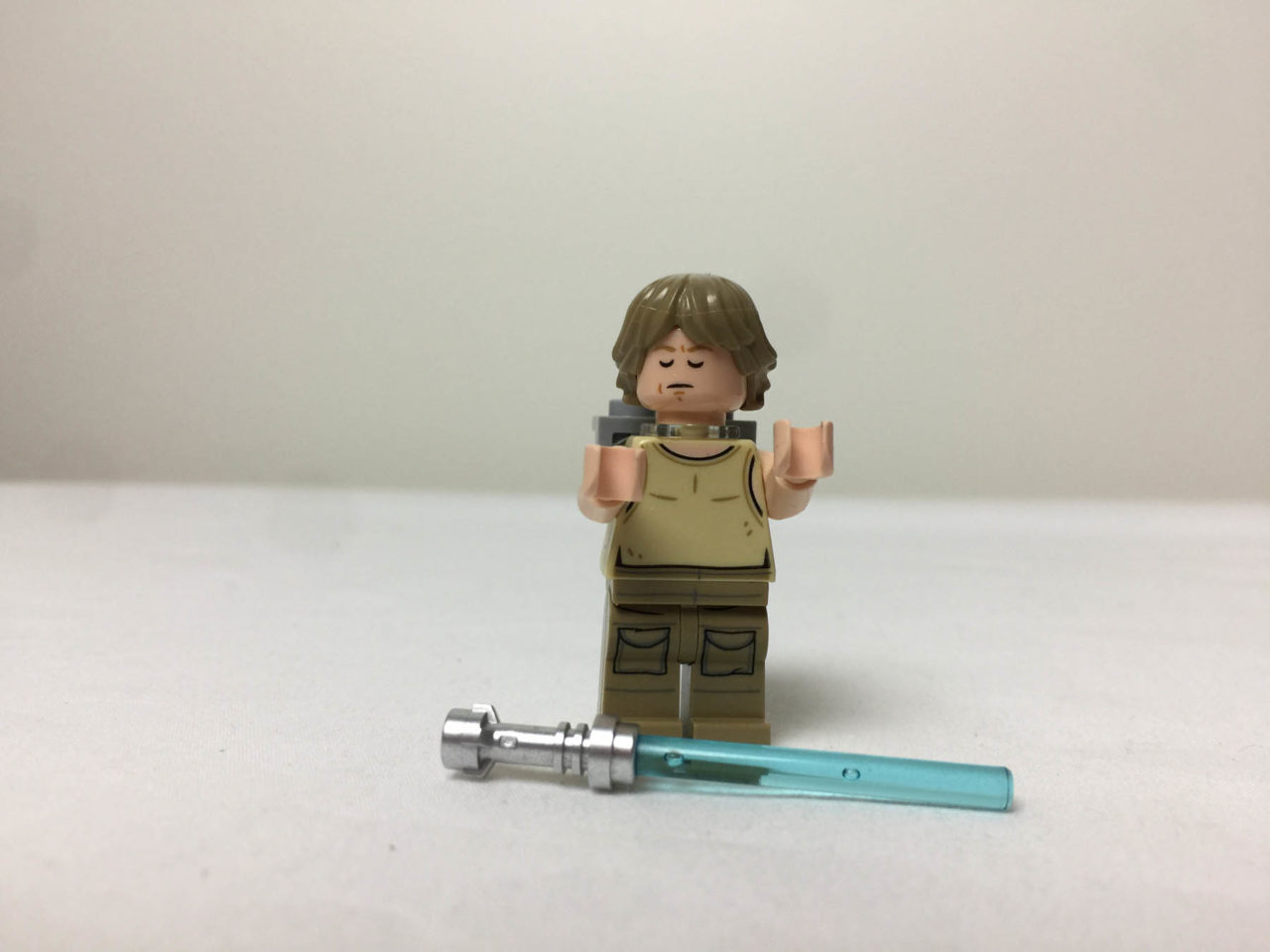 I didn't notice this until I was close the end of photographing all of the pictures, but his torso was cracked on each side:
Not sure if that's just an anomaly or a sign of the current state of things when it comes to minifig quality. LEGO has certainly had its share of manufacturing changes over the years, and since I've been out of the LEGO loop for so long, I can't really say either way. But if there's one thing I know about LEGO, is that their customer service is top notch. I'll be placing a call in the morning to get a replacement torso.
Now, about that back plate set-up. It's built that way to have Yoda stand, literally, on Luke's shoulders: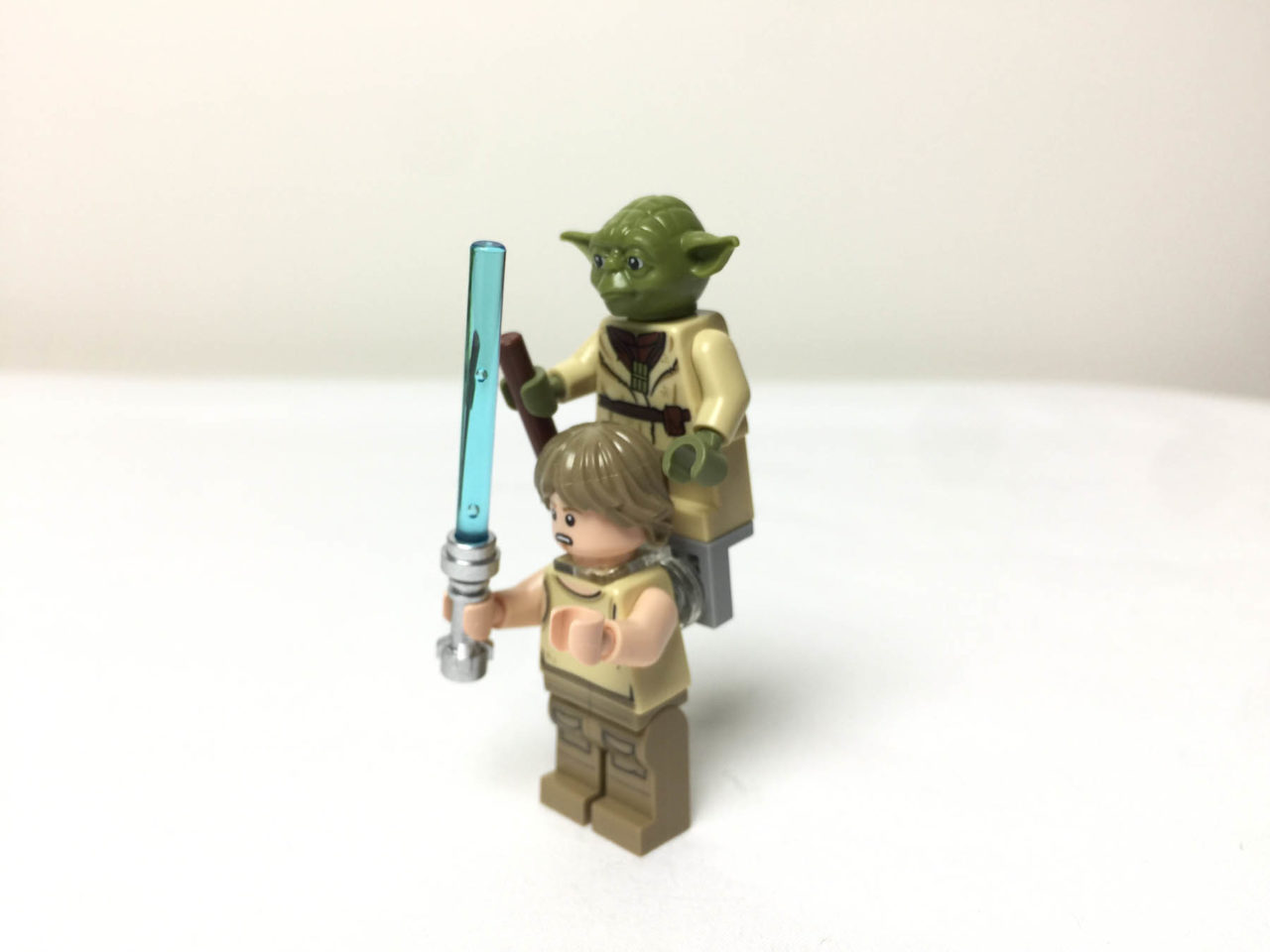 This just looks ridiculous.
Just ridiculous. 4502 X-wing Fighter did it better with a plate with handle on side. I would totally take a picture of that set-up except I'm lazy and don't want to bother.
Yoda is as Yoda-esque as he can be. Nothing too noteworthy about him that I can spot. But Bricklink lists all three minifigs as unique to this set so I guess it's got that going for it at least.
R2-D2 is probably the shining star of the set. He's got some dirty printing on the front of his torso as well as the dome top, but the back still remains blank. How many astromechs and sets do we have to go through before we get some proper back printing?
It would have been a nice touch if it included a Vader minifig with removable mask that would reveal Luke's face, but alas, we are not so fortunate. They did not include the cave scene.
The Hut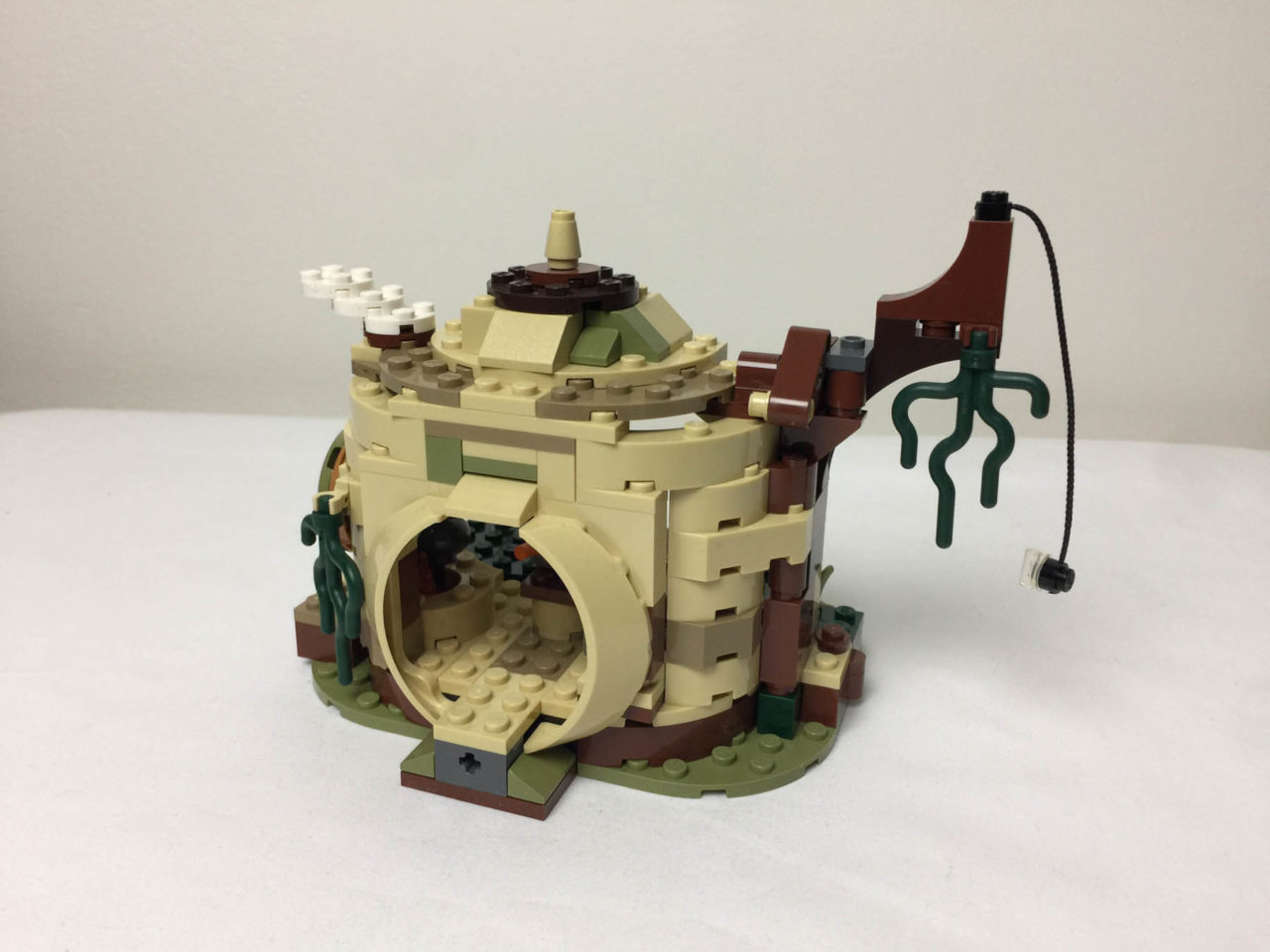 And there she is. A small, humble abode. The interior is fully realized with a bed that moves up and down for some reason:
There's a table with a pan, pot with a carrot for their soup, and a small firepit.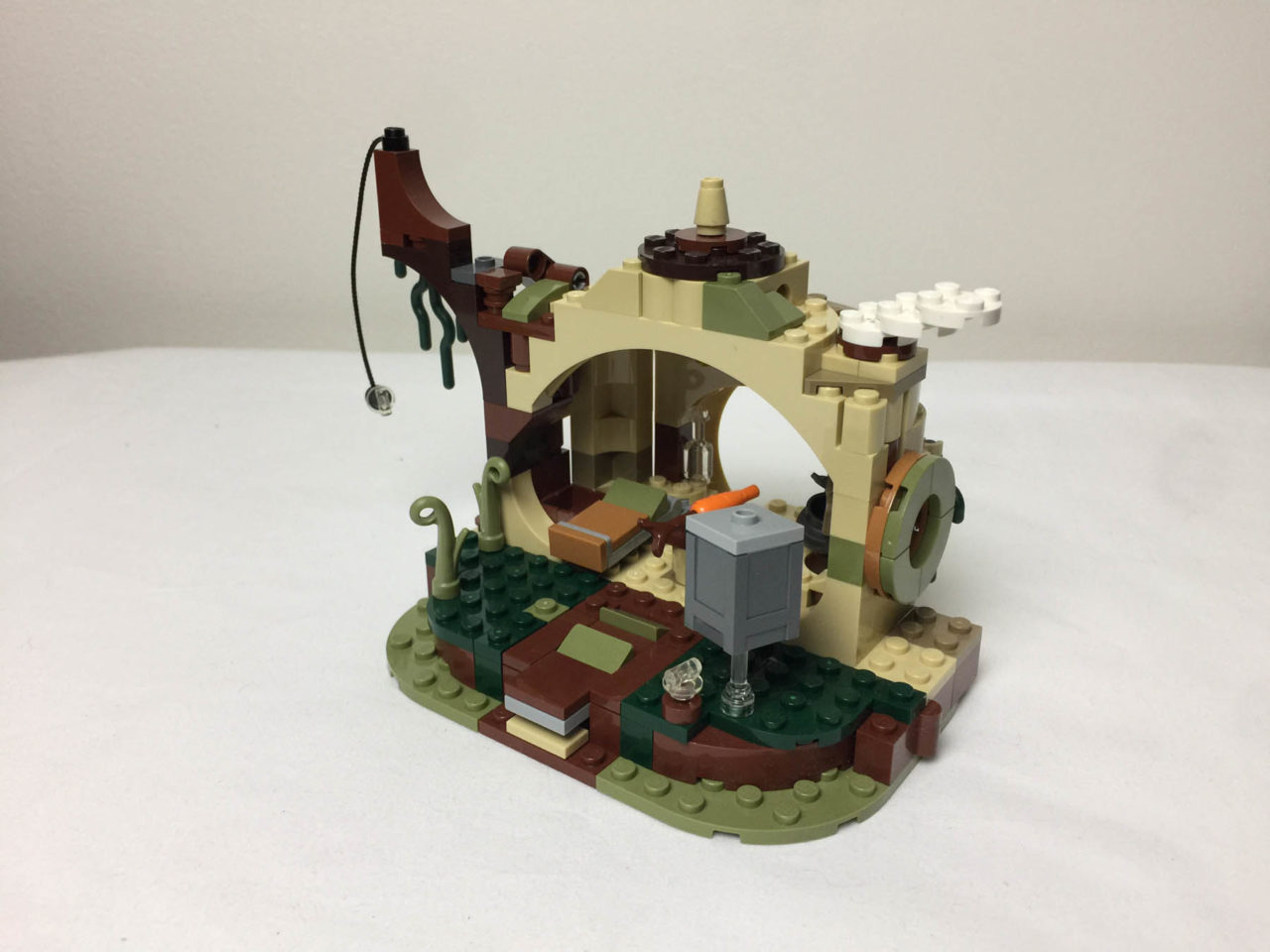 There are two small sections attached by hinge bricks that complete the back. They open up to the sides to make the play set wider.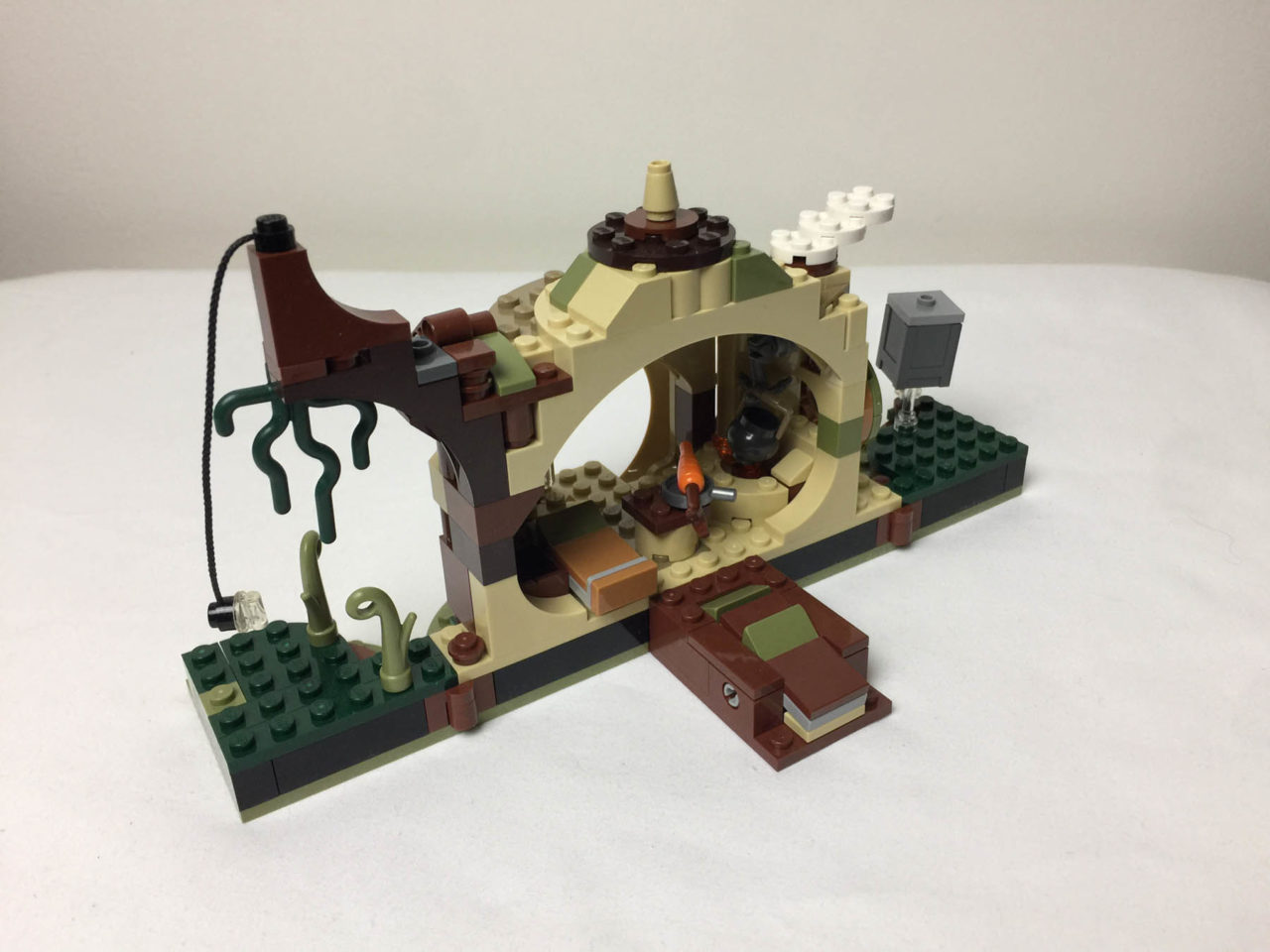 The middle part is supposed to be removed and relocated to the front entrance of the hut.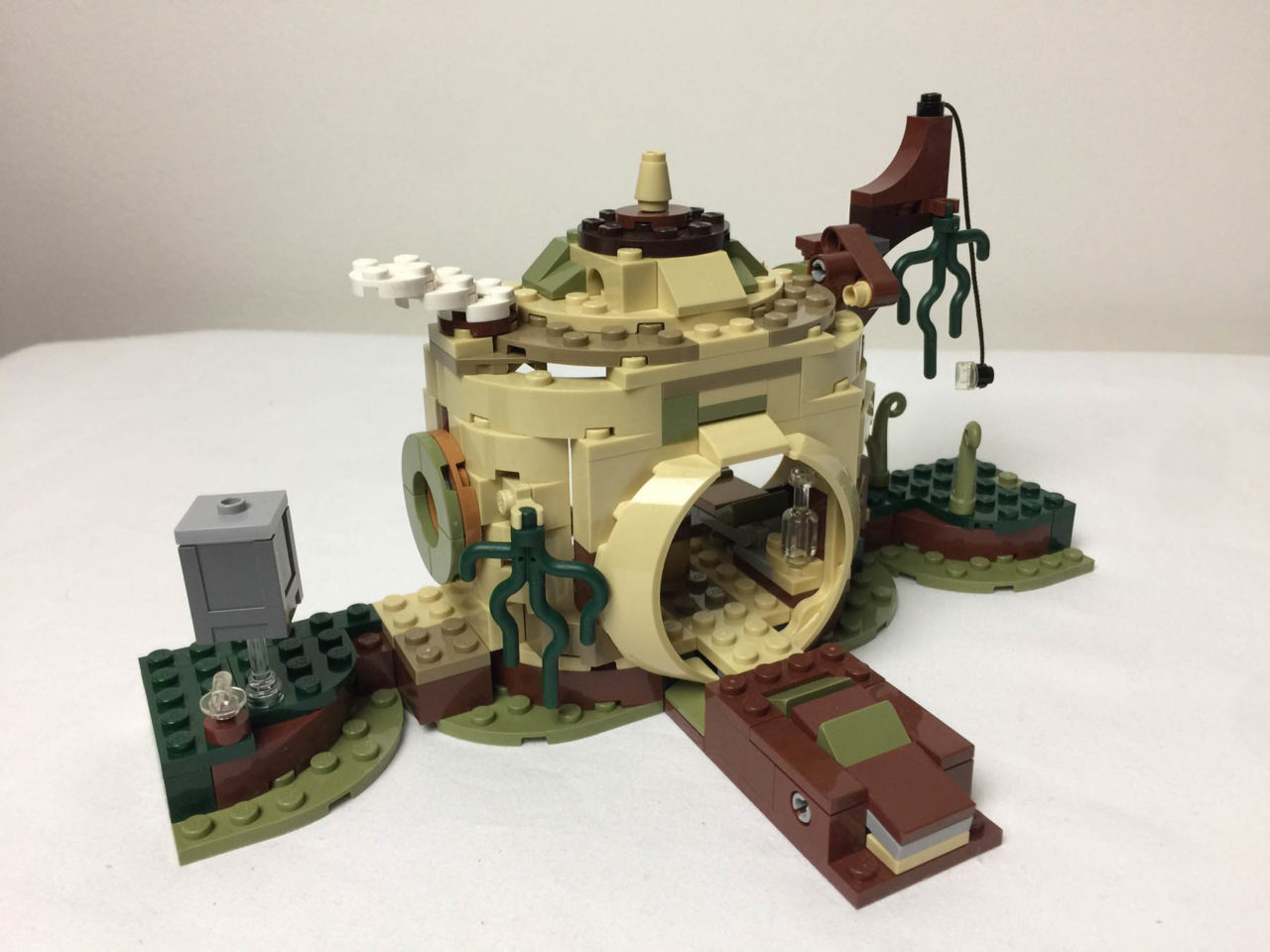 That little middle section there is supposed to be a launch pad of some sort.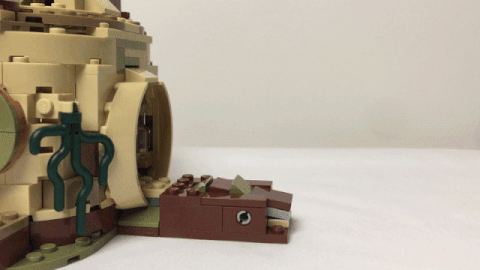 I really don't remember this scene in Empire.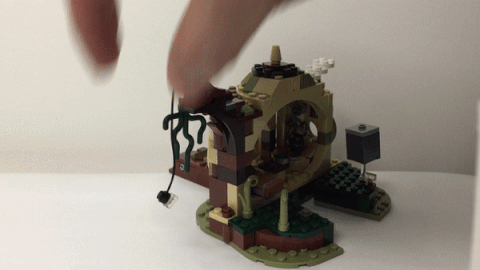 Those are the two action features of the set.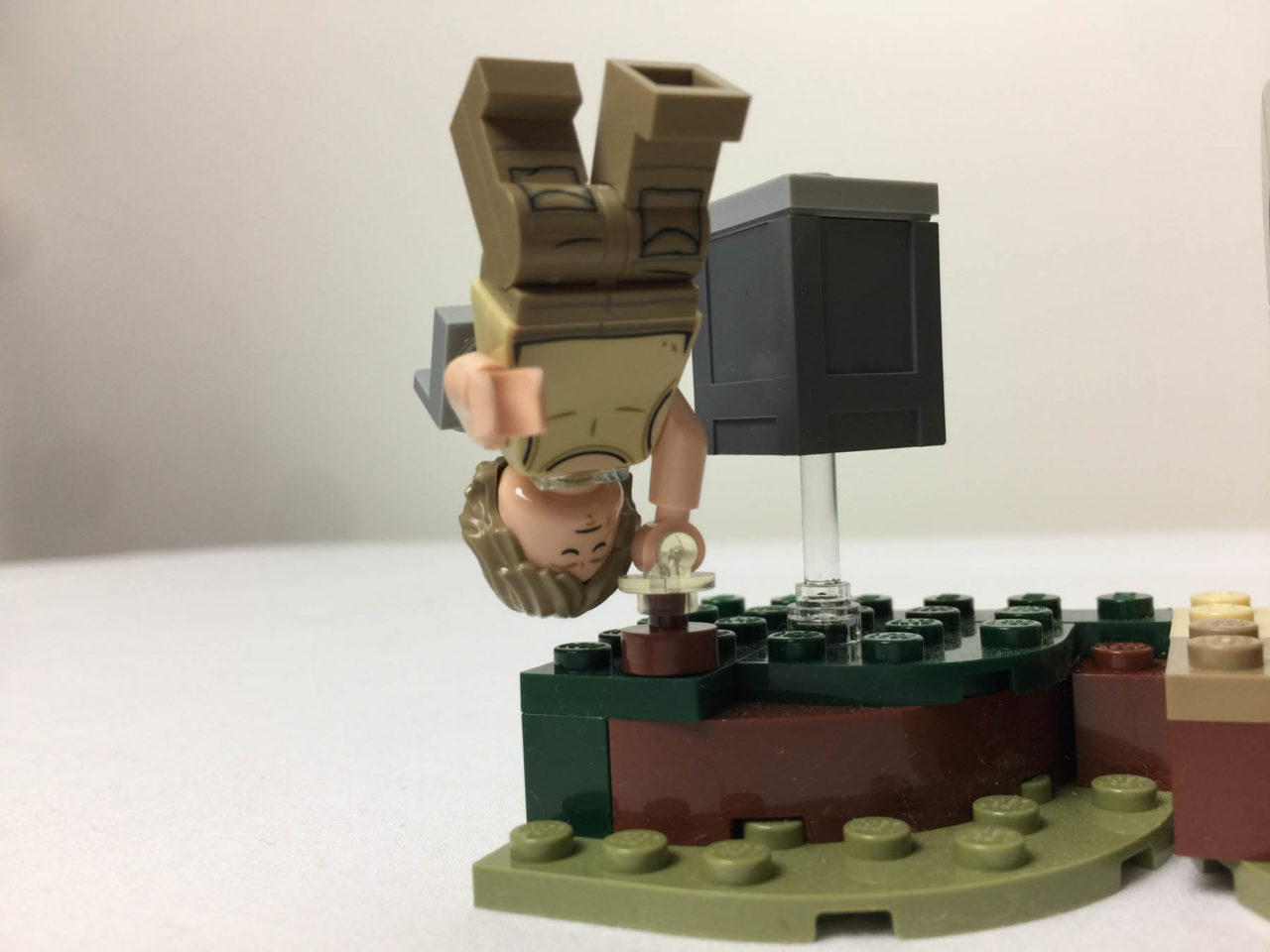 There's a handstand / levitating crate area that is kind of fun I guess.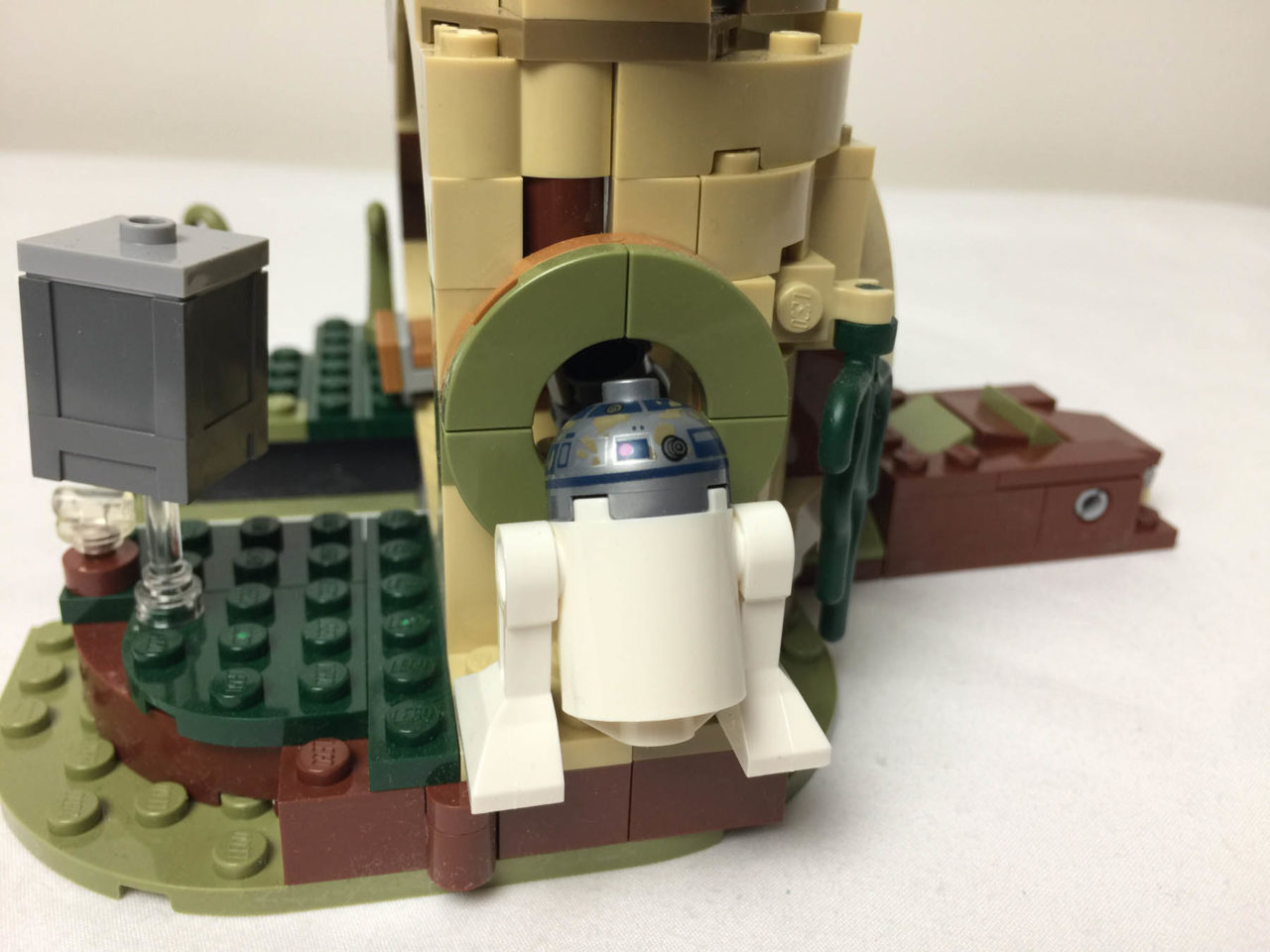 And this famous R2 scene.
So, like I was trying to position this review from the beginning, 75208 Yoda's Hut tries to capture a couple of key scenes. It has a few glaring omissions, like the Vader cave scene. It would have been a neat feature to have it stuck to the side of the hut as a turntable reveal. And without an X-Wing like in 4502, it really is as economical as it can get. Its MSRP is at $30 and for that you get three unique minifigs, a key location from The Empire Strikes Back, and a couple of play features tacked onto said location. Those play features aren't exactly a big draw though. The set could have been released without them as just a hut and the same minifigs and it wouldn't really scored any lower. And that score is 2 out of 5 stars. If you're a minifig completist, you're better off just picking them up on the aftermarket. The hut is pretty faithful but easily skippable.
All Of The Pictures
Will It Fit In A Ziploc Baggie
A gallon for sure, but it can squeeze into two small sandwich ones pretty easily.
Buy 75208 Yoda's Hut For 20% Off
As of this writing, 75208 Yoda's Hut is on sale for 20% off at Amazon.com, bringing the price down to $23.99: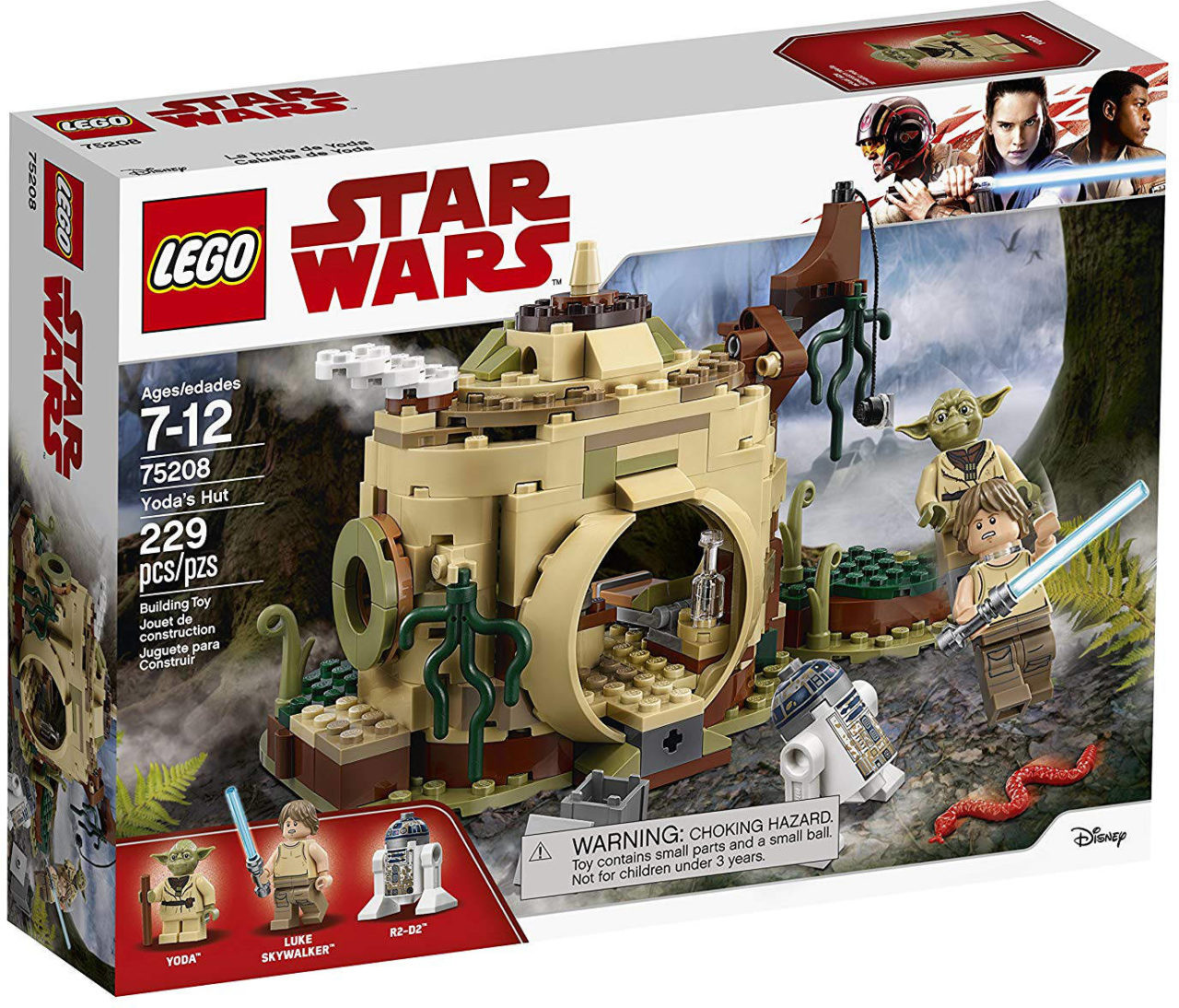 Win My Review Copy
Don't feel like buying? After that kind of recommendation I don't blame you. So if you want to try your luck at winning my review copy, send an email to giveaways@fbtb.net with the subject line TOYYODA to be eligible. Standard giveaway rules apply.  Submission window is open now until 11:59pm March 24th. Good luck!
Help Keep The Lights On
Like the review? Consider helping FBTB keep the lights on by donating or becoming a subscriber. We get little support from LEGO these days so we rely on ads, affiliate fees, and donations to keep going. 100% of the money goes towards operational costs and set purchases for reviews, giveaways, and contest prizes. Thank you for your consideration.
And for the record, LEGO did NOT provide a review copy of this set.