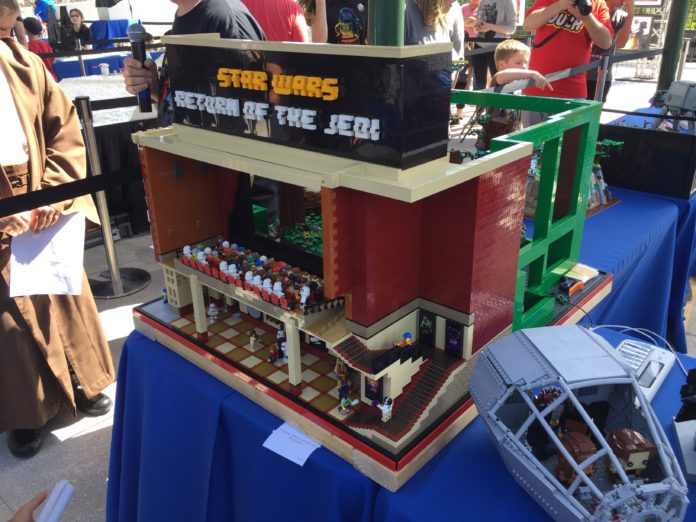 Miro Dudas is a member of the San Diego LEGO Users' Group. They are very local to LEGOLAND California and one of the participating groups of Star Wars Days. His contributions to the show were many, but none were as loved as his Return of the Jedi Cinema.
It's got all the trappings of a theater including a concessions stand: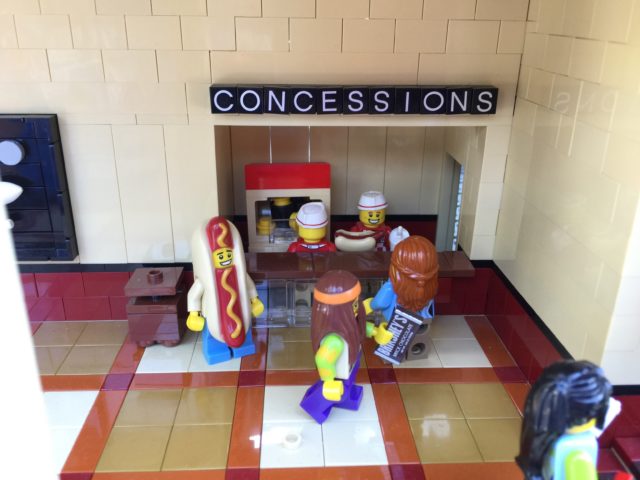 A cosplay photo opportunity with the Dark Lord himself: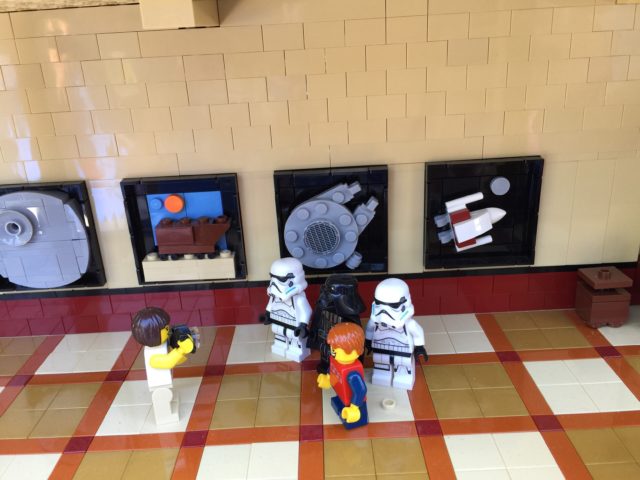 Those posters in the background are a nice little touch. There were movie posters too: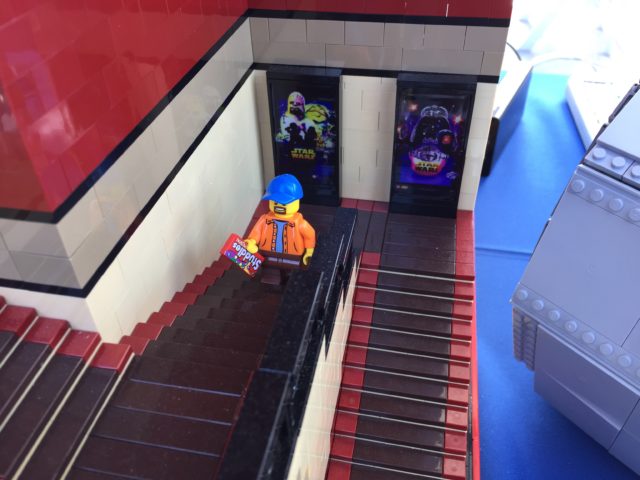 And of course some bathrooms: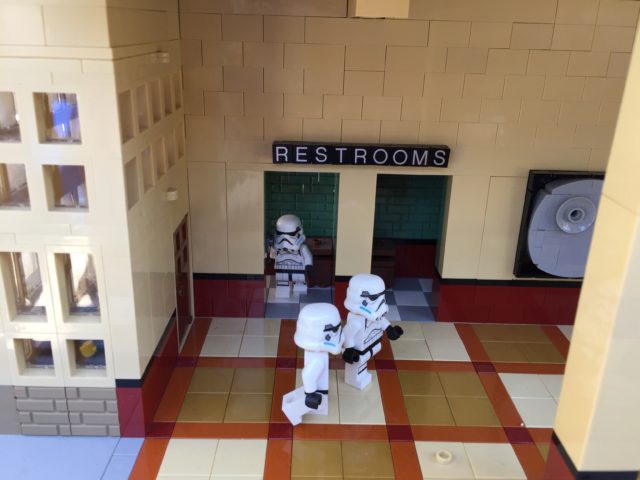 The actual theater was filled with Star Wars fanboys watching the film: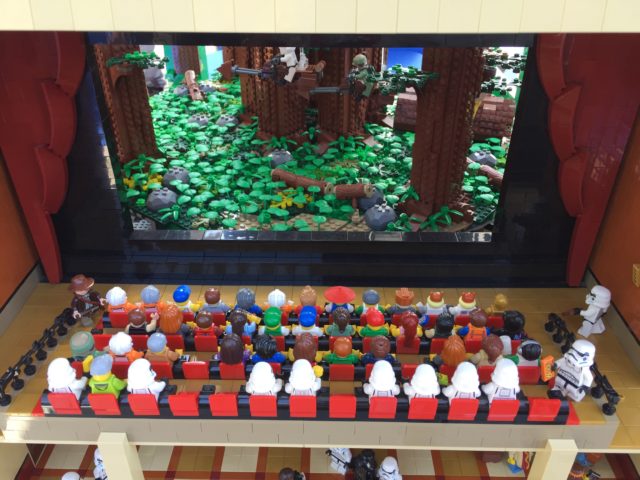 Now, from this viewpoint, which is the best viewpoint, you only see the action in front of you. The back of the MOC was completely open which kind of breaks the fourth wall in a way. I think the effect would have been much better if it was enclosed so the only view of the action was the one from the audience's point of view. You can kind of see what I'm talking about in top picture, that green frame was open on all sides. But thankfully, that did you give an inside look at the internals: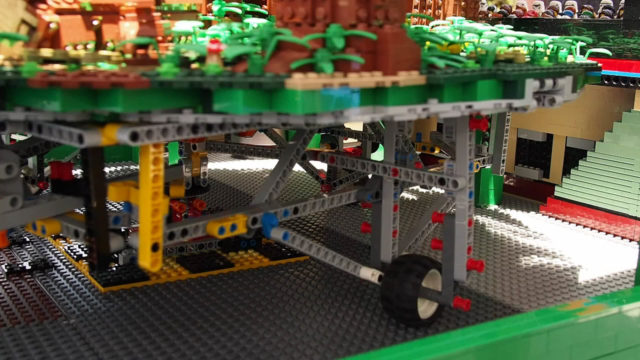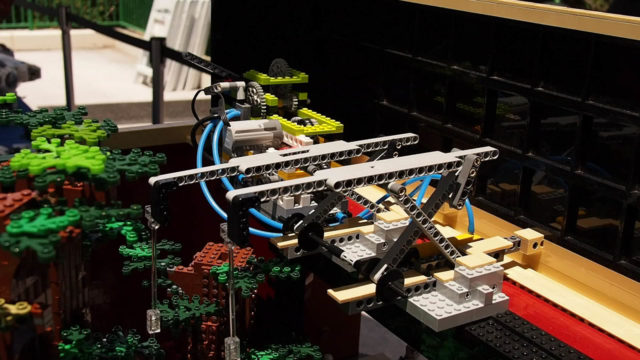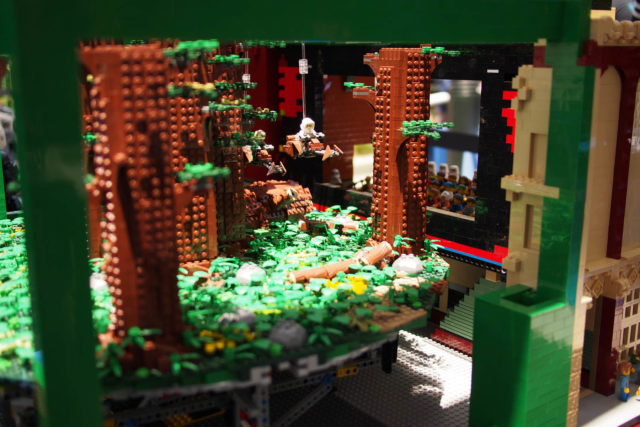 This project was slightly refurbished from last year. Last year's Cinema MOC was A New Hope and featured a mini Y-wing (or X-wing depending on when you saw it) flying through the Death Star trench. He decided that the large MOC just wasn't large enough and expanded the back to house a small forest scene. The speeder bikes moved independently up and down from the rotating platter of trees and forest greenery. The effect was quite nice. Here's a 15-second video of the whole thing turned on:
Pretty neat. So neat in fact, that the MOC won second place for the General category and also the coveted Best In Show award.
Miro is coming back for weekend #2 of Star Wars Days at LEGOLAND California this weekend from June 9th through the 10th.