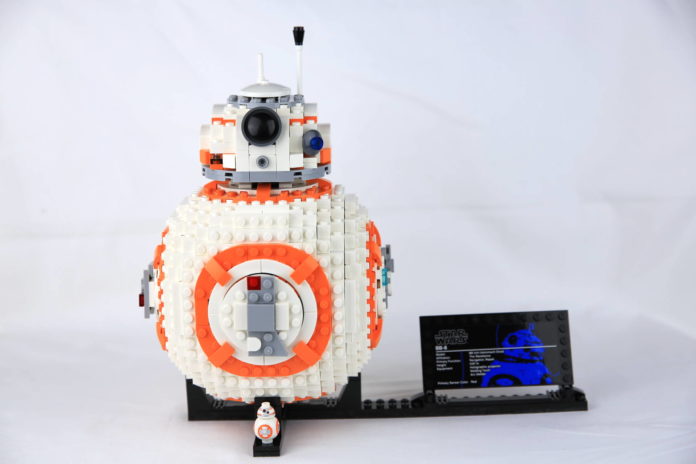 I'm trying to make a goal out of burning through some review backlog, so I thought I'd start with something easy by reviewing 75187 BB-8. It's easy because it's a no-brainer that anyone who is a fan of Star Wars, whether they are a fan of LEGO or not, should have this set sitting on top of their desk. I'll cut right to the chase and say up front that it gets 5 out of 5 stars.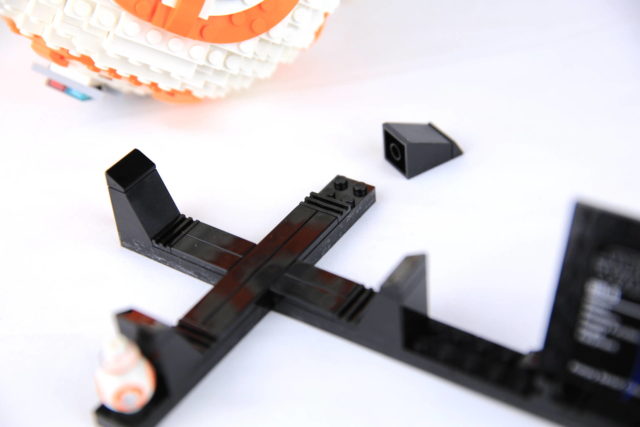 Let's get to the one and only issue I have with this set so we can focus more time on the positives: it's the slope pieces used as brackets to hold BB-8 in place on the stand. Those slopes don't have a lot of clutch power to begin with. Couple that with the sheer weight of the finished model and any amount of pressure applied to any side of BB-8 will cause one or more of the brackets to pop off sending BB-8 rolling away. That's the only real issue, and it's really not that big of a deal if you're an adult and careful about not knocking into things.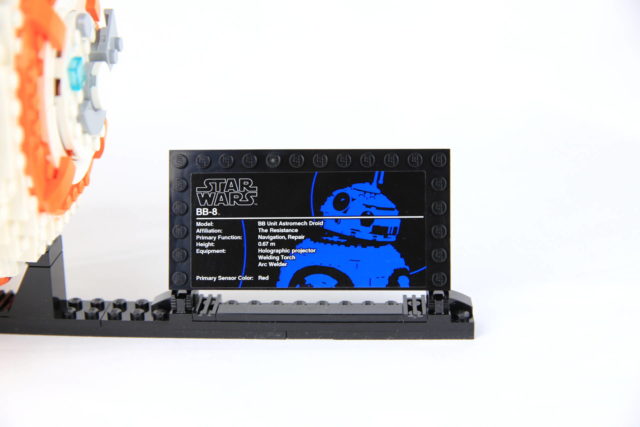 So yeah, with that out of the way let's talk about all good stuff. First of all, it's a UCS model. I don't care that it's not quite categorized that way, or that it's missing the "Ultimate Collector's Series" stamp on the front. It looks like a UCS set, has a label like a UCS set, smells like a UCS set, so in my book, it is a UCS set. I'm not exactly sure why LEGO didn't categorize it that way. It seems pretty obvious just by looking at it that it should be.
The build itself is a great learning experience. There are multiple ways that you can build a ball shape out of LEGO. With the studs facing out in all directions, you wouldn't be wrong if you thought the LEGO designers took Lowell Sphere approach, with a few modifications of course. This method works really well and gives the interior enough room to build in some nice functional features.
It's got this dial on one side to extend and retract BB-8's lighter for that thumbs-up action. It pushes open the front port door but you have to manually push the door closed when retracting. The flame element doesn't point all the way out; makes me I think I built it incorrectly and if I did build it correctly, maybe there's a way to fix it.
It's got a dial on the opposite side that will let you wobble the head back and forth and make it spin a the same time. This bit is the most fascinating part of the entire build. The dial spins the head and, with enough vigor, tilts it back and forth and with the help of a well placed rubber band has it bounce back into position. This is as close as it gets to actually rolling and moving.
Other than those two things, there's no other functionality to speak of. Had this model been released after The Last Jedi we may have gotten some new gimmicks but the designers would be hard-pressed to find room.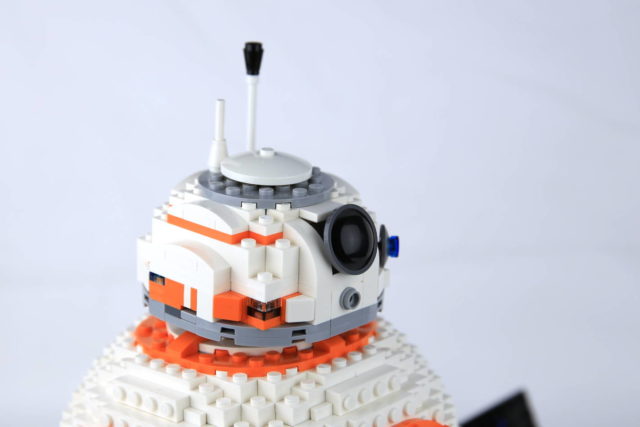 Building the head, the designers did not use the Lowell Sphere approach and went for a straight studs-up build. It's got all the necessary details and is pretty spot on proportion-wise to the body.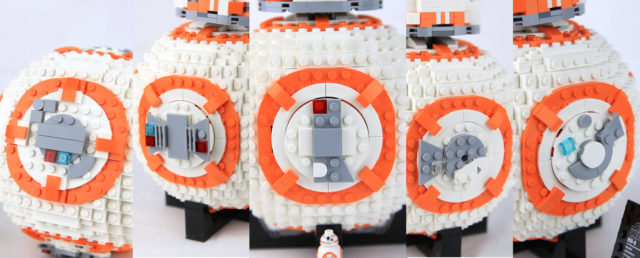 Each panel has a unique design including the bottom. The designers could have taken the easy approach and done nothing with the bottom but to their credit went and put a fully realized bottom section complete with a unique pattern. Just outside that center pattern, the builds are more or less the same, making the overall building time rather short.
75187 BB-8 won Construction Toy of the Year from this year's Toy Fair awards. It is well deserved and like I said earlier in the post, it belongs on the desk of every Star Wars fan, young and old. It looks accurate but there's more to this model than just good looks. If you're exploring how to build geometric shapes out of LEGO, BB-8 would make a great case study into spheres. Even the two play features can teach a few things on moving parts within a model.
Buy It
The MSRP of 75187 BB-8 is $99.99 and for that you get over 1100 pieces, hitting that golden ratio. It's worth it at full price. Get it from Amazon today!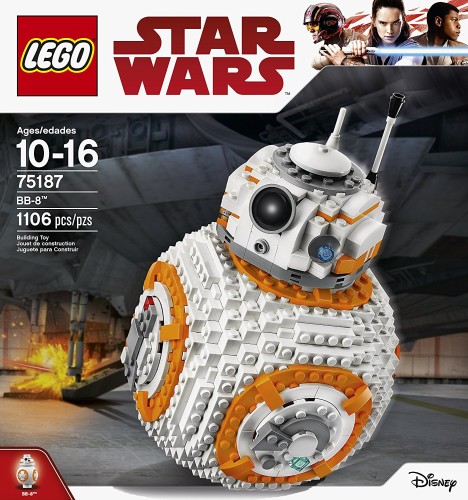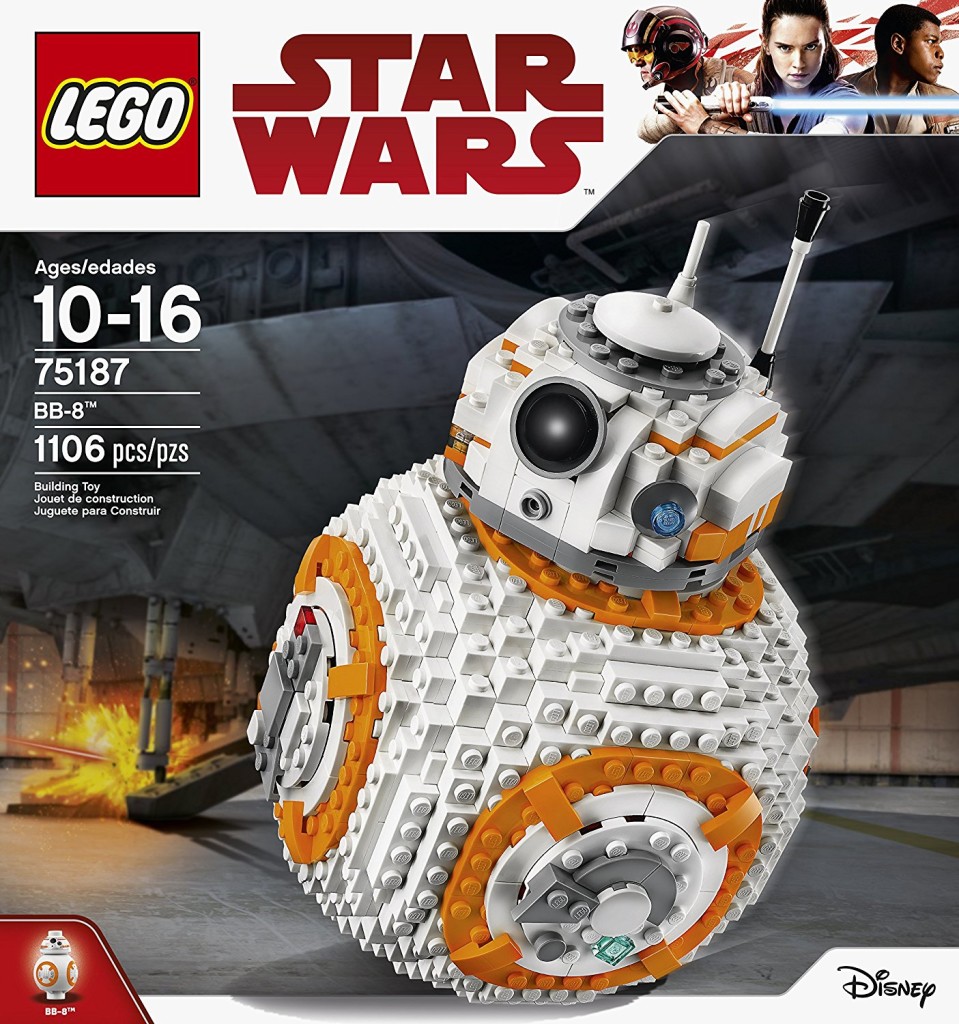 Will It Fit In A Ziploc Freezer Bag?
You'll need at least two.
All Of The Pictures
No Giveaway
Sorry, this one's going to keep Wall•E company at my desk at work.
Help Keep The Lights On
Like the review? Consider helping FBTB keep the lights on by donating or becoming a subscriber. We get little support from LEGO these days so we rely on ads, affiliate fees, and donations to keep going. 100% of the money goes towards operational costs and set purchases for reviews, giveaways, and contest prizes. Thank you for your consideration.
And for the record, LEGO did NOT provide a review copy of this set.