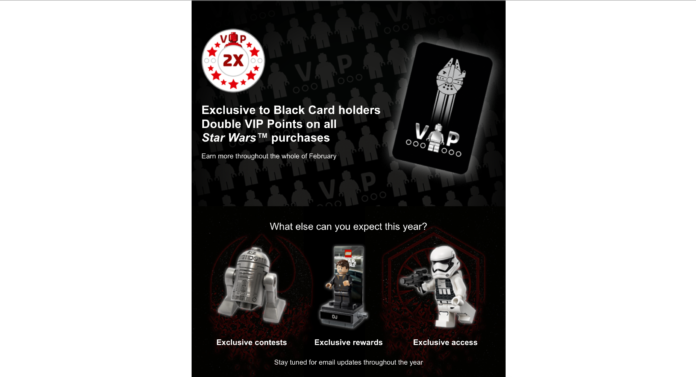 Update: Just to be clear, I have not received my black card yet. Supposedly, they will take up to 12 weeks for delivery of the physical card. You do not need to have the card in your possession to take advantage of it. Their system already has you flagged as a black card carrying member.
Just got an email with my first offer for being a VIP Black Card holder. The offer is double VIP points on all LEGO Star Wars purchases through the month of February. If you're hoarding points and don't care about deals, it's certainly not a terrible offer. It is useful if you still haven't pulled the trigger on some of the bigger sets, as those tend to not see a discount as often. But when you can get a lot of stuff at 20% off, the value proposition of what amounts to be a 5% bonus is a hard sell.
I'm assuming the points will be applied after your order ships as they show regular point amounts throughout the check out process.
This is just the beginning of the program, and it would certainly be bad planning to do the best promotions first. So I look forward to seeing what else they have going on for the rest of the year for black card holders. The black card was only available to those purchasing the UCS Falcon during the calendar year of 2017 directly from LEGO Shop@Home or brand retail locations.
I'm stilling waiting for my wheels…