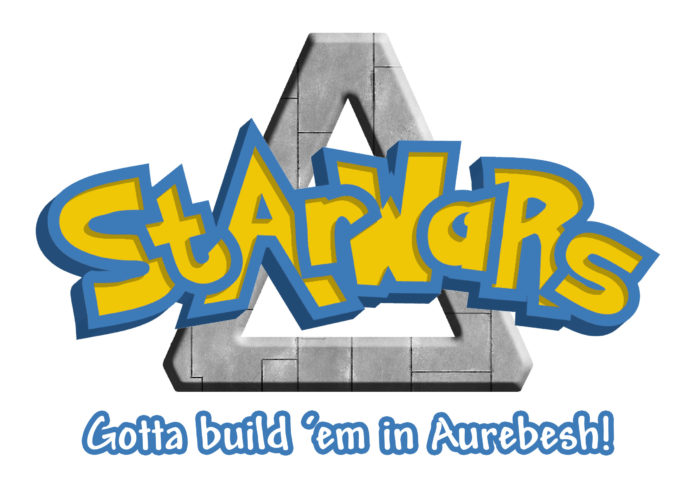 Guys, it's been a long time since we've had a building contest around here, so it's time to rectify that. I am excited to announce the Star Wars X Building Contest. It's like one of my favorite contest themes, Alphabet Fighters, but with the added twist of using the glyphs from the Aurebesh typeface.
Why Aurebesh?
Because it is the unofficial font of the Star Wars universe, that's why. I've wanted to start doing contests again and thought that a good way to kick them off was with an Alphabet Fighter contest. Don had the brilliant suggestion of using Aurebesh as the character family to build from and I loved that idea. And so here we are.
We realize that the Aurebesh typeface poses significant challenges as a number of the glyphs consist of disconnected strokes, such as Aurek (a) and Besh (b). It is up to you decide how to build with these limitations. The glyph must be featured prominently and obviously in your build and be instantly recognizable. If we need to squint and tilt our head to see the glyph, you're doing it wrong.
Allowable Glyphs
In case you need a cheat sheet, here are the allowable glpyhs and the letters they represent: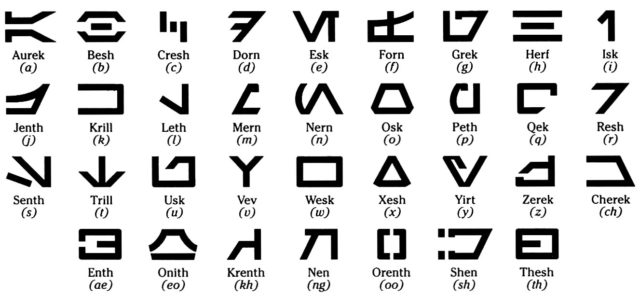 In addition to the usual 26 letters, there are 8 additional double characters for a total of 34 glpyhs to choose from.
The Prizes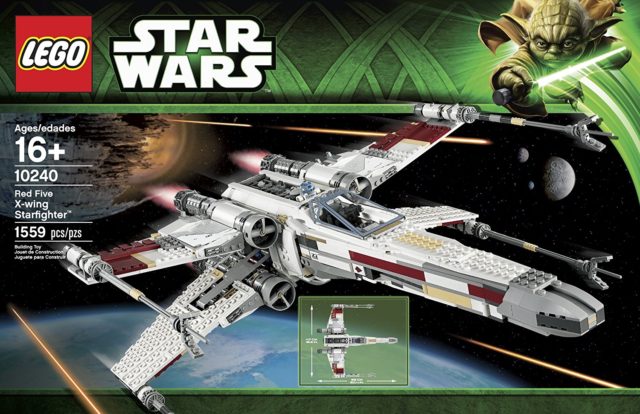 First place will win 1 (one) copy of the discontinued UCS set, 10240 Red Five X-wing Starfighter. Second place winner will get their choice of either 75102 Poe's X-Wing Fighter or 75149 Resistance X-Wing Fighter. Third place will win whatever second place didn't pick. In the unlikely event of a tie, the admin(s) of the contest will cast any tie-breaking vote(s) to determine a final winner for each place.
Sets are guaranteed to be in new, unopened condition. Box condition will vary and is not guaranteed mint, but I take care of my stuff and don't intend to send something as a prize that I myself wouldn't want to receive.
How To Enter
Post a response in the official contest forum thread with up to two pictures of your model. You may link to additional photos or a gallery if you wish. Any pictures at an external site will not be considered as your entry.
You may enter only once.
You must use Flickr to host your entry pictures because we rely on the built in image resizing feature. If you do not have an account you can sign up for free, or ask a friend with a Flickr  account to host them for you. Once uploaded you will need to embed your photos in the forum. Here's a quick visual guide on how to copy the correct code for the forum. Follow that, then paste it into your reply and do not add any more forum tags to the Flickr code. It works as is. Preview your post to verify that it worked before submitting it. If it didn't work, PM Solo.
Please do not post any non-entry photos to the contest thread. You must have a forum account to enter. Entries by proxy will be not be allowed.
Deadline
We will be giving this contest a two-month build time. Final contest submission must posted to the official contest forum thread no later than 11:59:59PM PST Sunday December 3rd, 2017. A week-long poll following the deadline will determine the winners.
Exception To Our Standard Rules
You MAY include custom decals and stickers. Yep, we're allowing it this time. This goes for custom minifigures as well, i.e. you may apply a custom decal or sticker onto a minifig. Or, if you're made of money, get custom printed elements. Also, you may cut official stickers. Just no custom or modified non-sticker parts, i.e. non-sticker parts that were cut, melted, superglued, or otherwise altered in physical form to make it a non-standard LEGO part. We have to draw the line somewhere.
Standard Rules
Contest is open to anyone in the world.
Unofficial or modified parts are NOT allowed, except for those outlined in the Exception To Our Standard Rules section above.
No pre-existing or virtual models.
No changes allowed after the deadline.
Do not base your models on any official sets.
Photography note: be sure to submit the best pictures possible. Color and contrast correction is recommended if necessary. The only other image enhancement allowed is replacing the background with either a solid color or simple gradient. Your photos cannot be altered in any other way. For example: no composite views, special effects, text, graphics, or scenery will be permitted. Remember, the contest is about the models – not your image manipulation prowess. If you wind up submitting your model to Lego Ideas after the poll has ended, you're obviously welcome to further enhance your photos however you wish.
Prize Delivery
This has been a sensitive subject around here. I acknowledge I have not been very timely with prize delivery in the past, and all I can do is take full responsibility and apologize. Excuses don't mean much so I won't offer any and my promises at this point may seem empty. The only way I can prove that things have changed is to show by example and I intend on doing that.
Questions?
Post 'em in the Star Wars X Building contest official forum thread.