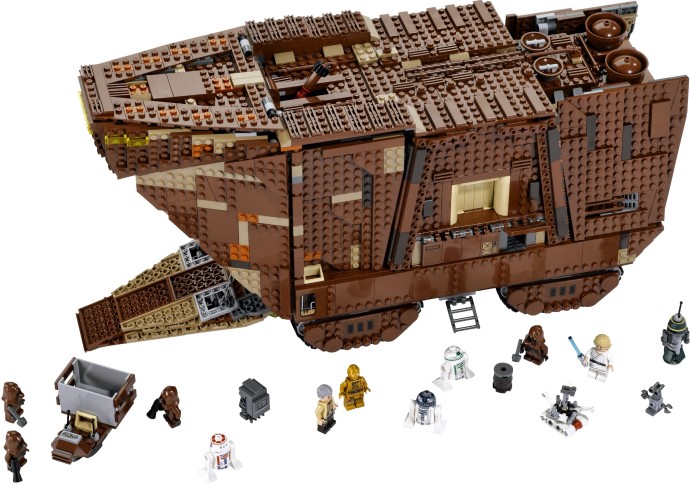 Update: We received the following message regarding the change in the packaging design:
The decision has been made to change the packaging for future "LEGO® exclusive" Star Wars™ sets to include the UCS seal and de-link from the core Star Wars packaging. In addition to the packaging change an update has been made to the building instructions. The building instructions will have additional pages detailing the model's connection to the movie and its development process. Much as the Creator Expert badge differentiates the larger models from the core assortment the goal of this change is to better communicate to builders that these sets represent our biggest building challenge in the LEGO® Star Wars™ theme.
Well, the poorly kept secret we all knew (it's listed on "exclusive sets" at Lego Stores that aren't eligible for discounts) but knew nothing about is now official and out there. Announced at Bricks Cascade in Portland, OR, and featuring the designer video above, there's certainly a lot to like in the set. Brickset has the press release for the set, along with the picture below, and… well, look at it!
75059 Sandcrawler is the next in that line of that "not really UCS but priced like UCS, so we call it UCS" that has given us winners like the Death Star and Ewok Village. Coming out in May and weighing in at $299, this isn't a cheap set, but certainly one that will see plenty of demand.
The original Sandcrawler was a strange beast. It's one of those sets that I never got around to getting, despite seeing it in stores several times, discounted on Amazon and Lego a lot, and available for sale for years. I had nothing against the sets, I just didn't feel that a few Jawas made it worthwhile for all of that brown. This one is an improved design that goes from a big chunk of brown to an actual, factual playset.
Plus, there's now another set to get the new R2-D2 in (assuming you aren't going to drop the $25 on the Jedi Interceptor), as well as a couple of other astromechs, some brick-built droids, a new Gonk, Jawas, and Uncle Owen (no word if there's a charred carcass to put somewhere). Take a look at the full press release for some of the details. Hopefully, we'll get some better pictures as Lego gets more information out there.
75059 Sandcrawler, Ages 14+ 3,296 Pieces

US $299.99 – CA $349.99 – DE 299.99€ – UK £249.99 – DK 2,799.00 DKK

Collect a true icon of the classic Star Wars universe – the mighty Sandcrawler!

Recreate unforgettable scenes from Star Wars: Episode IV A New Hope with this amazing LEGO incarnation of the Jawas' desert-going vehicle, the Sandcrawler. Turn the knob at the rear and steer the Sandcrawler into position, lower the front ramp and offload the droids using the 2 working cranes.

Luke Skywalker and his Uncle, Owen Lars, are sure to be impressed with the selection on offer: there's R2-D2, an R1-series Droid, an R2 unit, R5-D4, a Treadwell Droid, Gonk Droid and even C-3PO.

When the sale is complete, lift the side panels and top to reveal more great features inside, like the engine, storage bay, cockpit and more. There's even a speeder bike for when the Jawas need to venture outside.

Includes 7 minifigures: Luke Skywalker, Uncle Owen, C-3PO and 4 Jawas, plus R2-D2, R2 unit, an R1-series Droid, Gonk Droid, R5-D4 and a Treadwell Droid.

Travel the dunes with the LEGO Star Wars™ Sandcrawler with working cranes, detailed interior, 7 minifigures, 5 droids and lots more!

Includes 7 minifigures: Luke Skywalker, Uncle Owen, C-3PO and 4 Jawas, plus R2-D2, R2 unit, an R1-series Droid, Gonk Droid, R5-D4 and a Treadwell Droid
Features 8 tracks with steering function, lowering front ramp, opening side flaps, removable top, working cranes, speeder bike, opening hatch for easy access to the boxes, attachable handles for lifting boxes, and a detailed interior including engine bay, storage bay and cockpit
Also includes stock for old droids and droid parts
Weapons include a lightsaber for Luke Skywalker
Sell droids to Luke and his Uncle
Keep your droids well maintained
Pretend to suck R2-D2 up into the Sandcrawler – just like in the movie!
Own your own iconic vehicle from the classic Star Wars universe
Relive classic moments from Star Wars: Episode IV A New Hope
Measures over 9" (24cm) high, 18" (48cm) long and 6" (16cm) wide

Available for sale directly through LEGO beginning May 2014 via shop.LEGO.com, LEGO Stores or via phone.