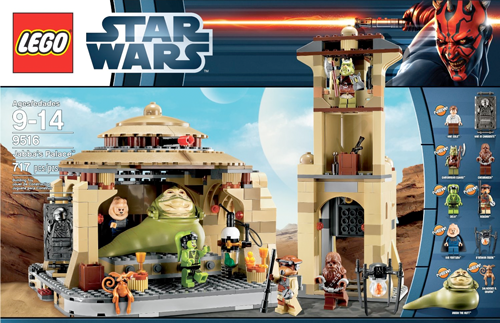 Update 11:06am PST: Amazon has 9516 Jabba's Palace marked down to $86.77.
Right now, Amazon has a pretty respectable discount on a handful of sets, all of at least 20%. If you caught 75005 Rancor Pit on the cheap last week, you can now pick up 9516 Jabba's Palace
for 23% off, $92.44.
Since 75020 Jabba's Sail Barge has been confirmed for an fall release, you should pick up 9496 Desert Skiff
and complete the the Tatooine scenes from Return of the Jedi. It's still 32% off at $16.97.
The last two sets on sale are from Episode I and Expanded Universe. The Bongo Sub set, 9499 Gungan Sub
, is discounted 21%, down to $55.03. 9500 Sith Fury-class Interceptor
is also 21% off, down to $70.97.
And finally, even though it's only 10% off, it's still a good deal and was sold out during the holidays. Amazon has restocked on 10188 Death Star
, charging you $358 even.