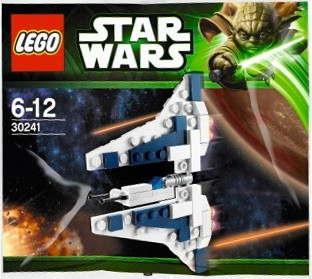 Okay, this is strange. ToysRUs.com is listing 30242 Gauntlet for sale for $3.99 with no quantity limit. No picture is provided, but all previous reports point to the mini Republic Frigate as 30242, which is also the Shop@Home promotional polybag set for March that we previously reported on, which is very odd since having TRU sell this set would defeat the purpose of the promotion. Checking Wookiepedia for the name, the most logical match would be Pre Viszla's personal starfighter, which is set number 30241. So either the Republic Frigate is also named Gauntlet, or the name is wrong in the listing, or the number is wrong in the listing. Very strange. I just placed an order so I'll find out soon enough.
Thanks to Margot for the tip.
Update: Sleuthy Solo points out that the description for the item describes 30241 Mandalorian Fighter aka Gauntlet, relevant bit bolded:
Product Description
Fly to the stars in the sleek LEGO ® Star Wars ™ Gauntlet ™ starship with articulated cockpit as featured in the Star Wars: The Clone Wars ™ animated TV series!
I've updated the picture above.