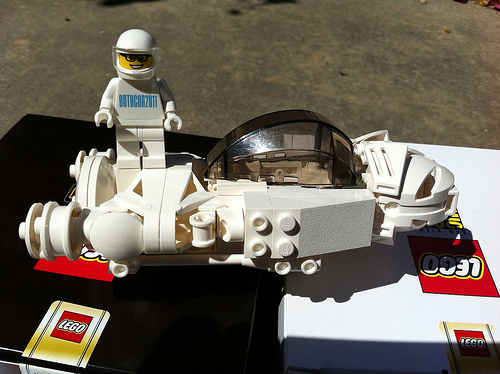 Last M-wing post for today, I promise.
As part of our plans for Bothcon, we assembled a very special M-wing kit that had a nearly-all white M-wing. Only the Technic pins and printed tiles were in their original colors. We even created a white Bothcon minifig Ace pilot. We instructed the attendees to not open their kits or trade their bags until the very end. Forum member Datoth (Jason Daubert) was the lucky winner. His door prize package consisted of Chrome C-3PO, Chrome Stormtrooper (polybag), Chrome Darth Vader, White Boba Fett, San Diego Comic Con CubeDude set, and the Star Wars Celebration V CubeDude set.
Thanks to Datoth for providing pictures that I was shortsighted to take.