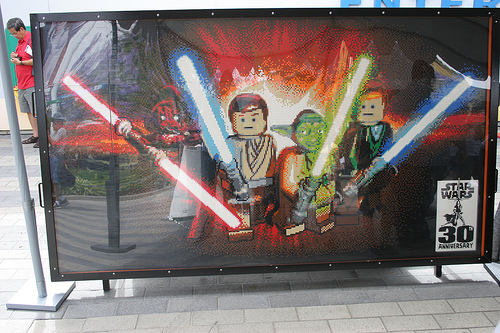 Sort of…. LEGOLAND CA posted a facebook status update with the following:
On Friday, March 18 LEGOLAND® California invites guests to build a part of STAR WARS™ Miniland brick by brick as they create a giant LEGO® mosaic depicting memorable scenes from Star Wars: Episode V – The Empire Strikes Back. Like paint by numbers, guests match bricks to colored squares on LEGO base plates. Master Model Builders at LEGOLAND estimate the 15-foot-long, 7.5-foot-tall mural will take about five days for guests to complete. The mural will be built at The Beginning of the Park and moved to the Star Wars Miniland area in time for opening March 31. For more information, visit www.LEGOLAND.com.
And since we try to post a picture with every post, here's one of a mural they had on display from Star Wars Days way back from 2007.
It'll be interesting to see what the final image is going to look like.