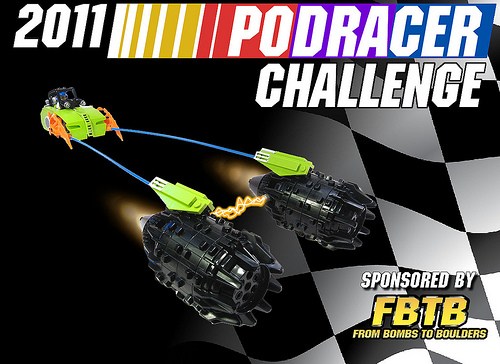 Greetings race fans! The time has come for the second (quasi)annual Bothan Classic – the 2011 Podracer Challenge! Two years to the day since we announced our original Podracer Challenge, we debut FBTB's next outer rim invitational, welcoming competitors from all across the far reaches of licensed Lego themes… except, in this case, Star Wars. Confused yet? Just wait until you get a look at the race system we have planned, it's sure to be an interesting treat for everyone. You have one month to build and two grand prizes up for grabs, so hit the jump for the full guidelines & clarifications and get your bricks ready to race!
Build:
– Your task is to build any non-Star Wars, licensed podracer. Take any of LEGO's official licensed lines past, present and future and build a podracer. Imagine what a Buzz Lightyear Star Command Podracer would look like. Or a Batpodracer. How about a Winnie the Pooh Honey Potracer? You get the idea yet? The only exception to the licensed line rule is, of course, Power Miners. Power Miners podracers will be accepted. No Star Wars podracers; you will be turned away at the gate.
– Here is a list of allowable themes:
Adidas
Avatar: The Last Airbender
Batman
Ben10
Cars
Coke
Deutsch Telecom
Dora The Explorer
Ferrari
Galidor
Harry Potter
Indiana Jones
Lamborghini
Maersk
McDonald's
Mickey Mouse
NBA
Nestle
NHL
Pirates of the Caribbean
Power Miners
Prince of Persia
Shell
Speed Racer
Spiderman
Spongebob Squarepants
Thomas The Tank Engine
Toy Story
Toys'R'Us
Winnie The Pooh
– All podracers must conform to the Boonta Eve Classic Rules and Regulations Handbook governing podracer design. After Ben Quadinaros's quad engine disaster, a podracer is defined as having twin engines held together by energy bindings towing a cockpit pod behind them, with a single pilot. No passengers, prisoners, muses, navigational droids, or any other sentient being.
– The Handbook also dictates that only real life LEGO elements are approved for construction. Altered LEGO elements will not be allowed. Virtual models or clone brands will not be allowed.
– Podracer must be in minifigure scale.
– Submit only new racers. No recycling of past projects.
– One entry per person.
– You may not change, alter, improve, recolor or otherwise modify your podracer after it's been submitted.
Submit:
– You must embed one to two picture(s) of your podracer in a reply post to this thread.
– One of your two photos must be an 3/4 isometric point of view. Check out the contest banner of Ryan's Power Miners-themed podracer as an example of the point of view. Cockpit pod in the back/left, engines in the front right.
– Pilot must be seated in the cockpit pod and visible in at least one of the two photos submitted.
– Your pictures must be hosted by flickr. We use flickr's built-in image resizing feature and use the small sized picture for the voting polls.
– The only image editing allowed is the removal of backgrounds and adding energy binders to the twin engines. Your photos cannot be altered in any other way. No composite views, no added text, no additional graphics or enhancements. This enables us to composite all the podracers into one race picture later.
– You have until 11:59pm PST March 31, 2011 to get your entry in.
– We will be VERY STRICT when it comes to submissions. Any entry not following the above guidelines will be automatically disqualified.
– You may submit as many photos as you wish to the FBTB: flickr Outpost. Please tag your photos with the phrase "2011 Podracer Challenge".
Voting:
– We're going to try something radically different with this contest. Rather than going with the standard poll for every round, we're going to use random events determined by chance. So bear with me while I try to explain things as best I can.
– Just like Qui-Gon said about podracing: "Very fast. Very dangerous… You must have Jedi reflexes if you race Pods." You could get hit by Tusken sniper fire, or have a wrench thrown into one of your engine intakes. On the flip side you could use your nitrous oxide to boost you into the lead. How does this work into the contest? The race will consist of a qualifying lap time poll and a series of events that will either help or hinder your race efforts.
– During the build phase of the competition, we will post a special good luck events poll from March 7th to 13th and from March 14th through 20th there will be a poll for the bad luck events. We'll be taking the top 42 events from each poll and use Watto's Chance Cube to determine which kind of event each podracer receives in each of the three race laps. More on this in a bit.
– At the end of the build phase, all podracers deemed fit for podracing will be thrown into a giant pool. There will only be one round of voting, the "qualifying lap", to determine the starting position of all podracers. The number of votes that each podracer receives is their initial point seed and also determines the race order from most number of points to least. Top 24 lap times qualify and will advance to the race.
– The podracer at the pole position, the one that received the most number of votes, will be crowned Fan Favorite and take home the Fan Favorite Prize Package.
– The race is run in three laps. At the end of each lap, an event will trigger for each podracer. By way of webcam, we'll be holding a special online broadcast of the events. Ryan will roll Watto's Chance Cube, a LEGO Games die with 3 blue sides and 3 red sides, and draw a corresponding card for the color that comes up for each podracer in race order. Blue for good luck events. Red for bad luck events. We'll do this for each round of events. Each event will have a point modifier to be added or subtracted to a racers point total. Each lap will see the field cut in half: 12 for the first lap, 6 for the second lap, and the final lap to determine the winner. Podracers with the lowest points at the end of each round of events will be eliminated from the race by way of sniper fire, sabotage, or freak accidents.
– The podracer to finish in first place after three laps will be crowned Race Champion and take home the Race Champion Prize Package.
Prizes:
– Two prizes will be awarded: The Fan Favorite Prize Package and The Race Champion Prize Package
– The Fan Favorite will be determined by the podracer to finish in first place in the qualifying round.
– The Fan Favorite will receive a special, one-of-a-kind, personalized LEGO Trophy commemorating their victory, 1 copy of 7962 Anakin's and Sebulba's Podracer, 1 MISB copy of 4485 MINI Sebulba's Podracer & Anakin's Podracer, and 1 copy of 7961 Darth Maul's Sith Infiltrator
– The Race Champion will be the surviving podracer to finish in first place determined by the overall point total.
– The Race Champion will receive a special, one-of-a-kind, personalized LEGO Trophy commemorating their victory, 1 copy of 7962 Anakin's and Sebulba's Podracer, and 1 MISB copy of 4485 MINI Sebulba's Podracer & Anakin's Podracer.
– Since portions of the prize packages will not be available at the time of the close of the contest, they will be sent as soon as humanly possible.
– In the unlikely event that the same podracer wins both the Fan Favorite and Race Winner prizes, he/she will have to forfeit their Race Champion Prize Package to the runner up in the race determined by the overall point total.
Questions? Comments? Hit the forum thread to post a question or make a comment.