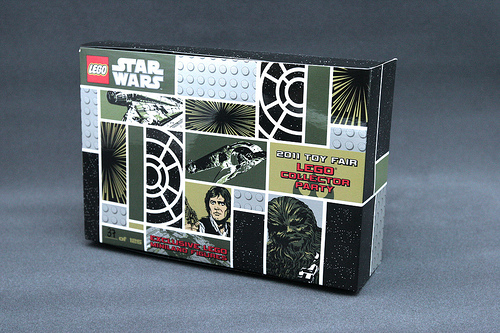 Every year at Toy Fair, the attendees of the Collector Event each get a goodie bag filled with press releases, a retailer catalog, and, of course, the premium giveaway. For this year's premium item, the focus is on the Star Wars Miniland area debuting at LEGOLAND CA next month on March 31st. You get this box:
And a bag of parts with a printed, full-color instruction booklet:
The big question mark on the booklet is supposed to give you a sense of mystery of what it is you're supposed to build. You end up building Boba Fett, and he fits inside the display box on the empty slot on the right. The other two slots are occupied by miniland Chewbacca and miniland Han Solo. The Chewie and Han models are glued, or are supposed to be anyway. When inspecting the figs at the hotel room, between Ryan's models and my own, a few limbs weren't glued down as well as they could have been resulting in loose or broken pieces. My Han broke at the legs but can still be assembled and posed inside the box. Chewie was rock solid and survived the trip back home.
Chewbacca is my second favorite of the set. I like how the legs were assembled with sections that were offset by 45 degrees. The bandoleer is a nice touch. The head looks a little goofy but overall a nice model.
Han is the worst. He looks just terrible. I don't understand his leg pose; it's as if he's about to get down on one knee. And what is with the two different arm lengths? It baffles me how this model got approved by anyone. I mean just look at him. I'm just glad Ryan works at the park; I'm hoping he'll be able to improve the model with better arms and better legs.
Boba Fett was a real treat to build. Ryan said, and I quote: "He's easily the most intense minilander I've ever handled." Miniland Boba weighs in at 140 pieces! Lots of little bits: 1×1 plates, jumper plates, tiles, headlight bricks, bricks with studs on all sides, it was a fun build.
Despite the overall coolness of the miniland figure set, I'm really disappointed that the premium was promoting Star Wars Miniland rather than something directly related to LEGO Star Wars sets for 2011 or something for LEGO Pirates of the Caribbean or Cars 2. I would have loved a special edition Jack Sparrow minifigure, a chrome R2-D2 minifigure, or even a Cars 2 vignette. Each previous premium was always for building excitement for their product line. Having it advertise the park's coming attraction seems a bit out of the norm.
Regardless, I will proudly display it on my shelf next to my others. Many thanks go to LEGO for continually having the Collector Event. I always have a great time and I'm looking forward to next year.