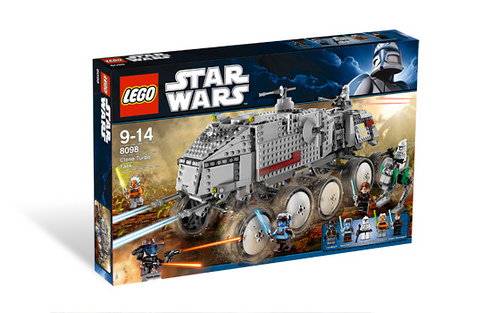 It's October, and like last year Toys'R'Us is doing a month long LEGO promotion in both the U.S. and Canada.
Every week, you can get a free vintage minifigure with magnet base with a LEGO purchase of $20 or more. You can check out this page to see what the selection of minifigs are. For the first week, the minifigure is the Imperial Soldier.
Also this week for U.S. stores and Toys'R'Us.com, ALL LEGO is on sale up to 30% off, including LEGO Star Wars. Best bet? 8098 Clone Turbo Tank for $90.99. If you order online, tack on anything to bring your order over $100 for free shipping. If you buy in-store, the deal gets a little sweeter with this coupon for a free $10 gift card with your purchase of $75 or more.
To help maximize your discount against TRU's infamous markup over MSRP, Brickset posted a complete list of sets on sale for 30% off, which is repeated below:
8088 ARC-170 Fighter
8098 Clone Turbo Tank
5985 Space Police Central
5983 Undercover Cruiser
7684 Pig Farm
7744 Police Headquarters
7208 Fire Station
8190 Claw Catcher
8191 Lavatraz
Toys'R'Us United States:
Toys'R'Us Canada: