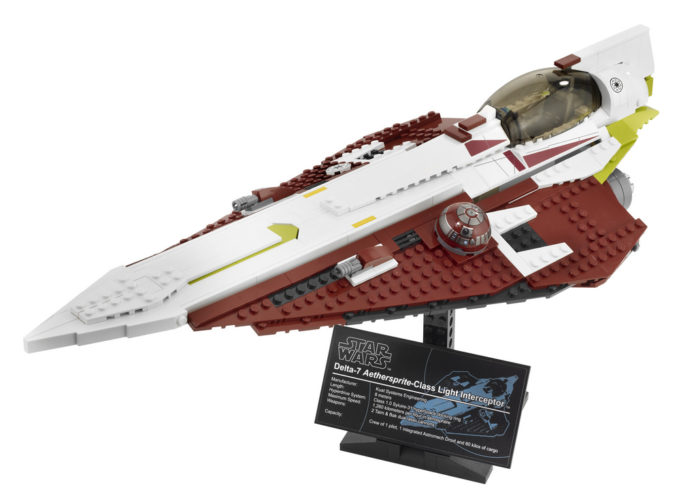 Official press release from LEGO:
Obi-Wan's Jedi Starfighter

Ages 14+. 676 pieces.
US $99.99
CA $129.99
UK £94.99
DE €99.99

Blast off into The Clone Wars with Obi-Wan's collector-series Jedi starfighter!

Now, you can build the ultimate LEGO version of Jedi general Obi-Wan Kenobi's Delta-7 Aethersprite-class Jedi starfighter! Larger and more detailed than any previous Jedi starfighter model, this limited-edition collector vehicle is equipped with twin laser cannons, a full cockpit interior and a wing-mounted R4-P17 astromech droid dome that rotates. With a buildable display stand and plaque, it's just the thing to pursue bounty hunter Jango Fett across the galaxy or battle swarms of Separatist fighters in space! Measures 9 in (23 cm) high on stand, 18″ (47 cm) long and 9″ (22 cm) wide when built.

Ultimate Collector's Series Obi-Wan's Jedi Starfighter!
Equipped with twin laser cannons!
Features fully detailed cockpit interior!
The dome of Obi-Wan's wing mounted R4-P17 astromech droid rotates!
Includes display stand, plaque and label sheet!
Model can be detached from display stand!
Measures 9 in (23 cm) high on stand, 18″ (47 cm) long and 9″ (22 cm) wide when built!
My initial impressions?
I can't stop staring at the R4 unit's head. It seems so grossly disproportionate to the rest of the ship. Add the fact that the two previous UCS models that featured astromechs (7191 X-wing Fighter and 10134 Y-wing Attack Starfighter) had the minifig versions included, the R4's head is just gigantorous.
Design-wise, it's just a giant wedge. There doesn't seem to be an ounce of effort on the designer's part about making a Jedi Starfighter have any ounce of wow-factor. Now, let me be clear in that when I say "designer" I am talking about the original designer that created the ship for the film. That guy, he was the one we can thank for creating such a boring ship. It's like it was designed after a cursor:
Just chop off the tail and you have Cursor: The Original Delta-7.
All kidding aside, it just looks and feels uninspired. Given that, I can admit LEGO did a great job in recreating the ship at a larger scale, but the flat design doesn't lend itself to any amount of great detailing, which all the previous UCS ships had. A for execution, F for design.
And where's the hyperdrive ring?
Historically, the UCS sets were a real value for the money, giving the consumer more than their dollars' worth with the amount of parts you would get in any given set. The last few years' worth of UCS sets have been a strain on the wallet but for 10215, they're asking for Benjamin in exchange for 676 pieces. While it's good to see a sub-$100 UCS set I find that it's a really hard deal to swallow. I can accept that prices on LEGO sets just aren't what they used to be: licensing costs go up, manufacturing costs go up, inflation, world economy, etc, and I think many of us can accept it. When it's justified. Like when a set contains new elements like a tauntaun, or minifigures with uniquely molded elements. But try as I might, I can't see anything in this set that would justify the outrageous price. Except for, maybe, that oversized humongosaurus of an R4 head that looks like a printed element. But still, even that can't cost that much, can it?
The press release states "limited-edition" so it might be possible that this is an exclusive to some outlet, and that might explain the higher cost.
Maybe I'm just biased since I grew up with the Original Trilogy. But personal bias aside, the set fails to get a recommendation from me based on economics alone. Many people who couldn't afford a $200 or $300 dollar UCS set may be excited at the prospect of this one, but is it really worth it?
That's all I can think of. It's late and I still need to pack.