The promotional page for all of the Marvel promotions this weekend has a big title saying "Marvel: The Universe Unites". You can see it on the main LEGO Shop@Home landing page: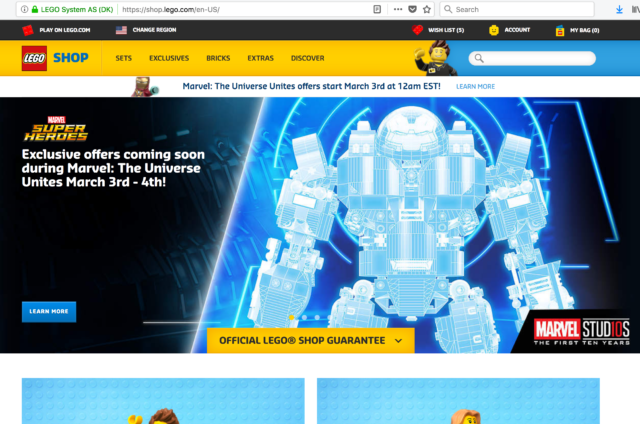 And on the actual promotional page, with added logo:

I wasn't sure if "The Universe Unites" had any special meaning so I turned to Google for some answers. It turns out that earlier this week Marvel Studios announced a charity event called, wait for it, "Marvel: The Universe Unites":
"The Walt Disney Company today announced Marvel: The Universe Unites, an epic charity campaign combining the super powers of the cast of Marvel Studios' Avengers: Infinity War to help support children's charities. The week-long event will see stars of the movie team up for a series of hero acts and social media challenges to provide funds and raise awareness for charities that support children and families impacted by serious illness. The initiative will culminate the weekend of March 3 when shopDisney.com and Disney stores in the U.S. will donate 10% of sales of all Marvel products made between March 3-4, 2018 (up to $50,000) to Make-A-Wish® to help grant life-changing wishes for children with critical illnesses."
Habro and Funko are the only non-Disney owned companies named in the press release taking part in this event. Hasbro will be donating $1 million in cash and products to Give Kids The World. Funko will be donating $1 million in toys to Starlight. shopDisney.com and Disney store will donate 10% of this weekend's Marvel product sales to Make-A-Wish.
Now, that article does not list LEGO as a licensing partner for this charity event. I've reached out to LEGO to see if they will also make charitable donations under the Universe Unites effort. I have heard nothing back and there's no indication on the Shop@Home that they will also be making or matching any charitable donations. To be fair, I reached out to my media contact today, Friday, at about 12:30pm Pacific. I know she's on the east coast, and it being Friday and all perhaps she's not available. I suppose I could have waited until next week to post this, but since the event starts in a few hours, I had to make a choice and here we are.
That being said, if LEGO was a participating partner, wouldn't it be part of the press release? Wouldn't LEGO want to tout their involvement in the event all over their website? Send out a press release? So far, my findings have come up empty on their involvement. But plastering that logo on the promotional page without the intent of contributing is, to put it mildly, a bit misleading and completely dishonest.
Disney/Marvel must have known though, wouldn't they? They have to approve of anything using their name. I just don't get why LEGO isn't a contributor.
This site's income isn't what it used to be and I'm trying to be better about not accumulating expenses, so I'm more prone to waiting for a decent sale price. My rate of purchasing has gone down dramatically. I look at that print and polybag they're offering and it's not quite enough to get me to buy stuff at full price. If LEGO was actually participating in Universe Unite instead of just borrowing the logo, I'd have zero problem spending a couple hundred on sets. It's win-win that way, the way I see it. But if they're just promoting their print, new Ultron Edition Hulkbuster, and all their new Marvel sets under the guise of charity event, I have a huge problem with that. Like my Vader Pod theory, thought, I could be completely wrong, and I would be very happy if I am.