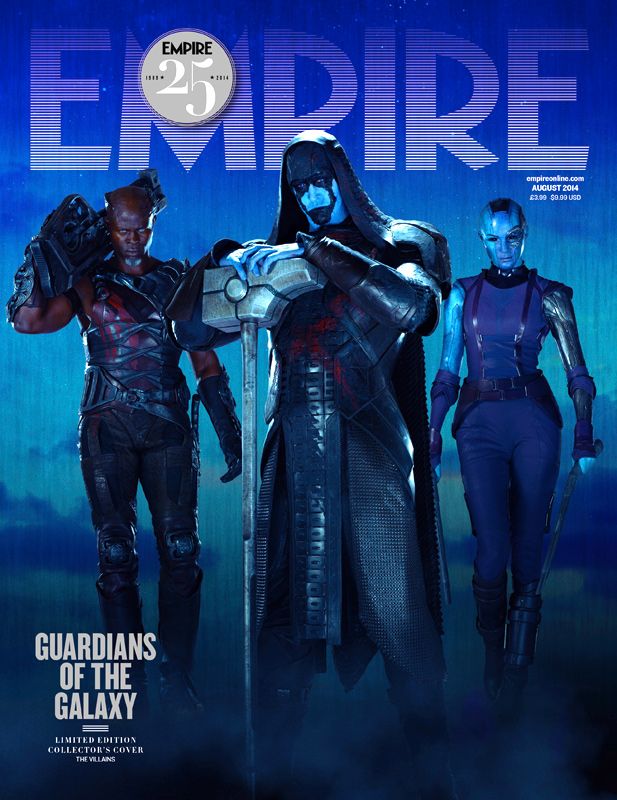 Let's start this off with the least spoilerish thing on the list and those interested can check after the jump for the rest. Empire has two character covers for the upcoming Guardians of the Galaxy and the one above gives a much better look at the films antagonists, the good guy cover is mostly more of the same. I've no doubt we'll start seeing Korath, Ronan and Nebula popping in cosplay a lot more very soon.
Keeping with GotG, rumours again started running rampant this past week that Nathan Fillion would be making a cameo at the end of the film as the original Nova, Richard Ryder. On Saturday, the films director James Gunn shot that one down with a single tweet:
The rumors of my pal @NathanFillion playing Nova in #guardiansofthegalaxy have been greatly (and entirely) exaggerated. Sorry, humans.

— James Gunn (@JamesGunn) June 21, 2014
And Boo. Until:
"@STARS_TyranT: Are the rumours true that he has some part in the film?" @nathanfillion has a very small fun cameo he did as a favor to me.

— James Gunn (@JamesGunn) June 21, 2014
So there you have it. Fillion is in the MCU. It may just be a bit that never goes anywhere, but I'm still just happy he's part of that world.
Marvel is definitely pushing GotG hard, but that doesn't mean they aren't still playing come cards close to their chest. Possible animation for the long rumoured cartoon was recently spotted by Bleeding Cool News and though Kevin Feige has had a general "wait and see attitude" about plans for GotG sequels, he had this to say at Barcelona's CineEurope:
"there are dozens and dozens of 'Guardians of the Galaxy' storylines. There's a group that came about in the '60s, were revamped again in the '80s and they changed into this incarnation that you see in this movie about eight or nine years ago. So there are a lot of other characters and worlds and stories. So should this film work, should the audience come out for this one, there are definitely places we can take it and we have ideas of where we'd like to go with it."
If this film takes off, prepare to be bombarded with more from this bunch of… well you know.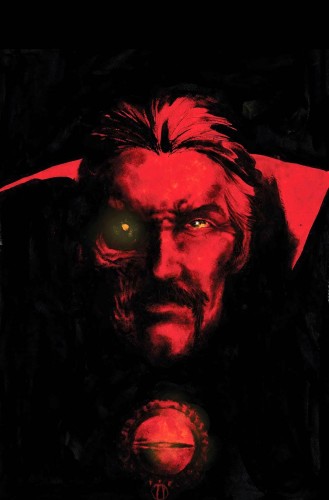 From the cosmic, to the mystic, Doctor Strange is picking up steam and announced Jon Spaihts will be rewriting the screenplay. Feige also had high praise for the good doctor:
"[W]e think we'll be casting probably in the next month or two and announcing an actor, and then we get into production in the spring of next year… Strange is very, very important, not just because it's an amazing character study, and a journey of a man who's gone from this very arrogant surgeon to somebody who is quite zen and literally keeps all of reality together on a daily basis… [T]here's a whole other side of the Marvel comics, which is that supernatural side – the interdimensional side of the Marvel universe, and Doctor Strange is, I believe, our entry point into that other realm, which has dozens of characters and storylines all of its own."
If you're not familiar with Marvel's Sorcerer Supreme, the above picture is from the cover of New Avengers Annual #1 and focuses on Strange with a fully hand painted interior by Marco Rudy. It's out this Wednesday and it's going to be quite a trip, so check it out and get to know a character Marvel hopes to be a new tent pole.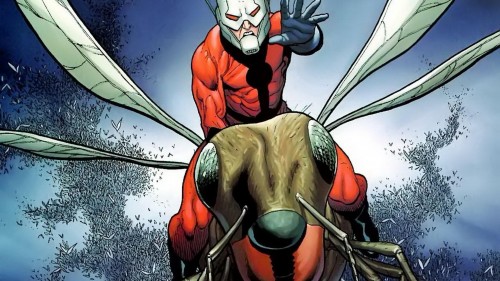 Ant Man continues to roll towards it's July 17th, 2015 release date and the turmoil behind the scenes doesn't seem to phase Feige:
"'Ant-Man' is a very important character for us. We like that people don't necessarily know what it is. We like that it sounds sort of strange when you first hear the notion of Ant-Man, or a hero that can shrink, but he's a very key Marvel character. He's a key Avenger. He's an important character we want to bring into our universe and Paul Rudd, Michael Douglas and an amazing cast all set to start in August, we believe that we're on the road to the best version of Ant-Man that we could have."
The cast is set, he says and rumours are that the film could see multiple villains in the form of Darren Cross, William Cross and possibly even Yellow Jacket. Most rumours point to Scott Lang having to tangle with enemies that have similar suits and powers and there are a lot of intriguing possibilities. TheWrap has rumoured further that Corey Stoll and Patrick Wilson will portray the cousins Cross, so there's bound to be more casting news very soon with shooting about to get started. I for one like the idea of Janet Van Dyne taking up the mantle of Yellow Jacket to get revenge on Hank Pym for the accidental death of her father and then coming around with the help of thief turned hero Lang and becoming the Wasp.
Oh and it's been going around that Scott Lang WILL indeed make use of actual ants as a primary weapon. So, yeah!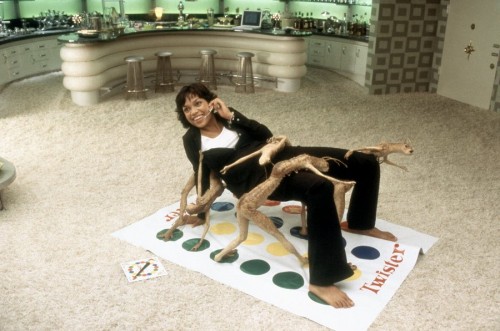 Back on the confirmed side of the MCU, Marvel and Netflix announced that Rosario Dawson (seen above playing Twister with space worms… and still no Oscar) has been cast as the female lead in Daredevil. Certainly no stranger to comic fare or geekdom in general, this is great news for the show and the cast seems to get more interesting with each new announcement. Her role was not specified and so rumours are raging, but I hope she plays either Karen Page or a variation of White Tiger. Page would be a no brainer for a more traditional telling of the Hells Kitchen based series, but White Tiger would be a great opportunity to bring in more super hero characters. The description of role is as follows:
"a dedicated young woman whose quest to heal the wounds of Hell's Kitchen brings Matt Murdock unexpectedly crashing into her life, while her own journey forever alters the course of his battle against the injustices of this broken city."
Many think this is a perfect description of Night Nurse, but honestly I don't care at this point. I'm sure she'll be great whichever route the show takes.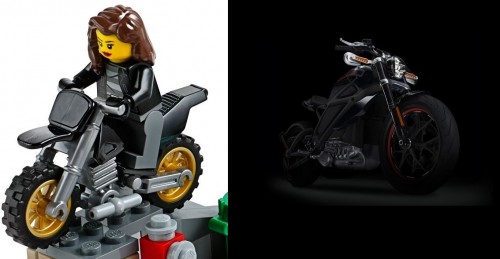 On a note of personal amusement, It was announced today that Black Widow's new ride in Avengers: Age of Ultron will be Harley Davidson's new electric motorcycle from Project Livewire. Immediately I saw this translated into a LEGO set like the one pictured above, except with a snazzy new Black Widow figure and the dirt bike would be lime green, or maybe orange with a big A on the front. Girl, you know it's true.
And finally, I'll leave you with this. Ever wonder what the Star Wars trailers might have looked like if cut with todays standards?
Looks like as much fun as those movies actually were, novel idea.