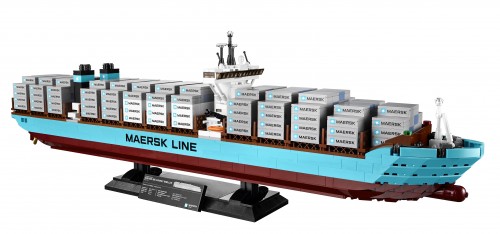 Announced at LEGO Fan Weekend in Skærbæck, Denmark, the newest direct-to-consumer was unveiled: 10241 Maersk Line Triple-E. This is the largest LEGO Maersk set to date with 1,518 pieces. Due to be released in January 2014, this set will cost US $149.99.
The Maersk Line Triple-E ship is the world's largest container ship at 400 meters long and 59 meters wide and is also the most efficient, helping Maersk win "Sustainable Ship Operator of the Year" award in July 2011. The Triple-E is short for their design principle: Economy of scale, Energy efficient and Environmentally improved. A total of 20 ships have been ordered, with about half already either in service or under construction.
We have images, a designer video, and the official press release below.
Images:
Designer Video:
Press Release
10241 Maersk Line Triple-E

Ages 12+. 1,518 pieces.

Build the Maersk 'Triple-E' container vessel – a true giant of the seas!

US $149.99 – CA $179.99 – DE 129.99 € – UK 109.99 £ – DK 1199.00 DKK

Presenting the largest ship in the world – the record-breaking Maersk 'Triple-E.' Built from over 1,500 bricks, the model recreates the real vessel in amazing detail. Our LEGO® designers have included rare colors such as medium azur, dark red, sand blue and sand green. There are rotating gold-colored screw blades leading to the brick-built twin propeller engines, which you can view through the window built into the port side of the ship. You can even customize it by adding or removing the containers. This authentic set includes a display stand and fact plaque with detailed information about the ship and, as a finishing touch, there's the gold coin that is added under the mast of all Maersk Line ships for good luck on their voyages. This model is perfect for LEGO fans!

• Features include rotating gold-colored propeller blades, brick-built twin 8-cylinder engines, viewing window into the engine compartment, adjustable rudders, detachable lifeboats, removable containers, rotating crane arms and a special 'good luck' coin
• Includes rare medium azur, dark red, sand blue and sand green colored elements
• Play with the model on carpeted surfaces or mount the model on the display stand
• Building instructions also include interesting facts about the real ship
• Includes 1,518 bricks
• Ship (mounted on stand) measures over 8" (21cm) high, 25" (65cm) long and 3" (9cm) wide